Cricketing stories that should be made into movies
1.26K //
10 Nov 2012, 20:11 IST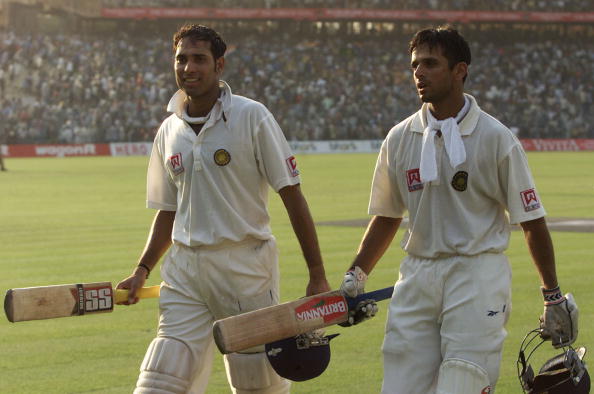 Cricket and movies- two of the biggest religions in India. Most Indians are ardent followers of at least one of these.
However, we seldom see the two religions in a successful marriage. Yes, we do have the IPL tamasha which has the moves and grooves (read latkas and jhatkas) of many popular stars. But there aren't enough movies made about cricket. Yes I know that we have had Lagaan, Iqbal, Patiala House, Chennai 600028, Hit for a Six, The Final Test etc. But there has not been a single movie, Indian or Foreign, made on real cricket stories. I can only think of Hansie, a South African movie made in 2008, based on the real life of Hansie Cronje and Fire in Babylon, a feature documentary on the West Indies team of 1970s/80s.
One can argue that cricket is not a vastly popular sport, and not many countries around the world will have a market for movies made on cricket. Fair enough; but in countries like India, England, Australia and South Africa, I am sure there will be millions of takers. This would probably lead to the next question, what exactly do we make a movie on?
This had me thinking and I have come up with three famous/infamous cricketing stories, which every cricket fan will be familiar with. These I believe will make fantastic scripts for movies.
Ashes 2005
Australia were at the peak of their powers. England were unbeaten in the 2004 calendar year and were ranked 2nd by the time the Ashes arrived. England's last Ashes victory was in 1986-87 under Mike Gatting.
This was their chance to reclaim some of their lost pride. The first test didn't quite go to plan though, thanks to Glen McGrath. England came back strongly in the latter part of the series winning the 2nd and 4th tests, and drawing the rest, hence completing their first Ashes victory since 1986-87. The Australian monopoly on the Ashes had finally come to an end.
This series had many mini stories within it, which will make it a perfect masala flick. Kevin Pietersen debuting with his brash attitude and hairdo, Glenn McGrath and Shane Warne at their best, Harmison's menacing spells, Brett Lee and Michael Kasprowicz' epic partnership to almost win the 2nd test, Simon Jones' reverse swing, Ricky Ponting's stunning 4th innings century to save the 3rd test, Andrew Flintoff's all-round brilliance, Gary Pratt's run out of Ponting. Phew, I can go on and on. If this is not a good enough story for a movie, what is?
The 434 match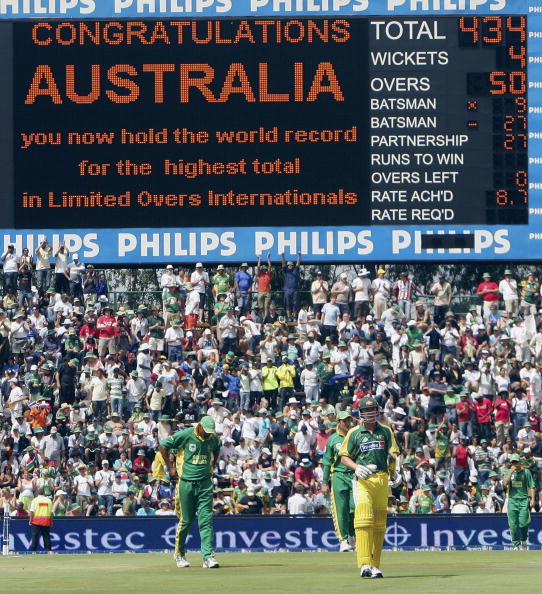 Series locked at 2-2. Final match would break the deadlock. Not unique enough for a movie?
How about if the team batting first racks up 434, the first 400+ score in the history of ODIs? No? How about if the team batting second chases down that score, with 1 ball in hand and 1 wicket to spare?! Now, we are talking business!
In what is hailed as the greatest ODI match of all time, South Africa defeated Australia after successfully chasing 434. Manic centuries from Ponting and Gibbs, and many cameos were the shining lights of this match. This match changed the very complexion of the way ODIs were played. No score was deemed tough to chase after this freak show of a match. Where are the producers?
Dravid-Laxman vs Australia, 2001
Another Aussie story. The Australian team of 2001 was among the best teams ever in the history of Test Cricket. India was the "final frontier", as they had never won a series in India. They arrived in India with 15 test wins on the trot, and duly completed the 16th in the first match in Mumbai. In the 2nd match, they almost had their foot on the finish line, when India were asked to follow on after another dismal batting performance.
What followed is history. Dravid joined Laxman and crafted a 376-run partnership, and batted out the entire fourth day with him. The Aussies who had never encountered anything of this sort, threw everything at them, and by the end had used 9 bowlers. But nothing worked. Finally when India declared on the 5th day, the "turbanator" took over and finished proceedings, giving India not only a victory but also halting the Aussie juggernaut. Settings for a perfect Indian movie.
All these stories have 2 things in common. Australia, and Australia losing. This probably highlights the brilliance of the Australian team over the previous years, and it was a special achievement for teams to have beaten them, especially for England and India.
I am sure there are many other cricketing incidents which probably could be made into movies. If you have any, Let your ideas flow in the comment section.