Cricket's Closest Contests: India vs England, 2011 World Cup
Sports is not always about the perfect game. If every game was an exhibition of perfectionism, the very essence of sports is robbed. We watch these games to be entertained by the ebb and flow, the see-sawing of fortunes betweeen the opposing teams and the drama of heartbreaking loss that counter-balances the sweetness of victory. In that respect, there is no better example than the 2011 Cricket World Cup encounter between India and England at Bangalore.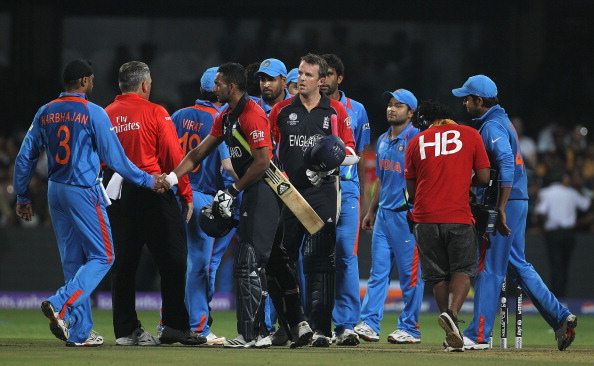 Neither team brought their A-game to this match. India's batsmen set up a brilliant platform for an explosive finish, only for the middle and lower order to implode and get bowled out. Then their bowlers seemed to lack any inspiration till the fag end of the game, when they realized that England were prone to their own bouts of batting collapses. As for England, Bresnan's late innings scything through India's batting order couldn't brush away their dismal performance over the previous three hours; and Strauss might still be wondering how they let a comfortable stroll to victory end up in a barely scraped through tie.
Still, how many of us can argue that it was not an absorbing game? That's the beauty of a closely fought thriller. It is the complete package – brilliant performances, flawed moments of play and resurgent come-backs – that makes this particular encounter one of those classic games that can be viewed on Youtube over and over again.
Let's start with the context of the game. India were coming into the Bangalore match after thumping Bangladesh in the World Cup opener. The batting seemed to be in good nick, while there were some minor worries over the bowling. Meanwhile, England chased down 296 against the Dutch, avoiding what could have been an embarrassing slip up against an Associate nation (There would be time for that later). Fair to say, India were favorites heading into the game.
MS Dhoni won the toss (surprisingly!) and chose to bat; and the openers immediately vindicated his decision. Sehwag blitzed through the opening overs before Tendulkar and Gambhir pressed home the advantage with a 134-run partnership for the second wicket. While the total was further strengthened by quick-fire knocks from Yuvraj and Dhoni, the star of the innings was the Little Master. His knock of 120 from 115 balls, with ten hits to the fence and five over it, clearly set the tone and demoralized the English players while energizing the throngs who got to see what exactly they had come for. When he fell to Anderson in the 38th over, India were a healthy 236/3 and with the big hitters to come, India were all set for an ominous total. Instead, a combination of tight bowling by Bresnan and over-ambitious strokes by the batsmen meant that India fell short by atleast 20 runs to post 338.
England didn't hold anything back when they came out to chase the daunting target. While Pietersen played a typical swashbuckling mini-knock, it was the English skipper who surprised everyone with an array of positive strokes. While the situation called for it, not many would have expected that Strauss would come out firing the way he did (unless they caught a glimpse of his quickfire 88 against the Dutch in the previous game). Even as KP and Trott fell, the skipper built a massive partnership with Ian Bell, treating the Indian bowlers with scant respect, and seemed to have sealed the game in England's favor at the start of the 43rd over.
This is the stage where the match transformed from a run-a-thon to a World Cup classic. England took the batting powerplay, a tiring Bell holed out to mid-off, and next ball Zaheer fired in the best delivery of the game to trap Strauss lbw to throw the game wide open. The equation for England was now: 58 runs required from 43 deliveries with 6 wickets in hand.
The skipper had gone after scoring a brilliant 158, but the hard work was left to the middle and lower order. Unfortunately for them, as Collingwood and Prior discovered, the Indian unit seemed to be revitalized after Zaheer's double strike. Backed by a vociferous crowd, the bowling was tighter and the fielders threw themselves around to save precious runs. When Yardy scooped the ball straight to Sehwag in the 48th over, it looked like India had snatched a win from the jaws of defeat.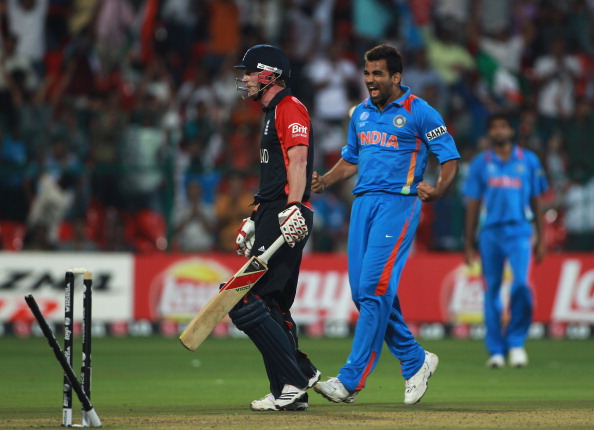 Luckily for England, they still had a couple of bowlers who could wield the willow effectively from time to time. Bresnan and Swann struck a six each to keep the game interesting, before Chawla mildly redeemed himself with Bresnan's wicket off the last ball of the 49th over. The stage was now set for a nail-biting finish.
14 runs needed off 6 balls, and Dhoni threw the ball to Munaf. The lanky seamer had done a decent job all evening and much was expected of him, from an Indian perspective. The first two balls went for a combined three runs and left England with 11 needed from 4 balls.
On strike was number 10 batsman Ajmal Shahzad. If at all, he never achieves anything else, he will always be remembered for the most surprising six of the game, as he deposited Munaf straight over his head. The equation now was a much doable 5 runs from 3 balls.
Next two balls yielded three runs and put Swann, the more experienced batsman, on strike. After 99 overs of mayhem, it boiled down to 2 runs for an English win, 1 run for a tie, a dot ball or a wicket for an Indian win. How much better can cricket get?
As thousands at the ground and (possibly!) millions around TV sets waited with bated breath, Munaf ambled off a short run up to bowl a perfect delivery on good length which Swann could only hit straight to mid off for a single. As the batsmen completed the run, it took a few moments for everyone to register that after 676 runs and 18 wickets in a game which featured two centuries and a five wicket haul, the two teams had to share the spoils. After the show they put on, it was a deserved result.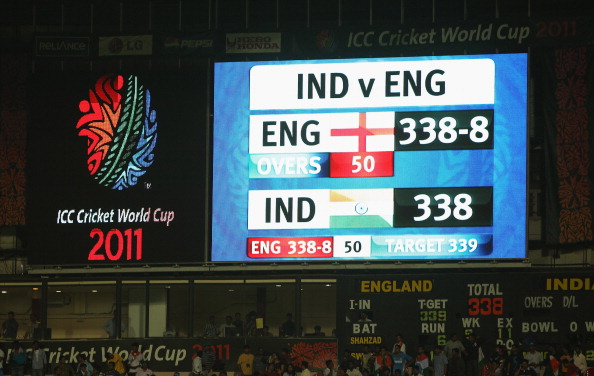 England would go on to be upset by Ireland and Bangladesh before crashing out in the quarterfinal to a dominating Sri Lankan side. India would eventually pick steam before they met their date with destiny on a balmy April night in Mumbai; but to many, this game would always be the most memorable of the tournament. One that showcased the beauty of sport and highlighted how it takes not just brilliance but also mis-steps for a game to transform into an instant classic.
Read more of this series here.