Cricket's Commanders-in-chief: Sourav Ganguly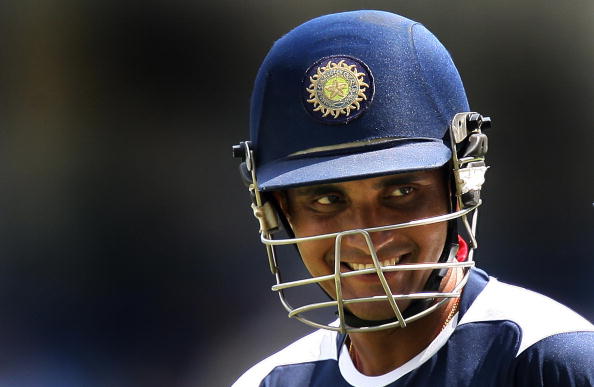 He walks through the grass hidden from the prey, gathering ample time to prepare himself for the attack. He crouches in the darkness, calculating the right moment when he can make his move and how he can execute it. And when his instincts tell him he's ready, he leaps into the air, chasing his hapless prey with an intention of going for the kill right from the beginning.
This may seem to be an excerpt from the commentary of a wild life narrator straight out of National Geographic Channel or Animal Planet while filming a tiger, but it isn't. In fact, it is an apt description of arguably the greatest Indian cricket captain there ever was – Sourav Ganguly. Apt, because while the rest of the captains, like everybody else, evolved from apes, this particular cricket captain might as well have evolved from a Royal Bengal tiger.
As a batsman who solidified his place in the Indian side post an authoritative innings at Lord's in 1996, Ganguly consistently shined, giving good company to the likes of Tendulkar and Dravid, and even doing well with his medium pacers. Many a match winning innings later, the stylish left hander became a mainstay of the Indian team, an indispensable member. Geoffrey Boycott rechristened him as 'The Prince of Calcutta' and we often heard his compatriot, the late Tony Greig going beserk whenever the Xaverian danced down the track and smashed those 'oh what a biggie'(s) into the stands. Ganguly though, barring a small population of Bengalis, was yet to be called 'Dada' by those in the dressing room and by the nearly one billion fans who cheered for the team. Trivial as it might have seemed, this was a title he had to earn.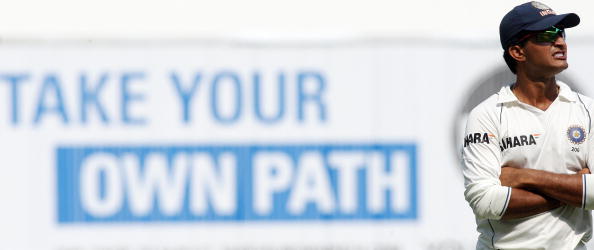 Meanwhile, the Indian cricket team before Ganguly's appointment as captain in 2000, was a tame and mediocre side except for a few individuals. Victories were few and far in between, relying heavily on the big batting trio of Tendulkar, Dravid and Ganguly himself to deliver. As a team, the Indians rarely performed and the 'lack of a killer instinct' remark from the commentators had become a melancholic cliché. Indian fans in turn, had to face disappointment on a regular basis. And in spite of Shankar Mahadevan's music video where a young man clinches on to the steel fence in the stands of a cricket stadium, shouting "COME ON INDIA!", India were nowhere near the best sides in the world at that time – Australia, South Africa and Pakistan. They were a soft side who fell like a pack of cards as soon as number 1, 2 and 3 of the Indian batting line-up departed.
After a disappointing World Cup in 1999 and a humiliating loss to Australia in the tour Down Under, the Indian side plunged into darkness when match fixing allegations against the then Indian captain Mohammed Azharruddin and a few of his team mates surfaced. Sachin Tendulkar unsuccessfully donned the skipper's role for a while. It seemed, handling batting and captaincy was not his forte. Nothing was working for Indian cricket and the men in blue stared into an abyss. Sachin Tendulkar at that point in time, told a famous sports magazine that there will be a renaissance in Indian cricket.
Thankfully for the cricket fanatic country, there indeed was a renaissance and it had its own knight in shining armour. His realm had only just begun and the Indian team under Sourav Ganguly showed immediate signs of becoming a side that was to be taken seriously by opponents as well, and not just by Cola, toothpaste and biscuit advertisers. Young players like Yuvraj Singh, Sehwag, Harbhajan Singh and Zaheer Khan were not just mentored by Ganguly but also moulded to be a part of a fighting unit. Many of these players went on to play critical roles in many of India's achievements even in the post Ganguly era.
Soon after Ganguly taking up the reigns, the Australians on their tour of India in 2001 hammered the home side to pulp in the first Test match in Mumbai. The true turning point in Indian cricket was the 2nd Test match against Australia at the cauldron of Eden Gardens where India once again found themselves in the dumps, reeling under a follow on imposed by the mighty Baggy Greens. As the Indian team stared down the barrel, it was Rahul Dravid and VVS Laxman who played the innings of their lives. With some magical bowling from Harbhajan Singh, India pulled off one of the greatest victories ever recorded in history of Test cricket.
Indian cricket would never be the same again after this iconic moment which took place in the den of the tiger.
This signalled the start of India's most successful era in the gentleman's game. And for a change, the Indians had inculcated in them something which they missed for decades – aggression. This trait of course, was acquired from Ganguly who was now being called 'Dada'. India under him went on to have such achievements which Azharrudin's India could only dream of. One of them was the emphatic Natwest victory at Lord's where the young guns blazed and the experienced campaigners shined. Everyone remembers the image of a shirtless Ganguly as the cameras panned on to the balcony at Lord's after India's historical run chase in the final.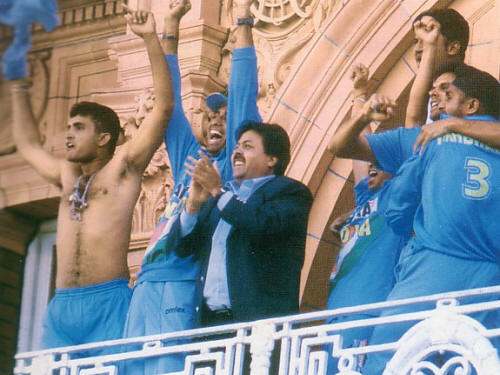 The 2003 World Cup in South Africa was the litmus test for Ganguly and there already was a tremendous amount of pressure on him to bring the cup home for India. The words 'Bees saal Baad' that circulated in the media at that time, did not help much. India got off to a horrendous start and soon posters of Ganguly and his men were set on fire across the country as a mark of protest. But one man was not about to give up yet. With a spirited captain leading the side, India gave their best ever performance in a Cricket World Cup since 1983 (at that time). In the finals, they lost to the best Australian team that ever played one day cricket but won hearts everywhere for the fight they showed.
The Indians carried on with their form and confidence and recorded historic wins in its tours of Australia and Pakistan. The exploits of the Indians in these unclaimed territories still remain fresh in the minds of many cricket fans in India. India glowed luminously under Sourav Ganguly.
After a glittering run, India started underperforming and the Champions Trophy in 2004 marked the beginning of a downslide. Ganguly's batting form too started taking a serious hit, which was going unnoticed so as long as India had been winning their matches.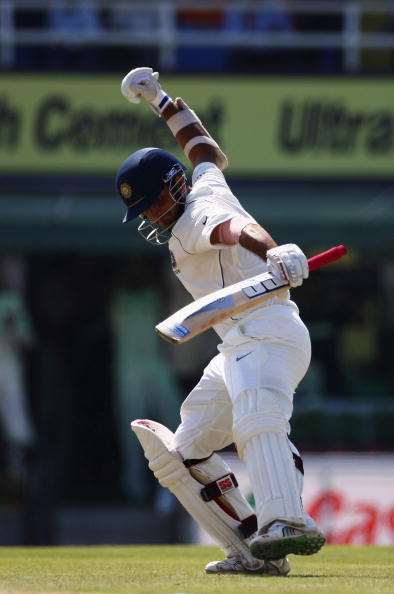 India was on the lookout for a new coach and if there was one thing that the doctor did NOT order, it was the pairing of Ganguly and Greg Chappel. The Australian disbanded the team with his 'football' style managing policy where the captain of the side had a very limited say. It was a case of too many cooks, the broth in this case being leadership. Dada's command and control had been compromised. The Indian camp was split down the middle. The God of offside was caught offside and now he just had to go.
But what Ganguly left behind was an Indian team that feared no one. The legacy of Ganguly still lives on in the team and one can see it whenever a young player punches the air in celebration, giving it back to the opposition.
After a hiatus, he was reselected and made a terrific comeback, amassing the highest runs by an Indian in 2007. However, forces, both political and natural, were against him playing any further role in Indian cricket. After dabbling a few years in the IPL, Sourav Ganguly decided it was time he hung up his boots and this time, it was for good. BCCI's pathetic handling of the retirement of someone of his stature only showed the sorry state of affairs within the country's governing body.
A country bid good bye as a wounded tiger quietly made his way back to his den, but most importantly, with his head held high.