Deciphering the renewal of Fletcher's contract
921 //
17 Mar 2013, 14:18 IST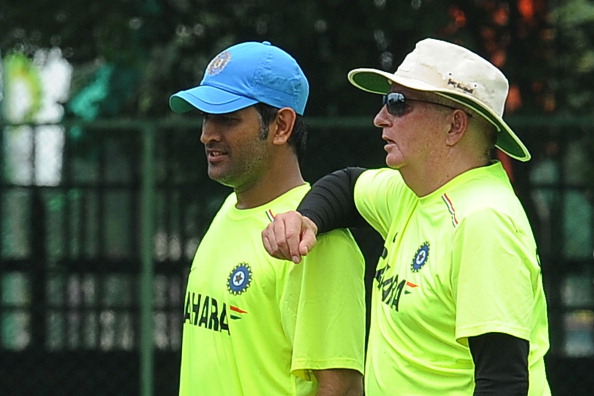 On Friday, the BCCI's working committee decided to renew Duncan Fletcher's contract, extending it by one year – a move that appeased few and disappointed many. Fair enough. Fletcher clearly hasn't done enough to retain the most coveted spot in international cricket.
Ever since Fletcher took over, Team India has been single-mindedly going in only one direction – downhill. The 2011 summer saw England thrashing India four-nil in their backyard. Questions were raised about Fletcher's future. Soon after, India's disastrous tour Down Under began. Another four-nil whitewash saw our players returning home with their tails tucked safely between their legs. More questions were raised; more fingers were pointed. Projected by most as the "revenge series", England's four Test tour of India last year went slightly better than the foreign tours – India lost the series, but managed to draw one game and even win one!
Following the loss in the ODI series against arch rivals Pakistan, almost the entire nation was of the opinion that Pakistan had hammered the final nail in Fletcher's coffin. He is walking on thin ice, they said. He would not get an extension, they said. He should be grateful that he hasn't yet been sacked, they said. And then, the BCCI, continuing to do what it does best – baffling the nation – extended Fletcher's contract up to April 2014.
Insiders in the BCCI say that the sole thought behind the decision was to maintain a sense of continuity during the team's rebuilding phase. After all, following the high profile retirements of Dravid and Laxman, and the extremely uncertain future of stalwarts like Sehwag, Gambhir, Yuvraj, Harbhajan and Zaheer, more change is not welcome, the insiders ranted.
But as expected, all that this decision has done is improve the eyebrow raising skill of our cricket viewers. Duncan Fletcher has done nothing earth shattering as Indian coach. His failures outweigh his successes. Two victories against a disappointing Australian outfit, where only a certain Michael Clarke seems to possess the ability of successfully delivering the goods with a fair degree of consistency, undoubtedly does not compensate the eight humiliating losses India faced overseas.
Also, by prolonging Fletcher's contract till April 2014, the BCCI have effectively handed him the ropes till the 2015 World Cup. After all, it is natural to expect a new coach to take about a year or so to settle down into a terrifying, intimidating new role; to appreciate the weight of expectations; to decide how to handle a team where every player is a superstar; and to realize the burden of coaching the team of a country where each and every one of its billion citizens is a self-proclaimed expert. And so, it would be preposterously unpleasant and downright irresponsible not to let Fletcher continue on till the World Cup in Australia. By extending Fletcher's contract, the BCCI might have just put themselves into a very tight spot.
The word going around is that Dhoni personally recommended Fletcher, and it is due to the captain's repeated requests that Fletcher's stay has been prolonged by a year. If these reports are true, it reflects very poorly on the BCCI and their decision making prowess. Obviously, a coach must not owe his position to any single individual. Fletcher seems to have enough problems commanding respect in the team as it is, and this story might just add onto his seemingly bottomless list of woes.
But if not Fletcher, who is it that the nation can turn to? Sourav Ganguly has openly expressed his desire to coach the National Team. Rahul Dravid and Anil Kumble, despite not having expressed interest, are men who would unflinchingly walk on broken glass if the nation needed them to.
To decide who the ideal coach would be, deciphering the exact role of a coach in the setup is of prime importance. What does a coach really do? Other than a bit of fine tuning here and a couple of tweaks there, how much can Duncan Fletcher, or any other coach affect the batting of a Dhoni or a Sachin? After all, these are men who have played cricket all around the world; performed their hearts out all around the world; won matches for the nation all around the world; lifted trophies all around the world.
Clearly, a coach has a job much greater than just coaching. Ironic, but true. A coach has to motivate; a coach has to inspire. A coach should have the ability to arouse self-confidence in every individual he is in charge of. A coach must possess the capacity of being able to efficiently discipline and effectively punish. A coach must be able to lift a team that has hit rock bottom, and must have the humility to stand back and watch when the team is on cloud nine. A coach must be able to inculcate team spirit, and propagate the overall belief that "impossible is nothing". Only a man who checks each and every one of these boxes can be a great coach – one around which a champion team can grow.
Right now, what India needs is a visionary – a breath of fresh air. India needs a man familiar with the ways and means of Indian cricket; a man brimming with innovative new ideas. Not a sixty four year old whose glory days are way past him.
Choosing a new coach for our national cricket team has never been BCCI's favourite job. And sadly, the extension of Fletcher's contract seems to be a result of BCCI's deplorable laziness, rather than a sound, rational decision based on facts, figures and reason.