In the eleventh over of the Sri Lankan innings during the second ODI between India and Sri Lanka at Mohali, with Lahiru Thirimanne and Angelo Mathews at the crease, Mathews ran hard to complete a second run and cover his ground at the striker's end. Indian keeper MS Dhoni first got ready to collect the throw arriving from third man but then realised that the ball would eventually end up hitting the stumps, which it eventually did, as he opted out of receiving the throw at the last moment.
While the flashing red light of the disturbed bails excited the crowd and prompted the square leg umpire to call for help from his TV colleague, what was arguable was a potential breach of the new fake fielding law.
Applicable from October 1, 2017, were the proposed changes to the laws of the game and the addition of new ones, which the ICC had recommended to the MCC, the lawmakers of cricket. One of the new laws inducted into the game was that of providing the batting team an additional five runs if a fielder pretended to collect and/or throw the ball when the ball was actually not in his/her hands.
As clearly stated by Law 41.5 of the MCC, it deals with "deliberate distraction, deception or obstruction of batsman". Clause 41.5.1 states: it is unfair for any fielder wilfully to attempt, by word or action, to distract, deceive or obstruct either batsman after the striker has received the ball.
Thus, the fielder in question must have deliberately attempted to fox a batsman by faking the collection of the ball and/or throwing it and thereby preventing the batsman from running.
The first such instance of penalising the fielding team occurred this September just days after the law came into effect when Marnus Labuschagne of Queensland was found guilty of teasing the Cricket Australia XI batsman Param Uppal.
As a result, the CA XI was awarded five extra runs. Last month, during the first Test between India and Sri Lanka of the ongoing series, the visiting captain Dinesh Chandimal escaped punishment when he acted to throw the ball which he had actually missed while sliding on the ground in Kolkata.
However, keeping in mind the purpose of the law - "that fielders were deliberately pretending to have the ball as a means of fooling the batsmen, thereby preventing them from taking further runs", as per Fraser Stewart, MCC's Laws of Cricket manager – Dhoni was neither found to have pretended the collection of the ball nor was he seen throwing it to stop a run.
While he collecting the throw, Dhoni realised that the ball might ball hit the stumps, and smartly got his gloves out of the way. Hence, the debate about allowing Sri Lanka an extra five runs would not have found acceptance with Dhoni well within his rights.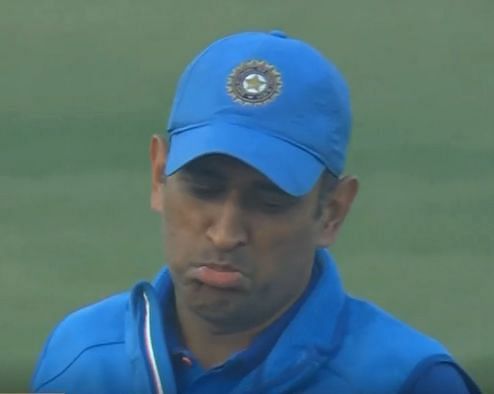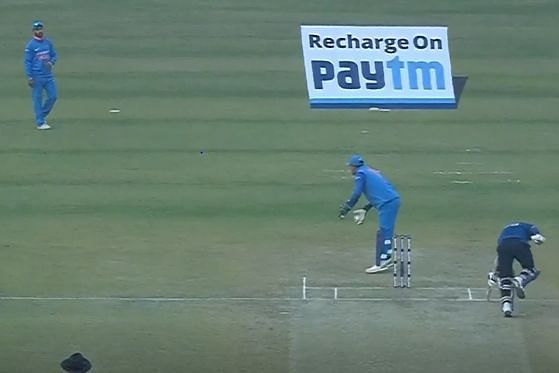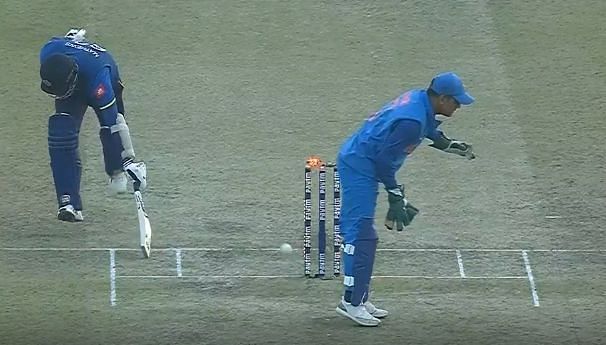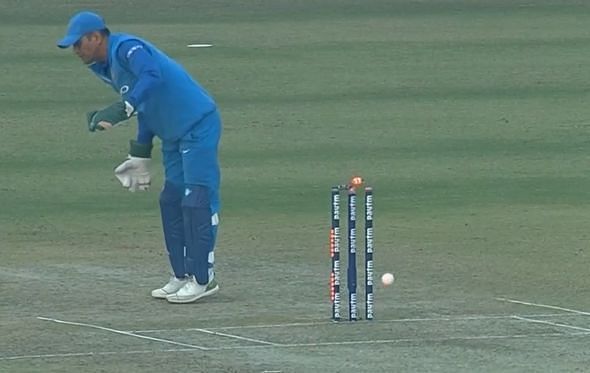 Edited by Anuradha Santhanam