"Had I been captain maybe I wouldn't have scored all these runs. People think that maybe I carry these regrets (of not being the captain for a longer period), but no. Had I done more, who knows whether I would be where I am today? If I had been captain for so long, maybe I would've been too distracted by other duties to score as many runs as I did."
These were the words of one of Pakistan's most prolific batsmen, Younis Khan, as he stepped away from International cricket.
Unsurprisingly, this wasn't the first time a batsman had said that. Michael Vaughan, Brendon McCullum, among others have reflected on how they let captaincy affect their batting. This brings us to question whether or not the burden of captaincy affects a batsman's performance with the bat.
Indeed, this is not a new question. And, for a long time, there has been a perception that the burden of captaincy can prove to be hindering for an elite batsman's form. It plays in the minds of the batsman, cluttering his mind with peripheral issues of the happenings on the pitch and eventually, takes a toll on his work with the blade.
What do the statistics say?
On taking a look at the statistics, this perception does not find any backing up. For this analysis, we take into account a random sample of 20 captains and their batting averages as a captain and as a non-captain in Test matches.
Of the 20 players listed above, only Australia's Mark Taylor, West Indies legend Sir Viv Richards and India's Sourav Ganguly experienced any significant downfall in batting averages after being appointed as the captain of their respective teams. (We can ignore Graeme Smith's record as he only played eight matches of his 117 as non-captain).
On the other hand, as many as six batsmen – Graham Gooch, Mahendra Singh Dhoni, Ian Chappell, Michael Atherton, Brian Lara, and Misbah-Ul-Haq – experienced an upheaval in form. For the others, it did not seem to affect so much.
Interestingly, Sachin Tendulkar and Ricky Ponting, two of the most prolific run-scorers in Test cricket in the world, saw their averages go down by the slightest of margins as captains. However, neither had suffered that substantial decline.
Statistics, though, never offer a clear picture of how a player is performing on the pitch. To get a more transparent idea, one must look beyond the statistics.
Looking beyond the statistics
First of all, we must understand just how tough a captain's job is (particularly, in Test cricket).
Don Bradman had once described the role of a captain: "A captain must make every decision before he knows what its effect will be, and he must carry the full responsibility, not whether his decision will be right or wrong, but whether it brings success."
It couldn't have been put more accurately.
As a captain, you have to take numerous decisions – which players will play, whether to bat first or not after winning the toss, the batting order, the bowling changes, the fielding placements – he has to do it all. The decisions might not be popular but they must bring success. The pressure is huge.
Moreover, amidst all this, there are the tens of commentators, the hundreds of pundits and the thousands of fans analysing every move. And then, after all this, you have to walk out to the middle and bat, well aware of the fact that if the team fails collectively, the responsibility would solely lie on your shoulders.
The burden is pretty heavy. It's exhausting. And, it might, to a certain extent, affect the individual performance of the player.
Cricket teams around the world, generally, make one of their best batsmen the captain. With the new pressure of captaincy and that extra responsibility, it is certainly harder to focus on the primary job at hand. Often, a player might fail to perform as well as he should have after he has been appointed as the captain. However, one must take a closer look.
A player is usually appointed as the captain when he is at the top of his game (of course, there are exceptions). He has been playing in the form of his life and has been contributing to the team's cause.
Only then is he made the captain. Now, it is only natural, that with time he will suffer a slump in form which might see his average coming down a tad bit. This decline, however, cannot be pinned to the burdens of captaincy, as it is, merely, the law of averages catching up.
Also, on many occasions, a captain is seen changing his batting position in the lineup for the sake of his team. He will be willing to take the risk of his individual slump just so that the team can benefit from it. And, if his batting average indeed goes down, it surely cannot be because of the 'burden' of captaincy.
Resting the case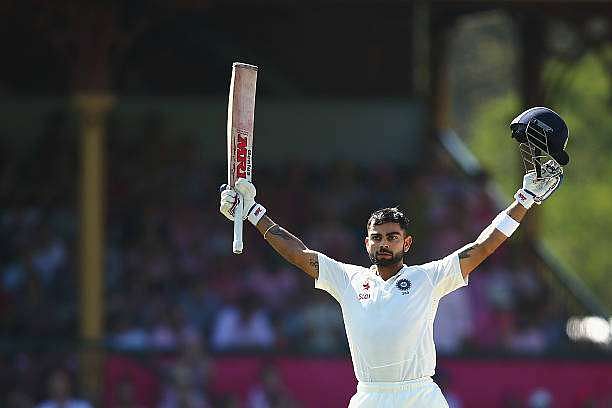 The very perception of a batsman suffering a slump in form because of captaincy is a myth. It has often been used as a shallow conclusion when analysing a captain's form with the bat.
In fact, if you take a look at the current generation, you will realise just how ridiculous this perception is. Virat Kohli has a batting average of 41.13 as a non-captain as compared to 59.97 as captain.
Angelo Matthews's batting average as a non-captain stands at 39.71 while as a captain he has an average of 59.97. Mushfiqur Rahim enjoys a batting average of 27.15 as a non-captain whereas, as a captain, he has an average of 43.12.
The likes of Steve Smith and Kane Williamson have also flourished as captains and have led their sides from the front. If anything, this is proof enough that in modern cricket, captaincy is not detrimental to a batsman's performance on the pitch.
(Note: All stats taken from ESPNcricinfo)