England in India: Of morose flashbacks and a glimmer of hope
951 //
17 Dec 2012, 20:31 IST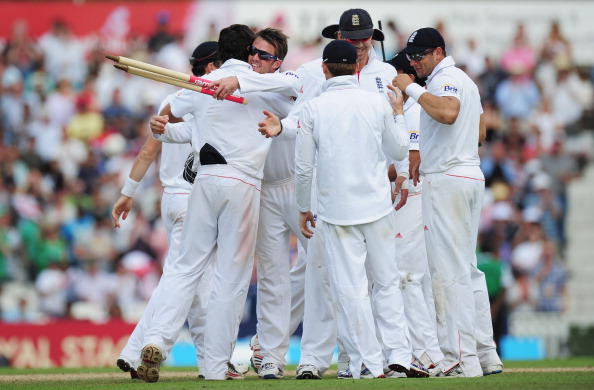 At the start of the day, you'd have expected India to come out all guns blazing. It had been eight years since they had lost a series at home and 28 since they had lost to England. You would have expected Mahendra Singh Dhoni, the man who led a team to endless glory and etched his name in folklore, to motivate the team enough to attempt the improbable and draw the series on the last day of the test match. It was indeed a long, long shot, but we have seen what Dhoni and his boys are capable of, and while a difficult task, you could count on them to conquer this steep quest. But all of that came down, not with a crash or a bang, but a whimper and fizz.
You could see India furiously wringing the dead Nagpur pitch, trying to extract some nutrient that could harness their abilities and trounce the opposition, but the English navigated through the day without any pressure, without the slightest fuss. The match ended in a tame draw, an anti-climax to what we thought could have been the match that sparked the fuse of resurgence, as India fell to a theoretically inferior English team 1-2.
There are countless number of opinions and triple the number of arguments as to why it is that the Indian team, despite playing in conditions hand-in-hand with their capabilities, responded meekly to the English challenge and has walked away limping towards its next series. There are a plethora of suggestions and solutions offered by each inhabitant of the country, all plausible and respected, but none heeded and cared for. The fate of Team India lies not in ours, but in the hands of the ignominious selectors whose superpowers extend to constantly making the wrong decisions, as I add burden to the aforementioned countless number of opinions.
Our batsmen faltered in the most crucial of times, failing to establish a price on their wickets as they fell like dominoes, albeit without the same intriguing elegance. The irony of it all was how our batsmen, born and bred on Indian turning wickets, looked hapless against Monty Panesar and Graeme Swann, while our very own spinners were dealt with calmly and with ease. This, after the mastermind strategists decided to pull back all spinners for England's practice matches, an act which shook many English heads and is now piquing our interest in the ever so popular concept of 'karma'.
In a television interview earlier today broadcast after the match, Indian legend Sunil Gavaskar stated that Virat Kohli is ready to take over as captain of team India. Much like his captain, Kohli has not completely satisfied the purists' appetite with his Test match batting. However, if he could produce innings like the one he did at Nagpur, Gavaskar may well have a valid point.
Though just 13 matches old, Kohli has shown the qualities it takes to be a team leader. He is aggressive, focussed and seems to be the centre of attention in the dressing room, in addition to the fact that he has championed the U-19 team to a World Cup, a fine feat at such a young age. India has perpetually shied away from taking risks when it comes to captaincy; Virat Kohli could be the ultimate rabbit in their hat. Change is required and he could be the perfect catalyst.
The future lies daunting ahead of the team which, as of now, is with a leader strapped to a time-bomb. Once he capitulates, the rest of the team follows suit, like sheep to grass. Decisions need to be taken, brave decisions and unique ones. Kohli could be the one to take the ticking off Dhoni's back and on to himself, and for all we know, he could deal with it a whole lot better.