England in India: Spinning the tale of defeat
734 //
10 Nov 2012, 12:17 IST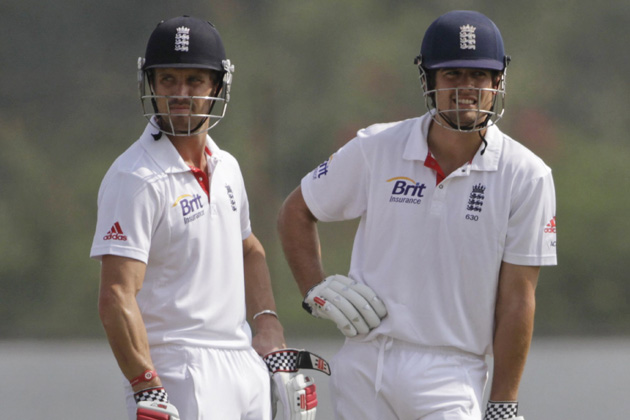 England are currently plying their trade at Ahmedabad, gruelling it out against a depleted and weak Haryana, who are on the back of a humiliating loss, where they were shot out for 55 by Vidharba in their first innings, before losing by 8 wickets defending a paltry 37.
As I write this, the English bowlers are struggling to dismiss the Haryanvi batsmen, having just got six wickets in eighty overs. On a largely unresponsive pitch, this may not seem like a difficult fact to digest, but given that the English are arguably the best test team in the world right now, and that Haryana's recent batting performances should have left them shamefully hiding their faces, the English bowlers should be pulling their socks high up.
India's 15 member squad has three full-time spinners in Pragyan Ojha, Ravichandran Ashwin and Harbhajan Singh, and all-rounder, Yuvraj Singh, whose 'part-time' tag is one of the toughest questions the common man faces today. Questions of whether India will play five bowlers or four, and subsequently whether they'll pick three spinners or two, will be answered with the outcome of this current game, where England's batsmen were on a joyride, playing free strokes and amassing 521 in the first innings.
Though, here's the intriguing fact. The English batsmen had 40.1 overs worth of spin bowling, where they scored 177 runs and lost eight wickets. Jayant Yadav, a cricketer nobody but his mum knew of, gathered his career best figures of 4/110 and even went on record to criticize the English method of playing spin.
The English are popularly known to be not-so-good at many things. Their food is said to be extremely bland, leaving the hungry man wanting for even more than originally desired. Their lack of hygiene and fashion sense is mocked in almost every conversation regarding them. Yadav has stated nothing but the obvious, like saying bananas are yellow or calling a Vivek Oberoi film bad. The English odyssey against spin, especially in the sub-continent, has left them looking between their legs, back at their broken stumps with a bewildered expression questioning the Gods on why they didn't give them the ability to assess trajectory and turn.
They have lost matches against Pakistan and Sri Lanka solely because of their inability to face spin. Cram your team with spinners, and that's the formula to defeat the English. It works so much so, that it was Kachra who ultimately brought down the British batting line-up in Lagaan. The English history against spin is a sad one and Dhoni is surely going to exploit that.
While his mates relaxed in the city, Kevin Pietersen toiled in the nets, facing spin bowling for hours on end. Against Haryana, Pietersen was the only batsman to not be dismissed (barring Panesar, who was the last man) against a barrage of spin. So all it ultimately takes for the English is some good old-fashioned net practice to tackle the likes of Ashwin, Ojha and, well, Jayant Yadav. But this definite chink the armour is what the Indians will exploit and could eventually be the key to their victory against England.