England's impressive start to the summer came crashing down, at Old Trafford, on Wednesday when Kuldeep Yadav picked up five wickets as India won easily. The margin of victory will be a concern to England captain Eoin Morgan and the management team. More worrying is how the English batsmen, including Morgan, could not read Yadav's bowling action. Morgan has found spin to be his Achilles heel over the last 18 months and that appears to set to continue.
Since the beginning of 2017, the England captain has been dismissed seven times in nine innings by slow bowlers in T20Is. Spinners such as Mitchell Swepson, Sunil Narine, Samuel Badree and even Glenn Maxwell have taken Morgan's wicket in the recent past. It is not just T20Is where there are problems.
Ravichandran Ashwin has taken Morgan's wicket five times in ODIs whilst Steve Smith's occasional wrist spin has been successful three times. The left-handed batsman has problems facing right arm spinners and the numbers suggest that the problem is getting worse. Kuldeep Yadav's left arm googlies have exacerbated the issue.
In nine innings against India, Morgan has accumulated 291 runs from seven innings (average 36.38). His top score is 71 which was scored at Edgbaston in 2014 which lead to a tight three-run win. Any scores over 40 have lead to an England win whilst the failure at Old Trafford was the first failure against India on English soil.
The second T20I is being played at Sophia Gardens in Cardiff. Morgan's form in the Welsh capital has been good. In three innings, he has only been dismissed once and it includes 74 against Australia from 39 balls. All three matches have been England victories, so Morgan will be hoping that this continues as England attempt to level the three-match series. The final match will be played at the County Ground in Bristol.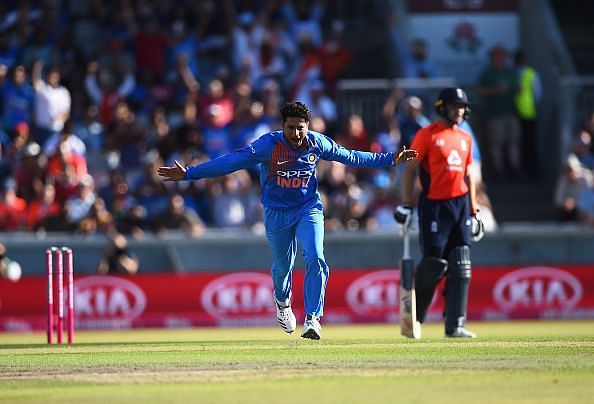 Outside of Morgan's direct control is the prolific form of Yadav. The 23-year-old's form in T20Is has been impressive so far. In his 11 matches, he has taken 24 wickets at an average of 11.79 with a strike rate of 9.80. His economy rate is currently 7.16 and has decreased during the Sri Lanka and Ireland series. Also, Yadav has only been on a losing team twice so far and is on a seven-game winning streak since November of last year.
The Guardian newspaper have reported that England have employed their bowling machine, Merlyn, to help counteract Yadav. The machine is purported to have the ability to replicate any bowler, so Morgan and his team have employed Merlyn to bowl googlies. Several of the English batsmen will have encountered him in the IPL for Kolkata Knight Riders but the hot English summer appears to have conjured up dry, spin-friendly pitches.
If England are going to get back into the series, then Cardiff is a must-win game. The focus has shifted onto Yadav, but India's powerful batting line-up is just as dangerous. If England can tame Yadav, it will become a contest between the batting line-ups. The pressure is on England and their captain to find form against spin.
Edited by Nishant Jayaram