Five famous hat-tricks in international cricket
Hat-tricks are a rare occurrence in cricket. They are about as likely to be conjured as the possibility of Sreesanth becoming a hermit after his recent fiasco.
They are actually a reflection of a bowler's dominance over a batsman; indeed, the psychological hold that the fielding side secures over the opposition is difficult to break. At times, such magical displays infuse a down-and-out team with one last, desperate hope of victory, while there have also been instances where a team has taken a hat-trick, but still ended up on the losing side.
Darren Gough did the deed at the SCG during the 1998-99 Ashes series, producing a fiery display of swing and pace to send back three Australian lower-order batsmen. Sri Lankan slinger Lasith Malinga has achieved the distinction three times in ODI cricket, a feat about as rare as the occurrence itself.
Let's take a look at five of the most famous of such displays in international cricket:
5. Chetan Sharma (India v/s New Zealand, 1987 World Cup)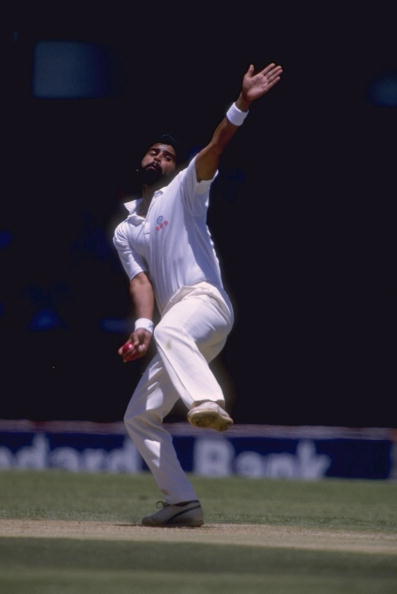 The lanky, bearded Sharma had sent down five lacklustre overs against New Zealand in India's last group game of the 1987 World Cup. The defending champions needed to win this game by a considerable margin in order to top their group and have a better run-rate than Australia.
Ken Rutherford had already settled down and was looking fairly solid out in the middle. If India had to restrict the Kiwis to a modest total, they needed to take quick wickets soon.
Skipper Kapil Dev tossed the ball to Chetan, aware of his uncanny knack for coming up with a sudden, unplayable delivery in between his ordinary stuff. The protégé did not disappoint his mentor.
Having bowled three dot balls, he suddenly produced a sharp in-dipper at a fast pace that belied his lazy approach to the bowling crease. Rutherford was beaten all ends up as the ball crashed into his stumps, ending his vigil at the wicket.
Sharma reproduced the same delivery on the next ball, and the dangerous Ian Smith had no clue about how to play it – losing his stumps in the process. The Nagpur crowd worked up a frenzy, buoyed by the double-strike. A hat-trick by an Indian – the first ever in World Cups – seemed on the cards.
Chetan, quite sensibly, had a long chat with Kapil, who advised him to keep it simple. He raced in and fired one into the block-hole, a little fuller, and Ewen Chatfield shuffled across too far, only to see his timber disturbed. The crowd erupted, the Indians were ecstatic, and New Zealand eventually finished with a total that India chased down superbly via a brilliant maiden ODI century from Sunil Gavaskar.