Has Team India gone overboard with the youth movement concept?
5.22K //
09 Feb 2015, 22:05 IST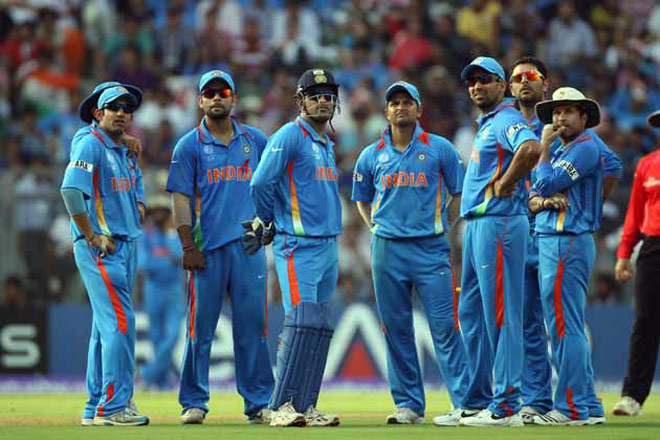 The ghosts of the past
On the brink of the 11th edition of the Cricket World Cup, teetered perilously on the edge of humiliation, desperately clinging to passion, determination and hope over statistics and reality – that is the state of Team India at the moment.
The reigning, defending champions of the world strode sanguinely into the 2011 Cricket World Cup with what was a dream team, and not just in humoured retrospect. They knew they had the best batting line-up in the world, and they would deal with everything else around it. With Virender Sehwag, Sachin Tendulkar, Virat Kohli, Yuvraj Singh and Gautam Gambhir in blazing form, along with timely bursts from Suresh Raina and Mahendra Singh Dhoni, there weren't many instances of batting failure.
While it was a good amalgamation of young and old, it can be argued that many of the veterans, especially Yuvraj Singh, led the way to that moment in history. It was a mind-numbing moment when it finally happened, but deep inside everyone knew that if there was ever a team to do it, it would be that one. It was for Sachin (hashtag and all), and he was given his moment of glory after a career that gave India a cricketing legend.
The ghosts of the present
The current Indian squad, in stark contrast, is relatively young and inexperienced, with captain Dhoni the only veteran to have eluded being axed despite not having ODI performances of note for a year. But I guess we're allowed to sacrifice a spot in the venerated playing XI for a successful captain.
For the sake of negating hypocrisy, it's important that we refine the tone of this debate. Whenever the veterans faced a transient slump in form, there used to be a barrage of outrage against their age, fitness and future in cricket. They were seen as malevolent usurpers of young talent, for they took a spot that could build a younger star.
Team India finally gave up on them, and chose to persist with a younger squad, honing talents like Shikhar Dhawan, Rohit Sharma, Ajinkya Rahane, Ambati Rayudu, Ravindra Jadeja, Mohammed Shami and Umesh Yadav.
Two questions that need to be asked of this strategy
All that is well and good, and in such situations it's important to let love for a beloved divine veteran (Sehwag, in my case) not cloud the bigger picture. And the bigger picture in this case is the next World Cup.
But despite nurturing these talents for years, they seem horribly inexperienced when finally exposed to a cricket pitches that are not flat or in India. The batsmen, while still supremely capable, find it difficult to conquer the conditions, and our bowlers fail to exploit them. This begs two questions –
Did we go right in replacing aging, out-of-form veterans with younger and fresher talent while going wrong in building up this neoteric generation on the insipid Indian pitches?
Should we have persisted with the experience of veterans over the inexperience of the newer squad?
While it is true that Yuvraj, Gambhir, Sehwag, Zaheer and Harbhajan were all dropped because of bad form, it is also true that each member of the new crop has gone through tremendously long phases of bland performances, yet been persisted with. In particular, Rohit, Vijay and Jadeja were shown lingering faith that finally paid off, yet would have resulted in the player being axed half-way through had any of them been a veteran.
Add in the extra, colossal pressure that comes with playing a World Cup, and you have to wonder whether it'll all be too much for this young brigade. It is not for nothing that people talk about experience all the time. How smart a tactic is it to not treasure the troves of talent and experience in our veterans, who've played on Australian pitches, played in high-pressure tournaments and often scored big knocks there?
As a diehard Indian cricket fan, I want nothing more than for the World Cup trophy to be defended by the men in blue. But as an aspiring realist and pragmatist, I find this to be a slightly Herculean task at present.
As always – passion, determination and hope over reality.