How will the Aussies turn the series around?
1.35K //
06 Mar 2013, 16:24 IST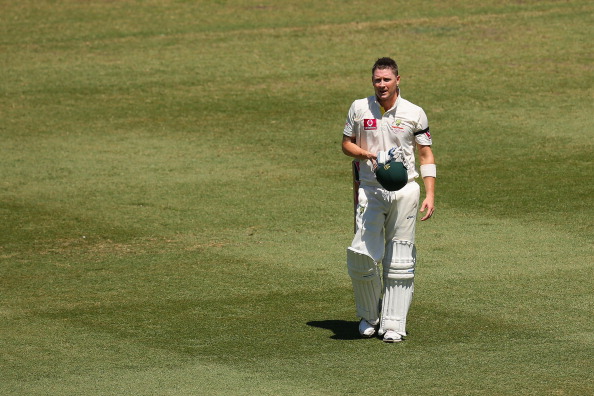 India's victory by an innings and 135 runs over Australia in the 2nd Test played at Hyderabad exposed quite a few gorges, and not mere chinks, in the Aussie armour. While the magnitude of defeat was disconcerting, the meek surrender by the Aussies in the 1st session on Day 4 was unbecoming of an Australian side which has been known to fight with skill and valour on the cricket field. As of now, the Aussie captain Michael Clarke and coach Micky Arthur will be faced with the burning question of how to turn this series around.
During a tour, the visiting team can only do so much about its skill level. In this case, it is very clear that the Aussies lack the skill to play good quality spin bowling in testing conditions. However, matches much likes battles can be won with the 3 S's – skill, strategy and spine. While skills can't be augmented overnight, the Aussies can definitely show a lot of improvement in the latter two.
For their strategy, they must get the team composition right to begin with. Clarke has taken the first step right by promoting himself up the order. The best batting line-ups in Test cricket have had their best players getting consistent scores batting at number 3 or 4. As long as Ponting was batting at number 3, the Australian team could afford to have Clarke coming in at 5. However, with Philip Hughes' horrendous form against the Indian spinners and Watson's lack of ability to convert good starts, Clarke's promotion was inevitable. He should come in at 4, by which time the spinners will most likely be in operation and he can then launch his counter attack with his sublime footwork and precise placement. There is little doubt that the patience with Hughes would have run out and he will most likely be shown the door for the remainder of the series. Watson can take his place at 3 which leaves us with the question of who should fill the number 5 position. Usman Khawaja seems to be most likely contender given that he is a pure batsman and he has always been in the mix of the selectors' plans in recent times. Steve Smith is another option but Khawaja is more of a long-term prospect than Smith and hence, deserves an opportunity now.
Moises Henriques has made the all-rounder spot his own with his tight bowling and impressive batting. He has looked most comfortable against the Indian spinners after Clarke in this Aussie team. Although Wade hasn't scored much apart from his first-innings 62 in the 2nd Test, the absence of a back-up keeper means that he will continue to bat at 6.
The selection of Glenn Maxwell ahead of Nathan Lyon was baffling. His inexperience in batting and even bowling good quality spin bowling; as well as the presence of another all-rounder who has made his debut in the previous match made his selection a well-debated topic before play began and after it ended. You have to believe that your lead spinner is a better bowler than an all-rounder. With his batting not leaving anything to talk about in the positive light, Lyon should find his way back in the team. He is the spinner who was picked ahead of anyone else for this tour and it was hard on him to be dropped after just one unimpressive performance in the opening match of the series. His partnership with Doherty, with both of them adding to the variety of the attack with their left and right arms off-spinners, should be something that the Aussie team should be bullish about.
This leaves us with 2 spots for the seamers. Pattinson has been very impressive and undoubtedly the best Aussie bowler in the series so far, generating lively pace from lifeless tracks. Siddle, while keeping a tight length, has been picked up just 2 wickets. The tight lines amount to nothing if the other bowlers can't pick up wickets from the other end as well. Mitchell Starc should be worth pondering over because not only does he provide the variation of a left-armer, he can also swing the ball in to the right handers. Aussies need bowlers who can take wickets and put pressure on the batsmen and going on an all-out attack with the opening bowlers sounds like a plan.
Apart from the selection, the batting strategy needs a re-look. There was a lot of talk about the batsmen being aggressive against spin. Well, the results are in front of us. Being aggressive doesn't always mean playing your shots all the time – it means batting with intent and decisiveness. Reading the ball off the hand and the pitch, judging the length and using your feet against spin is being aggressive too. While it's important that the Aussie batsmen don't think that they can start batting like Clarke overnight, it's imperative that they don't play too many shots and don't play across the line at the start of their innings. Once they have their eyes set and are able to use their judgement well to understand what the ball will do, they can open up.
Finally, a word on the captaincy. If I were Clarke right now, I would be as disappointed with the team effort as the original Clarke is. However, what Clarke must understand is that many of these players are playing in one of the most challenging conditions in Test cricket for the first time in their baggy greens. Having a stern word with them is required to pep them up, but where he does that and how he does that is important. While the performance sure was unacceptable and improvements can't be made sitting on a couch, these ideas might as well have been communicated in the dressing room or team meetings. A public criticism of these young players, who are still learning about life in professional cricket, might put additional pressure on them. Clarke has an unenviable job of motivating his team from where it must be right now and he might want to take a more private way of doing that.