I love you Sachin Tendulkar, not your fans
2.61K //
27 Mar 2013, 19:41 IST
Disclaimer: The views in the article are those of the author and do no necessarily reflect those of the site.
India has finally routed Australia by a 4-0 margin to snatch the Border-Gavaskar Trophy from Australia's tight clasp. The news is yet to sink in. It is one unprecedented feeling which has rendered me gobsmacked. I do not know how to react. Whitewashing Australia, whatever be the grade of their team today, is always special. The victory has answered quite a few questions raised by the media, critics and experts. However, the raging conundrum regarding Sachin Tendulkar's retirement is yet to be answered.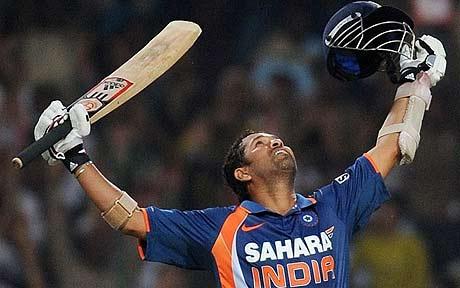 I distinctly remember the 1996 World Cup. It was the year I discovered my love for cricket. In my early years of following cricket, the one name taking the cricket universe by storm was that of the master blaster, 'Sachin Tendulkar'. His heroics in Sharjah against Australia, his demolition of Desmond Haynes' world record of 18 ODI tons, his being the lone man around whom the entire Indian team revolved and being the man who smashed a World Cup century just after his father's death, seemed like utopia. I had found my idol.
"He is life, he is the Sach,
Oh my idol, I love you very much"
Collecting cricket cards which came free with colas and chewing gums, I quickly gathered a host of Tendulkar's cards, capturing records of his career at an early stage. Such was the impact of this man that I requested my parents to rechristen me as Sachin. However, a decade later, my feelings have changed – drastically. The reason behind this drastic change in feelings is not Sachin's repeated failures or that he is well past his prime. The reason is his unreasonable fans who turn a blind eye to everything when it comes to Tendulkar. Thus, my purpose today is to address everyone who still holds Sachin in higher regard than mere mortals.
Despite my misgivings, I feel it is time to remind Sachin & Co. that it was been 21 Tests and 37 Test innings since he made it to the three figure mark. You may argue that he has 8 half centuries to show in that period, but my friends, he also has 9 single digits scores to counter them. Leave aside the milestones and failures, Sachin has duly failed to produce any critical innings that has had significant impact on the proceedings of the game. Had Rohit Sharma been given so many chances, I can bet that he would have had at least 5 Test centuries in his kitty already!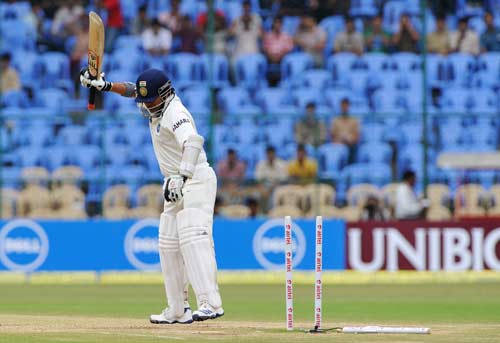 Now, you may say – dude look at his records and you have no right to say anything against him. To that I say, yes. He has scaled heights unprecedented. But let me ask you – has he been at his best for a long period of time?. Except for producing a selfish match-losing hundredth hundred, has he contributed anything significant to the game? Do we continue dragging Sachin because of his past achievements? If your answer is 'yes', then all I can infer is that Sachin is higher than the game in your opinion.
You will now counter my argument by claiming that Sachin Tendulkar is God. Friends, if I were to believe you, I will have to alter my definition of God. In my personal opinion, God is invincible. Thus, my definition of God doesn't not match up with your God. If you want, I would still prefer him calling him Indian Cricket's Almighty, if that pleases you.
I hope that a day comes in the near future when Sachin finally scores another Test ton. But I request you guys not to flood my Facebook wall with identical statuses – 'Baap baap hota hai' (Sachin is the father of Cricket). Guys, do not mistake the occasional spurts of excellence for a return in form or continued supremacy.
"He has class, that he shall retain.
He is past his prime, he now has to wane"
Finally, I would like to address my favourite section of Sachin fans who are awfully awestruck with Sachin's supposedly awesome fielding. I have a question for you – why does a dive or a good fielding effort by Sachin become a news or an important segment of your argument to defend Sachin's supposed contribution to the game?' Well, he isn't scoring runs, he doesn't pick wickets either. The least we can expect from him is to field well.
It hurts to read such snide remarks about Sachin. Trust me, it hurts even more to write them. Perhaps what hurts even more is to see Sachin embarrass himself time and again at the hands of amateur bowlers. The last thing I wanted to see was Sachin's incompetence in reading Nathan Lyon.
I still like to watch Sachin come out to bat and see him smashing the ball all over the ground. My heart swells with emotions when I see the crowd getting gaga over Sachin's entry. He is by far, and shall remain, the best cricketer the country ever produced. But every good thing has to come to an end. Everything in the world has its life-cycle. There will be a day when the Great Pyramids will fall, so why shouldn't a mortal?
Thank you, Sachin, for all the lovely memories you have given me over the years. My last request to you is to let me fondly remember your achievements. Don't let disappointment, disgruntlement and the reasonable-fan anger take over the feelings when I think about you.
Disclaimer: The views in the article are those of the author and do no necessarily reflect those of the site.