Sachin Tendulkar helps fan Sudhir Kumar Chaudhury get visa for 2015 Cricket World Cup
17.54K //
15 Feb 2015, 00:42 IST
Sudhir Kumar Chaudhury, the famous Indian cricket fan, has arrived in Australia to support the Indian cricket team ahead of their crucial Group B encounter against rivals Pakistan in 2015 ICC Cricket World Cup. And he has Indian cricket legend Sachin Tendulkar to thank for that, who wrote a letter to the Australian embassy in Delhi to grant him the visa within a day.
In his letter to the embassy, Tendulkar mentioned that Sudhir warranted special treatment with his visa application because of his status as a national icon. Tendulkar requested the embassy to help Sudhir get the visa as soon as possible so that he could be in Australia before the India-Pakistan encounter.
He wrote, "I am writing to confirm that Mr. Sudhir Kumar Chaudhary has been an ardent supporter of the Indian cricket team and has become a national icon due to his enthusiasm. He would like to travel to Australia for the India vs Pakstan game on the 15th of Feb, and would, therefore, need to depart on 13th of Feb."
Here is the letter from Sachin Tendulkar to Australian embassy requesting to approve tourist visa for Sudhir: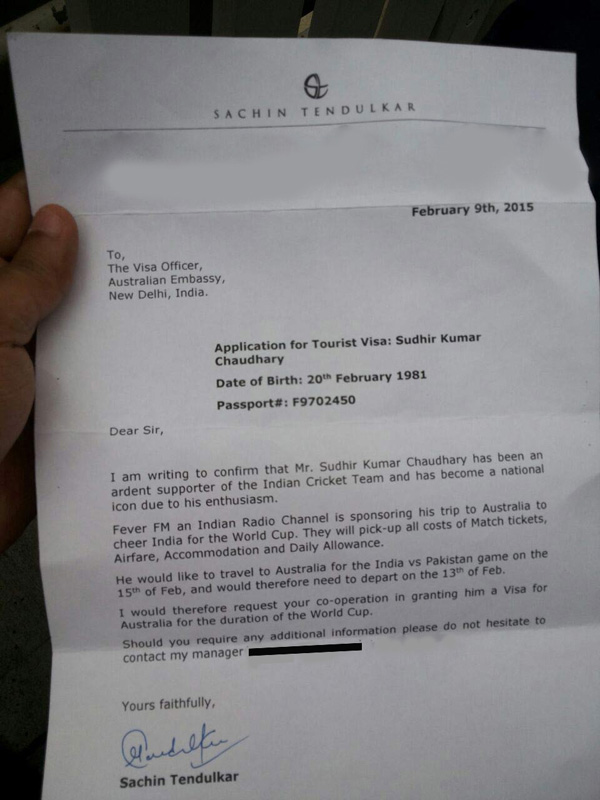 Sudhir Kumar Choudhary – an ardent Indian fan
Sudhir Kumar Choudhary, also known as Sudhir Gautam, is an icon in Indian cricket. The man has been known to travel thousands of kilometres just to watch the Indian cricket team play, and in particular to watch Sachin Tendulkar bat. But Sudhir's enthusiasm for the game continues even after Tendulkar has retired.
In the past he had Tendulkar's name and No. 10 one-day international number painted on his back, but that is now topped by "MISS-U".
Sudhir came to the Adelaide Oval as India began practising before their World Cup opener against Pakistan. When asked whether he had any troubles at the airport, he said, "Whenever I took off my cap, they would keep watching." The 31-year-old is said to have cut his hair in the shape of the Indian map and has it painted in the tri-colour (can be seen in the picture at the top).
Sudhir announced his arrival on the ground by playing the conch and waving the Indian flag, which prompted some Indian support staff to come and greet him. The Indian fans in the stands swarmed around him and started chanting "Sachin, Sachin!" Even some of the Pakistan fans joined in, but they were chanting, "Pakistan Zindabad!"
The atmosphere has been gradually building in Adelaide, with many Indian and Pakistan fans arriving in the city for the crucial encounter.