India register fourth win on trot in T20 for blind
883 //
06 Dec 2012, 23:52 IST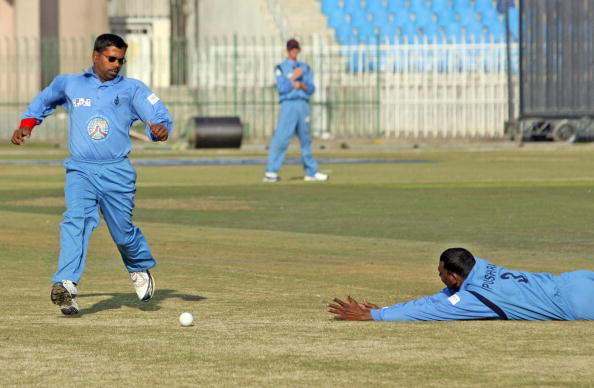 Bangalore - India on Thursday trounced Sri Lanka by 168 runs in the league tie of the T20 World Cup for the blind, registering its fourth win on the trot in the tournament.
Put into bat first by the Sri Lankans, as is the norm by teams winning the toss in the blind cricket format, India piled up 300 runs for four wickets in the stipulated 20 overs at the Central College grounds in the city centre.
In-form Indian batter Prakash Jayaramaiah, who has partial vision, hammered his third century in the tournament, by waltzing into the Lankan bowling, hitting 33 boundaries in a hurricane knock of 149 off 54 balls, while his partner Ganeshbahi Bushara (partially blind) belted 53 off 22 balls in an aggressive batting display.
Chasing an imposing target of 301, Lanka was bowled out for 132 runs, as its batsmen failed to put up even a semblance of fight against Indian pacers Ajay Kumar Reddy and Pankaj Bhue, who both are partially blind and shared two wickets each.
Jayaramaiah was declared man of the match.
Sri Lanka became the first team to be bowled out in an innings in this world cup. Though its their second defeat in the tournament, they are still in contention for a berth in semis.
India take on arch rival Pakistan Friday at the other venue — Aditya Global Sports ground on the city's outskirts.
Both the neighbouring teams are in great form, especially Jayaramaiah, who is peaking at the right time for India, while Pakistan's explosive batter Mohammad Akram is raring to go after the Indian attack.
Indian coach Patrick Rajkumar said his boys were charged up for the clash and promised to come hard against Pakistan.
In the second league tie, Australia coasted an easy win over minnows Nepal by nine wickets at the Central College grounds.
Put to bat first, Nepalese batsman struggled to score 130 runs for eight wickets in the stipulated 20 overs, as they faced tough time coping with Aussie's Peter Robinson (partially blind), who scalped four wickets for mere 12 runs and bagged man of the match award.
Chasing a modest 131-run target, Aussies rattled up 133 for one wicket in 9.5 overs, with Mathew McCarthy (partial vision) hitting 56 in 33 balls and Michael Zannis (totally blind) scoring 36 in 18 balls.
Australia has two wins and three losses but hopes to better its performance in the remaining league matches.
In the other two games, West Indies (by 10 wickets) and England (by 85 runs) registered their first wins in the tournament against Bangladesh and South Africa respectively at the Aditya Global Sports ground in the city's northern suburb.
Batting first, Bangladesh batsmen sweated against a fine bowling of Halden Forde (partial vision) and Anthony Cummins (totally blind). Its batters could muster only 81 losing nine wickets in 20 overs.
Chasing an east target, the Windies raced to 82 for no loss in just 4.5 overs, with Toussaint Gardner (partial vision) hitting 43 runs in 17 balls and Caneel Graham (partial blind), contributing 38 off 12 balls.
Forde was man of the match.
Batting first, England amassed 265 runs for one wicket, with its opener Mathew Dean (partially blind) taking the South African bowlers to cleaners with a classy 139 runs in 70 balls and posting a match-winning 177-run partnership with Justin Hollingsworth (partial vision) who scored a breezy 69 off 41 balls.
Chasing a stiff target of 266, South African could only reach 180 for six wickets despite a valiant 114-run partnership off 66 balls by Sowwabile Bidla (partially blind) and Jermaine Collins (partial vision). The duo scored 75 off 46 balls and 35 unbeaten of 35 balls. Luke Sugg (partial vision) took three wickets for 17 runs.
Dean was man of the match.