India vs Australia - 2nd Test, 3rd Day - The Quick Flicks
2.15K //
04 Mar 2013, 20:26 IST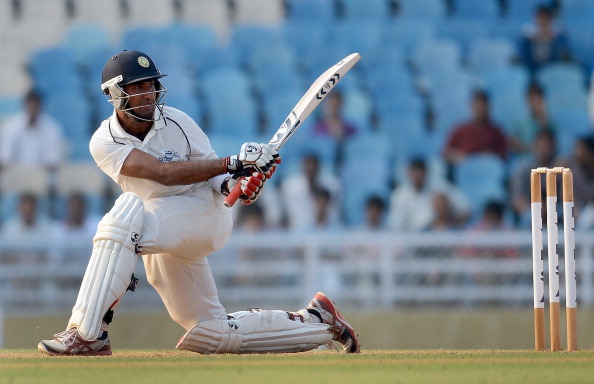 Day three at Hyderabad started off with Indians prolonging the Australians' agony, the Aussies later fighting back with a flurry of wickets and then battling it out in the middle against spinning deliveries.
Easing the pressure every over:
Since 8 AM in the morning, Xavier Doherty was doing spot bowling. But when the game started, he bowled at least one "help yourself" ball per over. Michael Clarke kept scratching his head and the game drifted away from the Aussies after every such delivery.
A wicket at last and a rapturous applause:
A close leg before shout against Pujara was the closest moment of success for Australia in more than a day but still there was still no fall of wicket. It needed Australia's new million dollar man to make a breakthrough after 109.4 overs. However, the fall of the 2nd Indian wicket infused a sense of excitement across the fans in the stadium. Sachin Tendulkar entered the boundary rope and the decibel level of the crowd's chants grew every second. The stadium had come alive.
What have you done Pujara?
There was not a single blotch in Pujara's batting performance. He was unperturbed and nobody looked like breaching his defence. He was simply toying with the bowling. But against the run of play, Pujara went for an impetuous hook shot moments after notching up his second double hundred. He fell 2 runs short of his highest Test score yet, and was visibly disappointed at having missed a chance to go for the triple.
However, it was a case of better late than never for Australia.
Erasmus takes yet another review:
Tendulkar's dismissal after lunch was quite dramatic. When Pattinson appealed vociferously for a catch down the leg side, umpire Erasmus was not quite sure.
After communicating with the third umpire, Erasmus walked from square leg to his original position. The crowd thought that Tendulkar was not out and began to cheer. But there was a deafening silence when Erasmus raised his dreaded finger. The third umpire was asked if the ball had carried but as the case is in these circumstances, he went on to check if Pattinson had overstepped and if the ball had kissed Tendulkar's willow.
Yet another chapter was written in the never-ending DRS saga.
In the lunch break, a college going kid who had bunked his classes, only to see the great man bat, was interviewed during the break. After Tendulkar's dismissal, most of the people headed back home or probably to the offices or colleges.
Falling like nine pins:
On day one and day two, the middle sessions were frugal in terms of wickets fallen. But today, it was a total anti-climax after the mammoth 370 run partnership for India. Seven wickets fell one after the other. India managed to take a lead of only 266 and remember, they were leading by 150 with nine wickets in hand at one moment.
Big Merv catches one:
He had taken 23 catches for Australia in Test matches but this was his first catch against them. When Warner lofted Ashwin in the long-on region, big Merv lined up himself for a catch, took it and returned the ball in the field of play.
MCC officials must be thinking of appending a section to explain crowd-catching after seeing Merv's technique of catching. It was perfect!
Allan Border on air said that catch was "the miracle of Hyderabad".
Butterfingers:
Warner and Cowan were put down by Kohli and Dhoni respectively. Bhuvneshwar Kumar was the unlucky bowler on both the occasions.
Sweeping themselves out of the Test:
First it was Warner, then Phil Hughes. The bailout option for Australia to combat spinning deliveries was a sweeping shot but that proved to be the nemesis in the end. Ashwin's over the wicket strategy confounded Warner who was beaten by length of the delivery and Hughes who gloved a delivery on his stumps.
Brydon Coverdale summed up Hughes' struggle brilliantly on Twitter:
Phil Hughes' last 39 balls against spin this series: . . w . . w . . . . . . . . . . . . . . . . . . . . . . . w . . . . . . . . w #indvaus

— Brydon Coverdale (@brydoncoverdale) March 4, 2013
That looks worse than Sehwag and Harbhajan's current form.