India vs Australia - the magical moments from Chennai
1.35K //
01 Mar 2013, 16:40 IST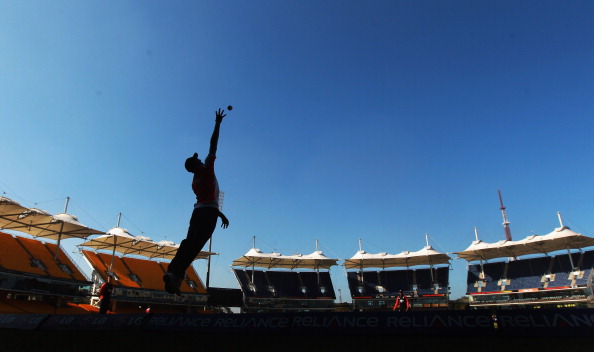 Drift, dip, turn followed by a disturbing clatter of timber – that's how Act 1 unfolded on Day 3 at Chennai. As Sachin Tendulkar trudged towards the pavilion, a heartbroken Chepauk stood up to appreciate the master's knock with the loudest applause. Tendulkar raised his bat, acknowledged the "knowledgeable" Chennai crowd and crossed the ropes. Normally a Tendulkar dismissal is followed by deep sighs and an uncomfortable silence but last Sunday was a little different. Instead of the applause fading out into disappointing grunts, it pumped up the decibel a few notches to welcome the next man in, their own Super King – Mahendra Singh Dhoni.
But why start with Day 3 and not Day 1? Because sports deals with moments. Be it cricket, football, athletics, F1 – every sport has its iconic moments. Not many remember Fabio Grosso's last penalty, but Zidedine Zidane's headbutt was unforgettable. Not many remember Sadagopan Ramesh's catch but Harbhajan Singh's hat-trick is well etched in our memories. The Chennai Test featured two very mediocre teams, if you go by their past reputations. Both sides had good players with a speck of greatness sprinkled over them in Clarke and Tendulkar. Yet, the Test match produced some unforgettable images because the players rose up to create a few moments of their own.
A "Dharma"-sena
Ashwin floated one up, it dipped and beat Michael Clarke in the air. The Australian captain, batting on 39, offered a simple bat-pad catch to Pujara at forward short-leg. The players and the spectators appealed together but umpire Kumar Dharmasena gave a shake of head and said "Not Out". Yes, it made the call for DRS even stronger but it was an extraordinary moment where the different emotions on the faces lit up the TV screens. Clarke fiddled with his gloves with a sheepish smile, Ashwin's disappointment cried out loud through his super sparkling yellow shades while Dharmasena stood stone cold. Though Michael Clarke carried on to conjure a classy hundred, Ashwin tweaked another fiver and Dharmasena went on to have a brilliant match, yet the Sri Lankan's unflinching reaction amidst the chaos will be remembered for sometime.
Who's gonna come to see Sachin bat?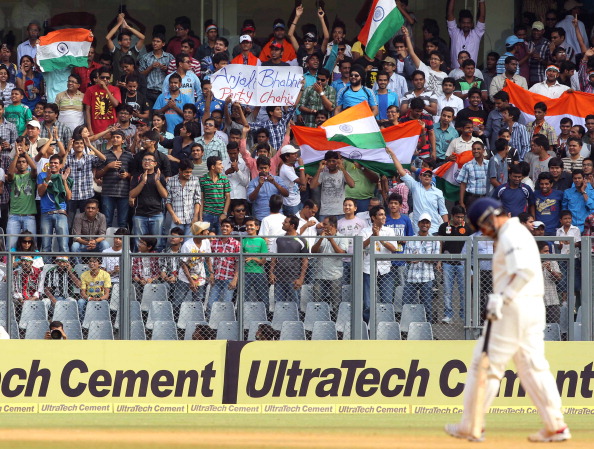 The day had Sachin Tendulkar batting yet the moment of the day belonged to someone else. Day 2 had everything in store for a cricket lover. Clarke and Henriques' fighting partnership, the Indian openers' failure, Virat Kohli's stroke play and of course, Sachin Tendulkar. The master looked in full flow. The back foot punches and the cover drives flew from the bat while the front foot movement suggested that the Aussies will be chasing leather for sometime. Virat Kohli, too, looked in his elements. Though his fifty was overshadowed by the master-at-work at the other end, his wrist work and the ability to bisect the men on the leg side reminded a few of a certain Hyderabadi batsman.
But it wasn't Tendulkar, neither was it Kohli but Michael Clarke who provided a memorable moment on the field. He made a glaring mistake as he under bowled Pattinson. Much to the amazement of the experts and to the delight of the Indian batsmen, he not only forfeited the advantage to strangle India, but also lost the Test match there itself. Perhaps even he realised it and knew that his team has to slog it out in the heat the entire next day. So, when the screen in the Chepauk displayed the message "Who's gonna come to see Sachin bat tomorrow?",  no wonder his hand went up first. An Aussie captain with a sense of humour – certainly a moment to savour for life!
The Tendulkar twitch
Day 3 was filled with action. The write up started with it. It was a day when either team had to grab the advantage and India did. 15 runs off 10 overs – the first hour demonstrated the real meaning of "Test" cricket. Michael Clarke threw the red cherry to Pattinson and the big Australian hurled in some unplayable deliveries. The Indian batsmen too stuck to their guns. If Tendulkar was at his defensive best, Kohli buckled in, swallowed his pride, put his head down and saw out an enthralling spell of pace bowling. But just as number 52 seemed in sight for the maestro, a disturbed woodwork broke a million hearts.
What followed next can't be fully described because there are a few things in life to which words can't do justice. Swashbuckling, destructive, counter attacking, game changing – call it what you may but the display from the Indian captain was indescribable. He drove, he cut, he pulled, he smashed, he showed his anger – MS Dhoni put on a complete show to avert any danger that lurked around for India.
Virat Kohli too, played his part to perfection. If Tendulkar overshadowed his Day 2 efforts, Dhoni's epic eclipsed his gritty ton. But the moment that stuck was when he played the silliest shot to curtail his innings. A cross batted heave over mid on ended his innings. He closed his eyes, swore in disgust but someone else looked even more disappointed. The nod of the head, the looking away from the TV set and the twitch of nose showed that Sachin Tendulkar cared more than most wearing that Blue cap!
Phil's huge moment
Day 4 was predictable. Dhoni etched his name in Indian cricket history forever, Bhuvneshwar Kumar showed his grit, Henriques batted out his skin but it was Phil Hughes took the cake. With just 6 runs in the first innings, Hughes had a thing or two to prove in the second essay. Instead his future in the series was put on a stand by mode by a "spitting cobra" from Ravindra Jadeja. It turned, it kicked and he couldn't get his hands away. It was something he should have expected but he perhaps didn't expect Jadeja to do it. However, just as he was contemplating his future in the dressing room, the camera caught him with his hands at the wrong place, yet again. First a snorter from Jadeja, then Laxman calling him "Phil Hugs" in commentary and then caught on the camera scratching his…well, funny for us but Hughes was hardly in the mood to see the lighter side of things!
It will never happen again Lyon!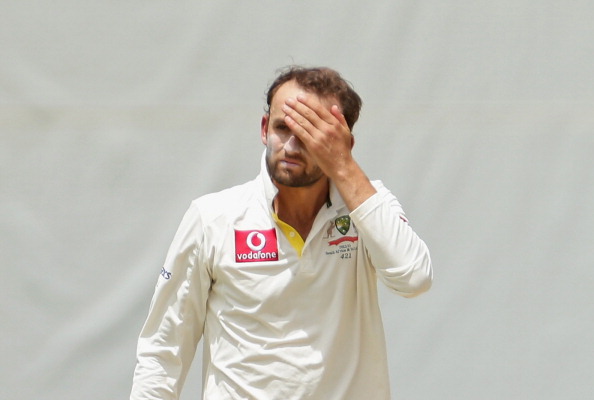 20 overs, 1 hour and the day was over. With only 50 to win, India looked shaky. Though the result was never in doubt but "cricket is a funny game"! With only fourteen to get, out came the short man, again. The fielders crowded him and Lyon had a smile on his face suggesting that he had his number. Perhaps Lyon never spoke to Brad Hogg but Tendulkar made sure that he does now. The first ball flew over long on. The second one sailed over mid wicket, hence marking the It will never happen again Lyon moment. 13 not out – not a big number but an unforgettable impact.
Sports always weaves beautiful memories through images and that's exactly what both teams did in Chennai. Big series comprise of big moments and that's what makes them indelible in the memory of the viewers. Moments of happiness, achievement, disappointment, fun – Chennai had it all. Will Hyderabad create its own memories? Maybe it will and as a cricket lover, I would keep looking forward for some new moments because you never know when these small moments will turn into magic!