James Anderson: 300 Test Wickets
2.80K //
21 Mar 2013, 15:39 IST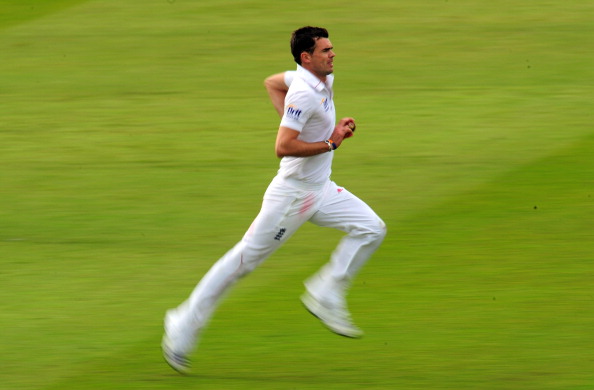 Matthew Hoggard, he of the lovely seam, he of the beautiful out-swingers, once famously said, "You close your eyes, you wang it down, and you take your chances", about taking Test wickets. But, as his fellow countryman James Anderson nears 300 Test match scalps in a career of 79 Tests, even Hoggard would agree that it needs more than just taking chances. James Anderson, much like our own Zaheer Khan, isn't an out and out fast bowler, like Steyn is. He isn't going to hook you to the screens with sheer pace, he wouldn't get the batsman huffing and puffing. However, each time he runs in, the ball neatly veiled underneath his long fingers, not giving the batsman an inkling of which way the shine is, there is a thrill in the air. James Anderson can make the ball talk at times, like none other.
It is interesting to note that in spite of its long cricketing history, England has produced just 3 bowlers so far who have breached the mark. When he manages to reach it, he would have illustrious company in Trueman, Willis and the one-and-only Botham, who has already etched his name in the pantheon of the game's greatest all-rounders. Botham has a better average and strike rate than Anderson, but that doesn't truly reflect what Anderson has done in the last half a decade for England. He has been literally the only consistent fixture in the lower half of the team, watching many other fast bowlers come and go, susceptible to their erratic performances and truck loads of injuries. It would, therefore, be unfair, given the burden he has carried as the pace spearhead, to look at the list of other bowlers who have crossed the mark. That list is quite long, mind you, and it would be a fruitless exercise to compare one bowler with the other on that list, as each had his own travails and tribulations, each his own nightmares.
The best in any time period is usually relative, how he measures up against his contemporaries. In that aspect, James Anderson has almost always occupied the second place, not far behind Steyn, matching him for wicket-taking performances if not in dazzling brilliance with pace. Unlike a Pollock or McGrath, Anderson isn't someone who keeps putting the ball in the same place to test the batsman's patience. He can swing it, both ways, with reliable accuracy and lively pace. He is often seen submerged in deep discussions with his fellow bowlers, devising strategies, creating a ruse that brings the batsman's downfall. Yes, Anderson not only leads the pace attack, he is virtually the captain of the bowling attack, constantly plotting and re-plotting. When the ball is old, he can be lethal, cleaning up sides entirely on the might of the reverse swing. In terms of wickets, Steyn is the only one of the current crop of fast bowlers who is ahead. Considering that Steyn usually has more runs to bowl with than Anderson, and has a better second fiddle in Morkel and recently Philander, Anderson deserves that much more acknowledgement.
Unlike a Steyn, Anderson's career has never been smooth. His initial phase has been erratic to say the least. Injuries and niggles gnawed on his pace and patience every time he seemed to hit the purple patch. Nevertheless, he, like Zaheer, is a true survivor; a bowler who understands his body, understands the limitations and hence uses every single trick in the hat, every single nuance to prize out one scalp after another. I would be surprised, therefore, if he doesn't turn out in three years, four at the most, as the first English bowler to take 400 scalps.
Sometimes, the charming plots and the sub-plots that are scattered across the manuscript of his bowling record, fascinate me and a lot of other Test cricket lovers more than the ferocity that is needed to send a cart-wheeling stump on its way. The great Hadlee had 431 in 86 matches. Waqar, someone Anderson will definitely look up to as a reverse swing specialist himself, had 373 in 87 while Imran Khan had 362 in 88. His own countryman, Trueman, had 307 in just 67 matches at an average of 21.5 and a strike rate less than 50. So, in a certain context, Anderson still isn't as good in prizing out the wickets as some of the others who made it to the 300 club are. But, nearing 31, age is still on his side and now he has the hard toil of experience on his side too. He deserves his own place in that pantheon of fast-bowling greats, purely because he was easily the most vital cog in the English team that flirted with the No.1 position for a while, after a really long time. Come this Ashes, he could be the most vital cog of an English team that could do the unthinkable.