Jonathan Trott: Sad end to a great career
2.21K //
23 May 2015, 00:00 IST
Jonathan Trott retired from international cricket this month. This was just a formal announcement. Mentally, he was finished since the Brisbane Test of 2013-14 Ashes where Mitchell Johnson, tore apart Jonathan Trott, the batsman and Jonathan Trott, the man.
It was a sad end to a career which has had the 'Highest highs' and 'Lowest lows'. While reading an article on him titled "Trott's Moment of Defeat", I was moved by the last three lines, beautifully written by George Dobell.
The essence of these lines was basically the fact that while his last series was his lowest ebb as a cricketer, it was his finest as a man. As Dobell wrote, it was nothing short of heroic. Trott was psyched out by Mitchell Johnson and his fiery bouncers.
For non cricketers, it may seem unfamiliar, but as somebody who plays cricket, I can tell you that the bouncer affects batsmen in all ways possible. It not only affects your game, but also your personality. It is often perceived that being doubtful or weak against the short ball makes you a coward.
Criticism flows in from all quarters if you are a suspect of the short ball. Nobody spares you. Nobody. This is damaging enough for a club level player, let alone Trott, who faced this problem in the biggest series of them all, the Ashes. Under fire from the media and from all possible corners, Trott broke down.
It was a culmination of everything. His technical weakness in playing the short ball, the thought of feeling cowardly, both as a cricketer and as a man, the stigma attached to it and the no-holds-barred, insensitive attack by the media as well as a few former cricketers.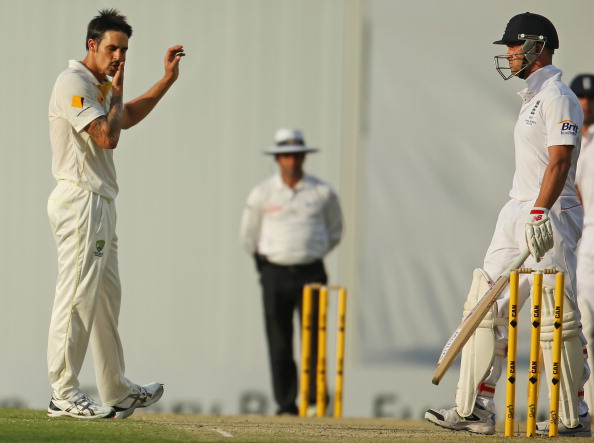 This resulted in him going back home after just one match. When it became clear why, all those guilty of questioning his courage apologised. But the damage had been done. Most thought he was finished, there were only a few who had faith in him.
Trott returned home to his family, sought medical help and started the journey to his recovery. He did what he was best at, played county cricket and amassed a mountain of runs. But the demons of the short ball continued, not very prominent, but still there.This in itself was a commendable feat. He was playing cricket, with a nerve-racking fear of a fast, dangerous and a hard leather ball. We face our fears once and boast about it for a lifetime. Trott faced his fear every single day, in the nets, on the field.
Then, the Phillip Hughes tragedy happened, scaring batsmen around the world, batsmen who had no such demons. The fact that Trott continued to play and score runs after that is nothing short of remarkable. This fear now had a new dimension. The leather ball could kill. It is unimaginable how this would have affected Trott, but he marched on. He was selected to captain the England Lions on their tour to South Africa. He scored heavily on the tour, including a double century. He was ready to be picked again, or so it seemed.
English cricket was in a mess. They wanted Trott back. He had scored runs, his recovery was on track, his doctors had given him the green signal. He was fit to go, but was he actually? Trott may not have necessarily believed he was ready to be thrown into the deep. Maybe, he just wanted to believe it. He wanted to defy his mind, his fear, his critics, those who believed he would never come back, he wanted to defy himself, he wanted to defy the world. He wanted to fulfill his dream, again. He wanted to play for England.
This was it. The Biggest test of his life. He failed in the three test matches he played in, averaging 12 and repeatedly getting out to the short ball. The demons had become prominent again. You could see it in his eyes. It was a sad end, a painful end and in some ways a highly inspirational end to what has been a mighty fine career.
He did not fail the biggest test of his life. He fought, fought with his mind, his fears, with himself, till the very end. He wanted it so badly. This was one of the most underrated acts of heroism that have been seen in the world of sport. A man with demons in his head, demons that could kill, facing them, fighting them and not giving up. Trott wanted this chance, for he did not want to end having given up. He worked for this chance, he got the chance. Many think he failed, I think he passed, passed with flying colours.
He failed as a batsman but succeeded as a man, facing his fear every single day on the tour and not giving up. He exemplified bravery. He defied his critics, those who had questioned his courage, in the grandest possible way.
More than the great heights he achieved as a cricketer, it is this act of courage and bravery that will define him.
Ian Jonathan Leonard Trott, thank you, for you made me realise that there is something special, something heroic in all of us, something which nobody may ever know but something that will keep us going come what may. Thank you.