Kumar Sangakkara - Cricket's Man of Steel
2.34K //
10 May 2015, 17:00 IST
It isn't every day that you celebrate someone scoring over 10,000 runs in Test cricket. In fact, since the first time a burly, old man said, "Play!" in a Test match in 1877, only 11 men have been able to cross that mark.
How often has it happened that you tuned into a match starring Sri Lanka, and you saw Kumar Sangakkara and Mahela Jayawardene grinding it out in the middle? We've seen that visual way too often, right?
Only a handful of international sportsmen can flaunt a CV that's as complete as Kumar Chokshanada Sangakkara's. And no, we're not talking about his academic qualifications - even though he's a well-educated fellow!
Yes, he will admit that the much-coveted World Cup medal is missing from his bucket of feats, but finishing second-best in back-to-back World Cup finals and winning a World T20 title can compensate for that (at least as far as this article is concerned!).
Where It All Began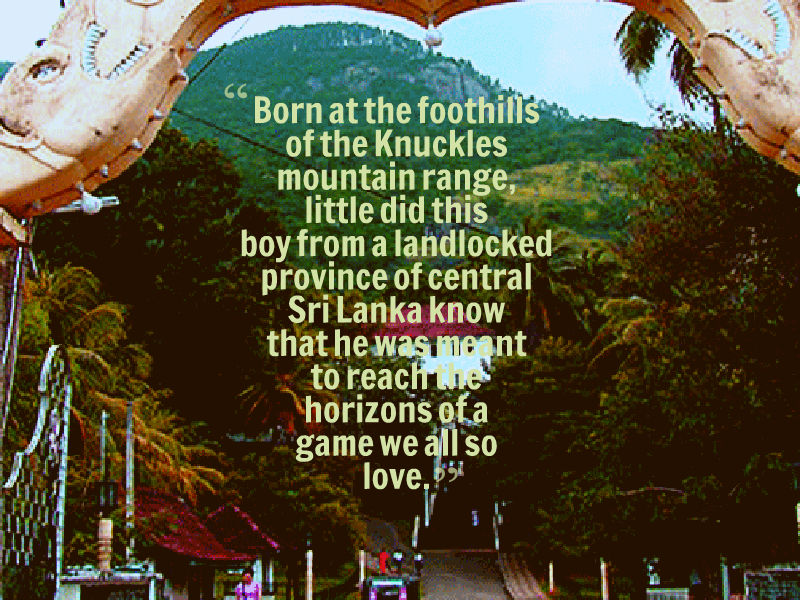 Born at the foothills of the Knuckles mountain range, little did this boy from a landlocked province of central Sri Lanka know that he was meant to reach the horizons of a game we all so love.
His birthplace, Matale, is the only Sri Lankan district with a book of written history, Aithihaasika Matale. Ask the residents of the town and they'll tell you they're willing to rewrite the book and include an entire chapter about their contemporary local hero, the man in question.
Aka Sanga, as he's fondly called, and he'll tell you it was at Kandy (a relatively bigger town near Matale) where he picked up the intricacies of the game. Initially coached by his father, Sanga proceeded to play for Trinity College in Kandy. And by the time he was in his late teens, he was already a smash hit on the domestic circuit with the bat and behind the sticks.
Mahela Jayawardene, another legend from the island nation (who had played age group cricket with Sanga), had already carved a niche for himself at the highest level by the time Sangakkara made his Test and ODI debuts against South Africa and Pakistan respectively (in 2000). In fact, Mahela was the vice-captain of Sri Lanka when Kumar was drafted into the team, and knew all too well that the lad had the ability to sustain against the best of bowlers.
Man of Steel, Man of Skill
There's no doubt about the fact that Kumar Sangakkara grabbed almost every single opportunity with both hands and left no stone unturned to ensure that he was right up there - with the best.
Run-scoring, for Sanga, was never spasmodic. When he scored, he scored heavily. 2014 was a testament of that, with him stockpiling 2,868 runs in international cricket. And if you've got trust issues and need more evidence, here it is:
Back-to-back double centuries in 2007
150+ scores in four consecutive Tests
Four consecutive hundreds in ODIs
He had an air of predictable inscrutability around the way he approached his game. I dare say his range of strokes was unimaginative, but his thought process behind each one of these shots wasn't. He was never vacuous in the way he constructed his innings.
If you ever wondered what the phrase "man for all seasons" meant, Sanga would be the perfect example to explain it.
He was impossible to stop on dreary surfaces, and a concrete bulwark between the openers and the lower-middle order on wickets that suited the bowlers.
And it wasn't just in the Test and one-day formats that he proved his prowess. When the world embraced T20 cricket, many felt his style of batsmanship would be incongruous. But the 2014 ICC World Twenty20 win in Bangladesh effectively ended that argument. The icing on the cake was Kumar's steely resolve throughout the tournament and his lusty fifty in the finals.
8 half-centuries
Not out on four occasions
3 Man of the Match performances
So it's no shocker that the prolific southpaw was an integral part of the Sri Lankan side that won the T20 World Cup, and the ones that made it to the finals of the 2007 Cricket World Cup, 2009 ICC World Twenty20, 2011 Cricket World Cup, and 2012 ICC World Twenty20.
If we were to rechristen Sanga, 'Consistency' would be his new name. His records paint the perfect picture of his constancy with the bat and the gloves:
With 14,234 runs in ODIs, he is the second-highest run-scorer in the world after Sachin Tendulkar.
He's second to Sachin Tendulkar in terms of ODI fifties, too (93).
He's in the elite company of Sachin, Ricky Ponting and Sanath Jayasuriya - the only men to cross the 13,000 mark in ODIs.
Fifth-highest on the run-scorers' list in Test cricket, Sangakkara has amassed 12,203 runs at an incredible average of 58.66 including 38 centuries.
He has 11 double hundreds to his name - just one behind the Don.
He's the fastest man to 8,000, 9,000, 10,000, 11,000 and 12,000 runs in Tests and the fastest to get to 12,000 runs in terms of innings, too!
He holds the record for the highest partnership for any wicket in Tests - 624 runs for the third wicket against South Africa (with Mahela Jayawardene in 2006).
With 501 victims behind the wicket, he surpassed Adam Gilchrist's 472 ODI dismissals by quite a margin.
Sangakkara also leads the chart with the highest number of ODI stumpings — 99.
Mr Dependable
When asked by Shirin Sadikot about the much sought-after consistency in the game, Kumar said, "Consistency is not about being the same tomorrow as you are today, because tomorrow the benchmark will go higher. Being consistent actually means improving constantly. If you maintain the same level, your stand drops."
He believed in and lived by the saying, "Non progredi est regredi." (To not go forward is to go backward)
With records like the ones mentioned above, it was just a matter of time before the awards started flooding his cabinet. His most prized honors include:
ICC ODI Cricketer of the Year, 2011
ICC Cricketer of the Year, 2012
Wisden Cricketer of the Year, 2012
ICC Test Cricketer of the Year, 2012
ICC ODI Cricketer of the Year, 2013
Leading Cricketer in the World, Wisden, 2015
The Skipper Who Led By Example
People started taking Sri Lanka seriously only in the mid-1990s when they became a force to reckon with in the ODI format. A lot of their success could be attributed to the then captain, Arjuna Ranatunga. With a bunch of young and explosive talent (Sanath Jayasuriya, Chaminda Vaas, Muttiah Muralitharan and Romesh Kaluwitharana), rapid development in the quality of stadiums, and an increased fan-following in the country, Ranatunga's men started doing well in both formats at home. And so did the teams that were led by subsequent skippers, Marvan Atapattu, Sanath Jayasuriya and Mahela Jayawardene.
Away from home, however, it is never easy to expunge the opposition. Ask Indian skippers, they'll tell you all about it.
When Kumar Sangakkara was handed over the captaincy in March 2009, he had a good 9 years of experience behind him. This, along with being the deputy to Jayawardene, helped him conjure and implement thoughtful strategies on and off the field.
However, the burden of handling multiple responsibilities came to the fore on rare occasions when the situation went out of hand, and you could sense palpable distress on Sanga's face.
He was the antonym of 'inertness' as captain - he was always IN the game, thinking on his feet, shouting out orders to his spinners, executing plans, shuffling bowlers, and making subtle field variations. And he chastised fieldsmen and bowlers when they made a mess of an obvious plan. But more often than not, he backed his teammates regardless of the result of the match or series.
Spirit of Cricket
Sanga gained the world's attention and garnered widespread praise when he delivered the 2011 MCC Spirit of Cricket Cowdrey Lecture. He was, for a fact, the first 'active' international player and the youngest person in history to deliver the speech. The honest and blunt nature of the speech left the cricketing fraternity in awe of this man. What's more, the Sri Lankan Government has added this lecture as one of the lessons in the 2015 O/L new syllabus English Literature textbook. Talk about impact!
Sangakkara, a contemporary ambassador of the game of cricket, tried to ensure that his team always entered cricketing competitions with the right attitude and the right principles. He was questioned by the media after the famous no-ball controversy that involved Suraj Randiv.
"You need to make sure that you keep trying to impress upon players that the responsibility of playing cricket is not all the time about runs and wickets and winning. Winning and losing is part of the game, the manner in which you play the game and the manner in which you present yourself on and off the field is also important," he opined in a press conference in Dambulla.
From clever taunts in press conferences to an indignant expression of opinions when things were out of order, and from 99% sportsmanship on the field (and off it) to the occasional outrageous appeals from behind the wickets, Sangakkara had a 'dynamic personality' in every sense of the term.
But unlike many other leaders from around the world, Sanga's batting never suffered during his stint as the man in charge. When asked how he could multitask with such ease, he said, "When you're batting, you're a batsman, not a captain." A lot of captains make this mistake of thinking like a team leader even while they're out there in the middle with the bat, but Sanga was too wise for that.
Signing Off with a Flair
He stepped down after the 2011 ICC Cricket World Cup in order to allow a younger captain to get some experience under his belt and groom him with an eye on the next World Cup. Dilshan took over the captaincy, but a string of poor performances meant he had to resign and hand it over to Angelo Mathews, who led the Sri Lankan team in the recently-concluded 2015 ICC Cricket World Cup.
Kumar Sangakkara's retirement from international cricket is (understandably) a bitter pill to swallow - not just for his fans, but also for Sri Lanka Cricket and current skipper Angelo Mathews. Angelo went to the extent of admitting that he was "on his knees begging" Sanga to reconsider his decision - especially since he was in the form of his life. Talk about quitting on a high!
He will continue to play domestic T20 cricket, as suggested by the recent announcement that he has been signed by the Hobart Hurricanes for the next two T20 Big Bash League seasons.
To say he was the best ever would be an overstatement, and to agree that he was merely ONE of the best would be an understatement. Nevertheless, if you've ever watched him in full flight, you'll know how a jam-packed Pallekele International Cricket Stadium erupts with screams of "Sanga, Sanga" — it reminds you of the epic "Sachin-Sachin" chant at Mumbai's Wankhede Stadium.