MS Dhoni preaching the art of persistence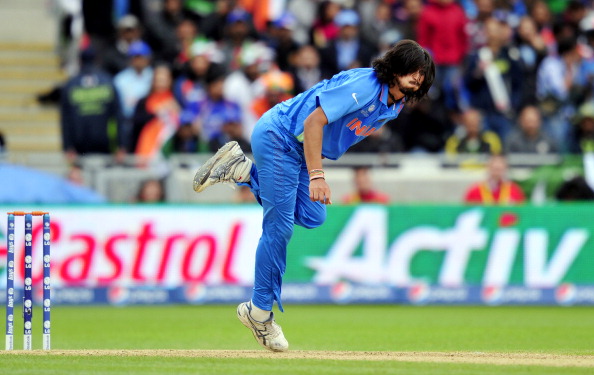 "Some batsmen haven't got runs, some bowlers haven't done well. It would be unfair if you want to throw away bowlers from the playing XI after one or two games. It's very important to persist with them and give them experience."
The recent hullabaloo over Ishant Sharma and his inclusion in the Indian team for the rest of the series isn't astonishing at all. Such is the tradition of the game that under-performing cricketers are bound to grab more attention than those who've been instrumental in making it big.
Further, if one looks into Mahendra Singh Dhoni's records, one will realize that his decision of not dropping Ishant is neither unprecedented, nor startling.
The scandalous over that has condemned Ishant Sharma as a heretic for the entire nation has had negligible effect on the unruffled bearings of the Indian skipper. Though disconcerted to an extent regarding the mounting issues about India's dismal death overs bowling, Dhoni has been quick to recover and put behind the 'bad day at office'.
The unforgiving nature of cricket and the grueling schedule throughout the year make sure that it's never child's play for a cricketer to spring back to form all of a sudden. It takes immense confidence in one's self to turn one's back towards the incessant scrutiny and vindictive criticism – an almost impossible task when one is struggling to wrench out one's best.
This is where a captain steps in. The leader knows how to back his players, boost their morale and imbibe self-confidence in them. He knows how to keep faith in his knights and motivate them towards success. Not the meanest of efforts in the face of the wrath of 1.2 billion cricket fanatics.
The Indian skipper's bravery has always been the subject of unanimous admiration and the fact that he would claim responsibility for India's less than decent bowling efforts wasn't really unanticipated. He is the epitome of positive energy in the Indian dressing room even when the chips are down and his reactions towards situations are more practical than emotional.
While throwing Ishant, a pariah already in the eyes of the media, out of the squad would have been a far easier quick fix, Dhoni chose to recognize and respond appropriately to this grave crisis by persisting with him and helping him sort things out.
Whether Ishant reciprocates the faith shown by his skipper and converts it into brilliant performances on the field is a far-fetched question, but Dhoni must be lauded for sailing against the tide and deciding courageously.
This not a first for the Indian skipper though. He has been known to shower faith in his team-mates on numerous occasions previously.
It would not be irrelevant to recall that Dhoni's stubbornness with Rohit Sharma for the last couple of seasons even when the latter had become the primary subject of ridicule on social networking sites ultimately yielded result when he scored fluently as an opener in the Champions Trophy.
It had been months and years that Dhoni had persisted with Rohit despite receiving flak from several experts, let alone the fans. He had believed in the latter's capabilities and had exhibited faith in him for a number of matches in spite of Rohit's reluctance to take responsibility and convert encouraging starts to decent scores.
The promising cricketer in Rohit Sharma appeared to fade away into oblivion with youngsters like Ambati Rayudu, Ajinkya Rahane and Manoj Tiwary breathing down his neck. The pressure of international cricket seemed to weigh down on him as he threw away his wicket on a regular basis.
Dhoni, however, was relentless in giving him exposure until it came to a point where public opinion portrayed the captain in the light of bias and favouritism. After what seemed to be ages, Rohit, nonetheless, did answer back. From a middle-order batsman who was never really inclined to do justice to his talent, he emerged as a responsible opener – confident in his approach and assured in his outlook.
Such is the philosophy of Dhoni that cricketers under him feel bound to respond to his faith. There had been a time when Ravindra Jadeja had been consistently inconsistent in his performances.
His bowling consisted of delicious offerings to the opposition batsmen; his batting was such that a thick edge to the third man boundary was considered his best shot. He strolled on the field like a lethargic vagrant who had little idea why he was on the field.
It needed continuous backing from his Chennai Super Kings and national skipper for Jadeja to resurrect himself in the international arena and reincarnate the faith among his followers. Ever since his rebirth under Dhoni's tutelage, Jadeja has seldom looked back.
Having had his own share of struggles to break into the national team, Dhoni values hard work and believes in giving players more than one chance to redeem themselves. His strength as a leader is that he believes in preserving and protecting talent. He is the one who would go into the field with the same vigour with an unchanged squad even after a series of defeats.
Taking calculated risks is an area that Dhoni has excelled in and his intuition has yielded rich dividends more often than not. With a cricketing brain to envy, Dhoni remains that one customer in the field who oozes assurance by his mere presence.
Retaining Ishant Sharma may be a decision that will, no doubt, be subject to impulsive criticism, but one must look into the logistics as well. At 25, Ishant is young enough for a rejuvenation in his career even if that comes around late. Time is by his side, and with the right kind of varnish, he is bound to shine as much as the familiar cherry in his hand.
While it remains to be seen whether Ishant follows the footsteps of Rohit and Jadeja, highlighting his failures and printing obituaries certainly isn't going to aid his confidence. Though unaccounted, it is no less a fact that it is the individual who feels worse than anyone in the stadium when he fails to deliver for his team.