Aakash Chopra reckons Shikhar Dhawan's non-selection in India's World Cup squad might imply the end of the road for him in international cricket.
The selectors recently named a 15-member provisional Indian squad for the global event to be played in India from October 5. Rohit Sharma and Shubman Gill are the two specialist openers in the side, with Ishan Kishan as another option.
Reflecting on the development in a video shared on his YouTube channel, Chopra questioned whether Dhawan's omission implies the end of his international career. He stated:
"If we look towards Shikhar Dhawan's ODI career, he doesn't play T20Is in any case, where does he stand and is it actually almost over because the next World Cup is very far away - 2027?"
While observing that he can't rule out a comeback, the former Indian opener feels it's unlikely to happen. He reasoned:
"I am not writing an obituary, that he is done and won't play again, but it is slightly difficult for sure because if the next World Cup is in 2027 and he is not picked in T20Is, it will become very difficult to play for India. Even if that happens, I would say Shikhar Dhawan should be extremely proud of what he has done."
Dhawan hasn't played an ODI since December last year. Although the selectors can still make changes to the squad before September 28, the veteran opener doesn't seem to be in their scheme of things currently.
---
"He wasn't bitter" - Aakash Chopra praises Shikhar Dhawan's handling of his non-selection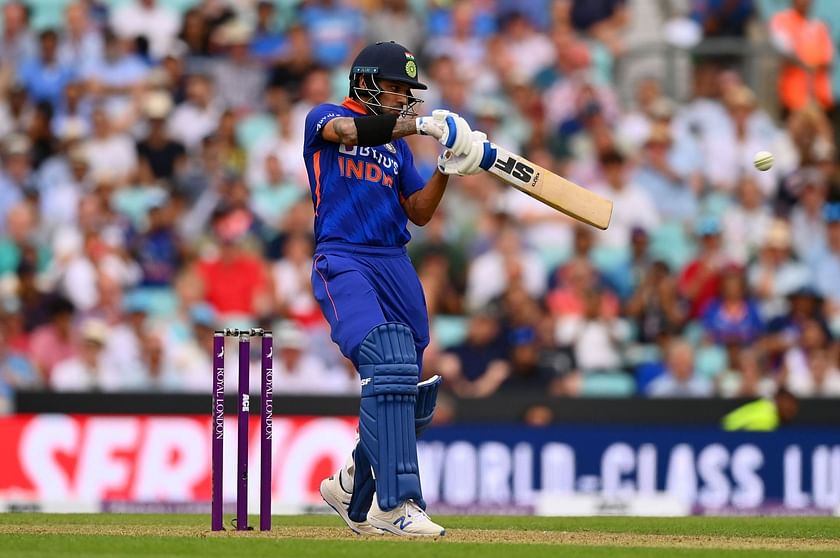 Aakash Chopra heaped praise on Shikhar Dhawan for taking his omission in the right spirit. He elaborated:
"The guy is doing a classy job. When the team was announced, a lot of people, including myself, felt he had been wronged, that his name should have been in that list, that he should have been in the scheme of things, but he is not there. When the team was announced, he could be bitter, but he wasn't bitter."
The former Delhi cricketer pointed out that his erstwhile teammate's nature has changed immensely. He explained:
"If you see the last five to seven years, Shikhar Dhawan is not bitter. He has started viewing things with great maturity. I know the 20-year-old Shikhar, he used to be a different boy, who had a lot of aggression and used to get flared up quickly, maybe short-tempered."
Chopra added that the 37-year-old is not saying such things just to be politically correct in public but is the same in private conversations. He concluded by observing that the left-handed opener's way of leading life has become different and that is why there is calmness, satisfaction and happiness.
Poll : Can Shikhar Dhawan still make a comeback in international cricket?
13 votes