Former Indian Test cricketer Wasim Jaffer cautioned Rohit Sharma and co. after they overcame a massive scare in the first ODI against New Zealand in Hyderabad on Wednesday. Jaffer reflected on India's consistent struggles against tailenders, stating that they must be on guard and avoid becoming complacent.
Chasing 350, New Zealand made a remarkable comeback, thanks to a 162-run stand between Michael Bracewell and Mitchell Santner, after slumping to 131-6. However, India prevailed by 12 runs in the end as they bowled the Kiwis out for 337, with Bracewell dismissed last for 140, in the very last over.
Speaking on ESPNCricinfo after India's narrow win, Jaffer recalled how India also struggled against Bangladesh's tailenders recently. While the 44-year-old admits that opposition being six or seven down can make any side complacent, he warned it might cost India games in World Cups.
"It can cause India harm at times and it did cause against Bangladesh. We lost that series even though we should have won those two tight games. There was a dropped catch and India made some mistakes there. But today, we didn't drop catches and it was just quality batting.
"There are times when you are six or seven down and you become complacent. That happens, but India must be on guard as things can happen very quickly in white-ball cricket. Once you lose momentum, you can lose that game too. It could've happened today, so India shouldn't make a habit of doing such things."
When asked whether India lack defensive bowlers, Jaffer stated that Shardul Thakur is one such player, having operated well with Kuldeep Yadav in Hyderabad. Nevertheless, Jaffer criticized Hardik Pandya for overdoing the short-pitched deliveries, with Finn Allen hitting him for 20 in an over.
"I think you can call him, Shardul Thakur, a defensive bowler because he has that habit. Even today, he gave India Finn Allen's wicket. Allen had taken 20 odd off Hardik's over and looked like he was taking the game away from India.
"Then Shardul came and broke the partnership. So, he has that tendency, but he plays that role well where he takes the runs off. Kuldeep Yadav bowled really well and Shardul did a good job to hold the other end up. Siraj has that tendency too, going after wickets as he is an attacking bowler, so is Mohammed Shami."
Jaffer continued, emphasizing the need for moderation when it comes to short-pitch bowling:
"It is not a bad thing as long as you don't overdo it. I think Hardik tried to overdo the short-pitched delivery plan to Finn Allen, where he got that momentum. I thought India bowled well in the powerplay, but as soon as Hardik came, Finn Allen took him apart in that over. So, I think they got the momentum from that over. So, India have to be aware. I think Hardik bowled well at the death with those off-cutters and slow bouncers and brought the game back to India. But he was off the mark in the first spell. So, I think India must be aware in that department."
Shardul, who came in for Umran Malik, picked up two crucial wickets in the game, dismissing Finn Allen and Michael Bracewell. While the 31-year-old came in to increase India's batting depth, he managed only three runs.
"It did seem like things were getting out of hand" - Wasim Jaffer on New Zealand's fightback against India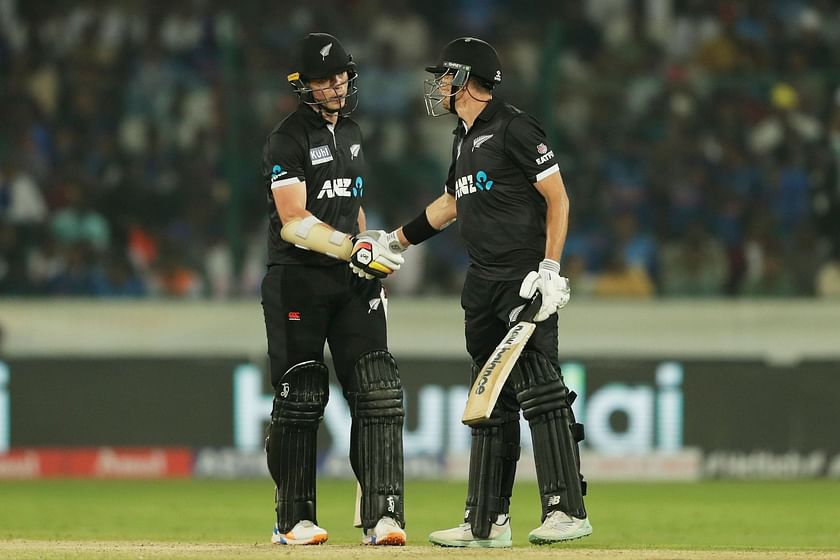 When asked whether India looked clueless during the 162-run stand between Santner and Bracewell, Jaffer answered in the affirmative. The former Test opener believes Mohammed Siraj's twin strikes prevented New Zealand from winning, but also thinks that India were lucky to escape with the victory.
"It did look like it. As I said, 131-6 when they had that 50-60 run partnership and every over, New Zealand were getting a boundary or a six. Even Washington Sundar bowling to two left-handers couldn't contain, showing that India panicked at that stage. Despite getting 350 and the run rate being close to 11, India looked like they were under pressure. The way those two guys struck the ball, it did seem like things were getting out of hand. That double-over strike from Siraj probably put a brake on that partnership and getting that second wicket on that second ball.
"I thought New Zealand would have won it, had Siraj not gotten that wicket. These things have happened to India before also. It happened in Bangladesh as India got them six down quickly and Mehidy Hasan Miraz did that partnership. So, India need to be aware that this should not happen time and again because this could've been game over, a couple of hits from Bracewell, the way he was batting. They were lucky to win despite being in a commanding position, but credit to New Zealand for making a game out of it."
India suffered two narrow losses to Bangladesh on their tour of that country last year, eventually losing the series 2-1. In the first two games of the series, the Men in Blue had the hosts in dire straits, before Mehidy Hasan Miraz bailed them out.
India did not allow another game to slip through their grasp on Wednesday. Their next match against New Zealand will take place in the second ODI in Raipur on Saturday.
Edited by Akshay Saraswat