Next Man In - Sachin Tendulkar
1.63K //
07 Mar 2013, 12:54 IST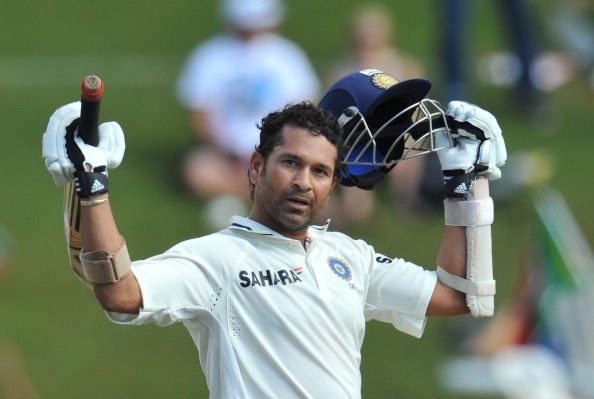 The unmatched and hence unbeatable levels of noise Indian cricket fans make for their favourite players is world-renowned. The following and support that cricketers in India receive is as, if not more, passionate as any group of fans supporting any other team in any other part of the world. These fans make Indian cricketers sit high on the list of most sought after and very powerful figures in the country. But with great power comes great responsibility.
Unlike other forms of art, sport is something that is consumed as it happens. We see the best works of the world's greatest artists after an innumerable number of tries and practice pieces. On the other hand, sportsmen are are always in the thick of action. They are out there, performing to be rewarded instantly and still there to be ridiculed from passionate fans almost immediately. The problem however arises when the fans act out of their character and our beloved sportsmen are bewildered, unable to decipher why they are facing the wrath.
One such incident occurred in April 2008 at Hyderabad. The Rajiv Gandhi International Cricket Stadium, just like any other cricket ground, loves Indian cricketers. Virender Sehwag, playing for Delhi Daredevils at his explosive best, was making a mockery of the star studded Deccan Chargers outfit in the inaugural IPL. A 41 ball 94 from the bat of Virender Sehwag would be something all Indian cricket fans would love to see live. Sehwag knew this more than anybody else, but was shocked to see Deccan fans, whose only classification till recently would be 'Indian fans', sit mum in response to a blinder of an innings. On reaching his half century, Sehwag raised his bat up and demanded more support for an Indian batsman in India. Things had changed! He was now playing for Delhi against Hyderabad (Deccan Chargers) and beating them black and blue, much to the dismay of local fans.
Five years on, as the Australian team is halfway through its tour to India, the fans are acting out of character again. What is the reason this time on? At the first Test in Chennai, chasing a minuscule target of 50 runs, India lost Murali Vijay on 16. The crowd was probably expecting India to get to 50 without a wicket down. But now that Vijay was out – looking at it in retrospect – the crowd was not only wanting, but almost praying, for another wicket to fall. The reason – to watch Sachin Tendulkar bat. As soon as Sehwag edged one to Michael Clarke off Nathan Lyon's bowling, the crowd celebrated and were on their feet. They didn't even wait for Sehwag to drag himself back to the pavilion and Sachin to march out to give him the reception he has always got.
Having got out early, Sehwag wouldn't have even expected a better send off. But in the second Test in Hyderabad, when Murali Vijay got out for a commendable 167, having batted for more than a day, he was certainly expecting a standing ovation. What the crowd gave instead was a reception for the next man in – Sachin Tendulkar. The simple person that he is, Sachin waited for Vijay to get into the pavilion before he himself set foot on the ground hoping for the crowd to appreciate the end of a 370 run stand. But love is blind. Yet again, acting out of character, the Indian fans gave their hero a welcome he deserves without considering the the situation. But that's love!
Sachin's exit from ODIs without a farewell game has played a little game in the minds of his fans. Was this his last Test in Hyderabad or even Chennai? Is this his last series in India? Maybe his fans won't be treated to the sight of him dominating bowling attacks for a long time from here on. Or maybe they will be! These are the kind of doubts that have crept into the minds of Sachin's admirers and this explains their behaviour. But it's not time to write a farewell to him just yet. The man has shown he is still keen and most certainly capable of holding his place with pride. India loves Sachin, it's a fact. But crowds almost celebrating an Indian wicket that allows the legend to get to the middle is unheard of, and is now happening consistently.
Khalil Gibran once rightly said, "Ever has it been that love knows not its own depth until the hour of separation."
However, it's not time just yet!