Safe hands - MS Dhoni vs Matt Prior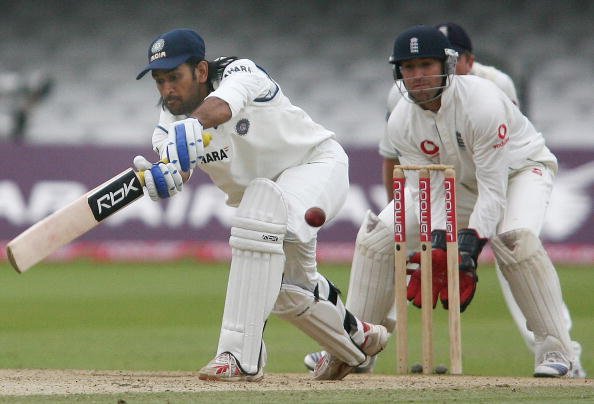 Who is the greatest wicket-keeper in Test match cricket? Ever since the retirement of the game changing Adam Gilchrist, the question has never been far from the pages of cricket magazines and websites. From one time to another, Brendan McCullum, Kumar Sangakarra and Mark Boucher have held a claim to the title, but right here, right now, the front runners are reduced to two.
India's MS Dhoni is someone whose meteoric rise through the ranks did the unthinkable. All of a sudden, Sachin was not the only darling in the Indian eyes. Dhoni captured a spirit in India and ran with it, becoming the definitive wicket-keeper batsman and defining an era of cricket in the country that saw them become a dominant force in limited overs cricket. Dhoni's knock of 91 off 79 balls in the 2011 World Cup final in Mumbai will go down in history as one of the great one day innings. He defines the post Dravid era.
In the dark blue corner sits a much more maligned character. Matt Prior is the same age as Dhoni, but at 31, has followed a far more challenging career path. The England gloveman has made the position his own after many difficult periods which have seen his country experiment with Tim Ambrose and Chris Read, and in one day cricket, his banishment continues to confuse. In recent years, he has become the most underrated cog in the England Test cricket machine.
So who is better? Well, this Englishman offers an easy answer. Prior.
Averaging four runs more than Dhoni (quite a lot when you consider the number of Tests the two have played), Prior is simply a better batsman in the longer form of the game. Dhoni can win a game in a session with his expansive stroke making, but in Prior, England have a more consistent player, still of aggressive nature, but one that is more versatile. And on his day, he's every bit as destructive.
And the same argument that dogs Tendulkar's undoubted career figures also stand true. Prior, in the main, plays on more difficult wickets more often. Docile pitches on the sub-continent, and the challenges they pose, are more bat friendly than those early season green tops in England by far, and that is the nature of the worldwide game. Where Tendulkar's stats stand up the world over, Dhoni's aren't quite as impressive.
Inconsistentcy with the gloves is possibly where Dhoni would've gazumped his English counterpart in seasons past. That said, Prior's keeping has improved immeasurably over the last couple of years, to a point where he can now be considered the finest stopper the world over when standing back. However, as any wicket-keeper will be quick to tell you, it is standing up to the wicket where a gloveman really earns his corn, and this is an area where Dhoni has the edge.
Both have an impressive cricket brain. Dhoni's captaincy has been decribed as genius, incompetent and everything in between during his reign at the top, and whilst Prior is yet to skipper his country, his position as vice-captain during the New Zealand tour shows faith from those around him. As with Graeme Swann, Alastair Cook is never far from his ear when discussing matters of importance.
What is for sure is that these two cricketers are of the very, very highest calibre. Rest during limited overs cricket may have lengthened a number of Prior's innings across from his Indian rival, but it is his form over the last couple of years that gives Matt Prior the edge as the greatest wicket keepr bat in the truest form of the game.