Sangakkara completes 10000 test runs
2.36K //
26 Dec 2012, 20:01 IST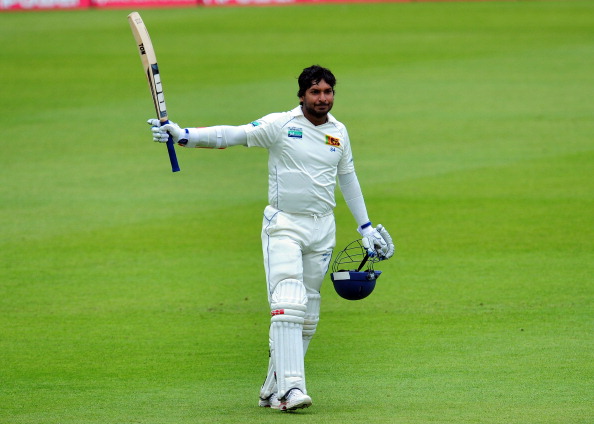 Kumar Sangakkara became the 11th player to complete 10000 runs in Test cricket, during his knock of 58 against Australia today morning.
He also became the fastest player along with Brian Lara and Sachin Tendulkar to complete 10000 runs, as they have all managed to do it in 195 innings. Ricky Ponting managed it in 196 innings, while Rahul Dravid and Mahela Jayawardene took 206 and 210 innings respectively to achieve the feat.
Among the 11 players, Sangakkara's average is second only to South African all-rounder Jacques Kallis.
| | | | | | | | | | | |
| --- | --- | --- | --- | --- | --- | --- | --- | --- | --- | --- |
| Player | Span | Mat | Inns | Runs | HS | Ave | 100 | 50 | | |
| SR Tendulkar (India) | 1989- | 194 | 320 | 15645 | 248* | 54.32 | 51 | 66 | | |
| RT Ponting (Aus) | 1995-2012 | 168 | 287 | 13378 | 257 | 51.85 | 41 | 62 | | |
| SR Waugh (Aus) | 1985-2004 | 168 | 260 | 10927 | 200 | 51.06 | 32 | 50 | | |
| R Dravid (ICC/India) | 1996-2012 | 164 | 286 | 13288 | 270 | 52.31 | 36 | 63 | | |
| JH Kallis (ICC/SA) | 1995- | 158 | 268 | 12980 | 224 | 56.92 | 44 | 56 | | |
| AR Border (Aus) | 1978-1994 | 156 | 265 | 11174 | 205 | 50.56 | 27 | 63 | | |
| S Chanderpaul (WI) | 1994- | 146 | 249 | 10696 | 203* | 51.67 | 27 | 61 | | |
| DPMD Jayawardene (SL) | 1997-2012 | 137 | 229 | 10674 | 374 | 49.64 | 31 | 43 | | |
| BC Lara (ICC/WI) | 1990-2006 | 131 | 232 | 11953 | 400* | 52.88 | 34 | 48 | | |
| SM Gavaskar (India) | 1971-1987 | 125 | 214 | 10122 | 236* | 51.12 | 34 | 45 | | |
| KC Sangakkara (SL) | 2000- | 115 | 195 | 10018 | 287 | 55.65 | 30 | 41 | | |