Satire: England's Team Meeting secretly recorded
1.69K //
21 Nov 2012, 16:34 IST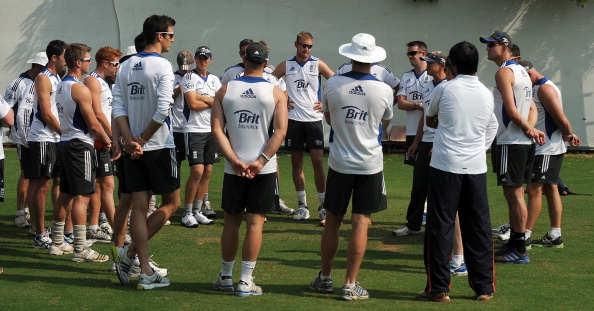 England had plenty to think about after a humiliating defeat against India in the first Test. Their weakness against spin was exposed on a pitch that wasn't even a rank turner by Indian standards. After thorough analysis, Andy Flower and Alastair Cook called for a team meeting to address the issues on the table and to set specific plans for certain individuals. Our undercover correspondent placed a microphone in the conference room which recorded the entire team meeting. Here's the excerpt from the 2 hour meeting.
---
Andy: The Chicken Curry was spicy, right Cook?
Cook: Yes, but I didn't Cook. Yes, I am Cook. But I can't Cook. So, I bought this book. Look. It tells you how to Cook.
Andy: You also talk for long hours, don't you? Anyway, Kevin, stop texting.
KP: I'm not. I was just tweeting my friend – pie chucker Yuvi. Telling him about Cook's poetry skills.
Cook: What did he say?
KP: He sent a DM. 'Arey Ma***C*** Cook, bas kar yaar, rukh' ——- *in Biritish accent. Oops. South African accent*
Bell: Guys, jokes apart, let's get to business?
Andy: You are the joke, Ian. And we never started to crack you yet. What a first ball shot man!
---
Cook: In the previous team meeting, I guess we concentrated too much on Tendulkar. Let's not do the same mistake.
Andy: But, we are playing in Mumbai. He would even know the names of the worms that are walking inside the cracks on the wicket.
Trott: Should we ask him the names during dinner tonight?
Broad: Indian names are difficult to pronounce man. Ignore.
KP: Where am I stuck, God?
---
Cook: Sehwag is playing his 100th Test. He will be upbeat. We need special plans for him. Any ideas?
Andy: I guess the best idea is to leave him alone and concentrate on others.
Cook: That makes the two of us. What about Pujara?
Anderson: Videos showed he is vulnerable to the hook shot, let's try and bounce him out.
Broad, Bresnan (in unison): Bounce?
Bresnan: At my pace, I would be happy if I can bounce the ball above waist height on these stupid wickets.
KP: Hey, Vaughan just sent a text. He says, try applying Vaseline to the ball. No DRS. And nobody knows how the ball would behave.
---
Andy: Yuvraj Singh.
Broad: I'll just come back. Need to pee.
Cook: KP, you know him better than anyone. You should take care of Yuvi.
KP: Bring it on, mate.
Andy: Let's not forget Kohli. That kid needs to be distracted early, else we are bombed!
KP: Let's not talk about bombs please. We already had a miserable experience a few years ago.
Cook: Any answers for Kohli?
KP: Anyone brought your girlfriend along? I have a plan.
---
Andy: Alright, Broady is back after a long spell at the toilet. Let's talk about their bowling. Plans for Ojha?
Bell: First Ball….
Cook: Blimey! Dhoni won't let you bat twice all the time.
Bell: I was trying to prove this wrong in the first Test. I miss Strauss.
Prior: Let's just leave everything pitching outside the off stump.
KP: Haha, Yuvi just texted me saying, they said exactly the same thing to Gambhir in their team meeting.
---
Swann: I need 'support' from the other end. If they can spin us out, we can too.
Monty: Hi, my name is Monty Panesar. My friends call me 'Support'. Can I bowl from the other end?
Andy: Gosh! What a bloody team meeting. If someone listens to this, they will LOL!
---
Yes, we will LOL!
Disclaimer: The above mentioned comments are a work of fiction and not from the English players themselves. They are intended to be humorous and should not be taken seriously.