Satire: Indian cricket team's reveals future plans in press conference
1.97K //
11 Dec 2012, 18:36 IST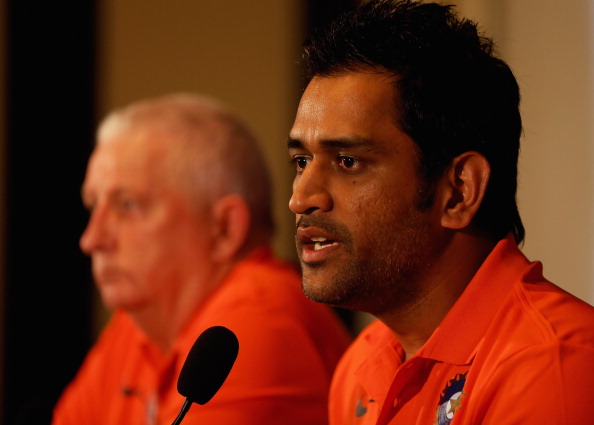 After the recent bad results for the team and many questions left unanswered, the Indian cricket team and the BCCI boss had an intense press conference with the media persons. Here's how it proceeded:
So, we are losing again?
The boss: Wait till they come to India.
Hold on, they are in India.
The Captain: I disagree. If you look at it intently, the weather is very much like the English summer and more people in the crowd speak English better than they speak their mother tongue. So, where are we?
So, what was the primary cause for these defeats?
The Captain: The pitches. They are turning too much.
But you asked for turning pitches.
The captain looks at the intense 'once-would-be-but-now-won't-be' for help.
Once-would-be-but-now-won't-be: Did you look at my average? I have done very well.
But you haven't scored a century in almost 3 years!
Once-would-be-but-now-won't-be looks at the captain for help, who in turn looks at the boss.
The boss – No, but both players have really done well in IPL!
But test cricket is what matters, right?
The Captain- Really? If it mattered so much, why are we getting pitches that are not helping the home team?
But weren't they designed to help the home team?
The Captain – They were turning when we were batting, and seaming too, but when we bowl, they stop responding. So whom are they favouring? Surely, you should use some logic.
(Mediapersons are almost stunned for a while but recover from that response) But good teams win even when the pitch doesn't favour them, don't they?
The Smasher – Probably when they play against Bangladesh. Else, it is all about seeing and hitting, who cares about winning.
You are on the verge of losing a series to England in India.
Would-be-captain – Wait till they come back.
Sir, were you dozing all this while?
Would-be-captain – I mean wait till they come to play IPL.
Most English players don't play in IPL.
Smasher – But KP does. No wonder he is playing so well after all the training he received here.
Really, what happened to you guys?
Once-would-be-but-now-won't-be – Did you see my recent half centuries?
The captain – I am not a loser. I won't quit. I am banking on Jaddu, who will field well.
So, we lost because of bad fielding?
A voice from under the table – Because of seniors.
The captain suddenly appears and looks at others as if he doesn't understand what's happening.
Where does the team go from here?
Fletcher with his Matrix sunglasses on – Nagpur of course, the city of oranges. With all the power I have as the Coach, the best I can do really is buy oranges.
So, who takes the moral responsibility of these losses?
Everyone in unison – Sachin should retire like Dravid and Laxman.
But aren't we really far away from filling Dada's boots, leave alone the Fab 3?
Sachin should retire!
But what purpose will that solve?
Captain – Raina can play.
But he is susceptible to short-pitch bowling, how will his inclusion help?
We are already a poor batting and bowling side. At least we wouldn't be called a poor fielding side!
Can the fans hope for a turn around?
The captain – Depends on the curator. He decides the turn, you see.
Australia is coming next. The scenario looks bleak even at home.
The boss – Check out the balance sheets. We still rule.
But wasn't cricket about emotion more than balance sheet?
The Boss – It's all about cement.
What?
The Boss – I mean, we will show hearts of cement.
The captain with a 'dried cement' expression – Yes we will. Hail the boss.
What strategy will you use to come back strongly?
Awana will rip the English batsmen apart with his raw pace and attitude. Plus, he can chase a ball unlike Zaheer.
What about the batting?
Ashwin will take care of that.
The captain is in a bad nick too.
The captain – Sachin is practising, having rejected endorsement appointments. He is facing all the bowlers in all the nets. So I have no choice but to do ads.
The Boss has had enough. Media people asking difficult questions will not be allowed inside press conferences from next time!
The captain screams and walks out with the team.
Disclaimer - The above comments are a work of fiction and shouldn't be taken seriously.