Satire: Tendulkar to retire, but after a Farewell Test
4.50K //
17 Dec 2012, 18:41 IST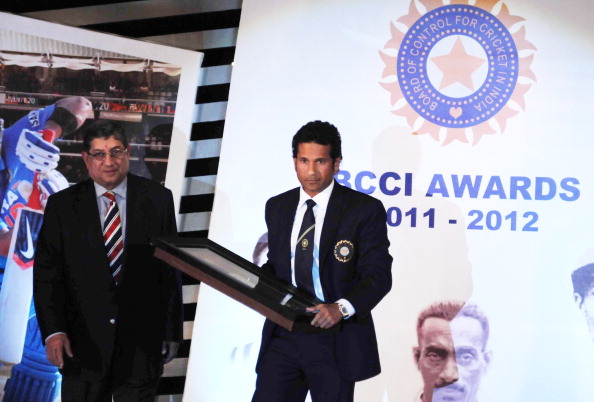 Tendulkar wasn't seen on the field for most of the final day of the 4th Test between India and England. While many thought he had injured his shoulder while fielding, Tendulkar was busy attending a meeting with BCCI officials and a couple of representatives from the ICC. The meeting that lasted for over 3 hours was also attended by the Indian selectors and Arjun Tendulkar.
"Though he doesn't play for the Chennai Super Kings, Tendulkar deserves a farewell. He will get one," said the president of BCCI – N Srinivasan. "A special one-off test match has been scheduled from Feb 10th to Feb 14th," he added.
The Test match will be played at Gwalior, the venue where Tendulkar scored his ODI double hundred, against Japan – who were given Test status halfway during the meeting. "This might be Tendulkar's best chance to end on a high, also because the Japanese are short," an ICC official joked. The ICC and the BCCI in its joint venture has decided to return a favour to Tendulkar, who has offered so much to the game of cricket.
The selectors have named India's 11-man squad for the game. The team, led by Tendulkar – Surprise, surprise! Not Sachin, but Arjun Tendulkar – also includes Vinod Kambli, Navjot Sidhu and Tendulkar's car driver Ganguly (Not Dada of course!). Tendulkar's dream was to play until Arjun makes his international debut, and since that wasn't going to happen in the near future, the BCCI came up with the idea of a special farewell game. Since many people wanted MS Dhoni to be stripped off his captaincy, N Srinivasan and the selectors decided to acknowledge their requests too (only for this game).
Legendary umpire Steve Bucknor has also decided to come out of retirement to officiate in the farewell Test, and is said to be on a mission to become the ultimate villain by ruling Tendulkar out on 99 or 199 or 299. This decision brought out Tendulkar's trademark reaction, 'Aila', during the meeting. The commentary panel for the Test match consists of Ricky Ponting, Shane Warne, Glenn McGrath, Shoaib Akhtar, Brian Lara and Brett Lee, who will form the guard of honour before the presentation ceremony of the Farewell Test. When Ricky Ponting and Shoaib Akhtar earlier didn't agree to give Tendulkar the 'guard of honour', the official broadcasters had to include it in their contracts.
The Man of the Match will also be presented with a Ferrari 360 Modena by Formula 1 legend Michael Schumacher. Deja vu. Cricket players from across the globe will come to Gwalior and witness the great man retire. Unless Tendulkar decides to take a break and spend time with family.
PS: The tickets for Tendulkar's farewell game will be sold on www.poonampandey.in on the 21st of December, 2012. When the world ends.
DISCLAIMER – This is a satire, and should be taken in jest!