Sherlock Holmes and the cricket connection
5.98K //
26 Aug 2014, 13:32 IST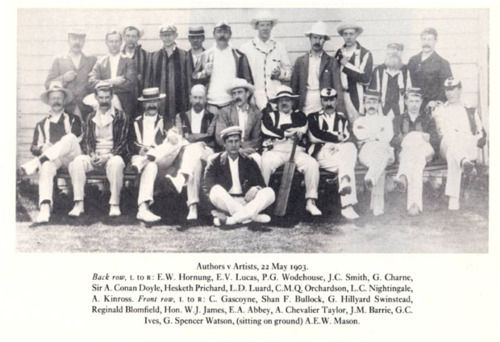 Sir Arthur Conan Doyle. Lord's. First-class cricket.. Marylebone Cricket Club. Sherlock. These words may seem poles apart to many, but they are as interwoven as a woollen sweater. Yes, the creator of the legendary character Sherlock Holmes was not only the writer of one of the most scintillating detective novels of all-time, he had other faces too, and one of them was a tryst with the Gentleman's Game.
Early Life
Born on 22 May 1859 at 11 Picardy Place, Edinburgh, Scotland, Sir Doyle studied medicine at the University of Edinburgh Medical School, where, while studying, he began writing short stories. His first attempt at fiction "The Haunted Grange of Goresthorpe", was blatantly rejected by Blackwood's Magazine. However, he never lost hope, and soon enough The Mystery of Sasassa Valley, a story set in South Africa, his first successful publication was printed in Chambers's Edinburgh Journal on 6 September 1879.
Doyle's first publication featuring the legendary Sherlock Holmes and Dr. Watson in the lead was the novel A Study in Scarlet. He got a mere £25 for selling all rights of the story to Ward Lock & Co on 20 November 1886. But, as we all know today, he never looked back since and went on to rewrite history books with his peerless pen play.
Cricketing Roots
Soon enough after writing his first feature of Sherlock, cricket happened. Doyle started to play cricket for and interestingly named team. The Allahakbarries were a team founded by J.M.Barrie (Peter Pan sounds familiar? Meet the author), also featuring the evergreen P.G. Wodehouse, named after the African word meaning 'Heaven Help Us' consisting of solely authors who played against numerous villages in the Home Counties. PGW later shifted to golf, his other obsessive passion and genre for many a book. Arthur, however persevered, and was rewarded with a spot in the first team to tour the Netherlands in 1891.
First class cricket was not far away, and in 1900 he made his debut in first class cricket for Marylebone Cricket Club (MCC). In all, the man who penned Sherlock played 10 first class matches, 8 of them at Lord's, the Mecca of Cricket.
Coming to the most mysterious aspect of his cricket career, it happened like a flash in the pan. The great Sir W.G. Grace was batting on 110, having scored one of his numerous centuries. Arthur was bowling his innocuous spinners. In between, he slipped in a rank long hop. Grace, who would have dispatched that ball 11 times out of 10, skied it to the keeper, who judged it to perfection. How that aberration happened in one of the most illustrious cricket careers of all will need all of Sherlock's science of deduction to decipher. It still continues to be one of his unsolved cases, as the author himself has no idea how that turned out!
That turned out to be the only highlight of his otherwise ordinary first class career, along with a well compiled knock 43 in one innings. But for a man who excelled in another field like no other, to be even a first class cricketer is no small feat by any stretch of the imagination.
Sherlock nomenclature and cricketing origins
Ever wondered how the most famous sleuth of all time got the name 'Sherlock'? Yes, the name has cricketing roots too.
Legend has it that Sherlock was named as a combination of two Nottinghamshire cricketers, Sherwin and Shacklock. Shacklock later played for Derbyshire where his fellow fast bowler was William Mycroft, after whom Sir Doyle named the brother of Sherlock (Mycroft Holmes).
Other Sir Arthur Conan Doyle works related to cricket
Post -retirement, Sir Doyle penned down the story of Spedegue's dropper, an interesting story about Spedegue, who develops an underhand delivery - a lob flung high enough in the air to come down at the pace of a fast bowler which was published as one of the 'other stories' with Maracot Deep.
Gravity, not elementary, eh? It was similar to fast bowling delivered from above, attacking the batsman vertically. After achieving accuracy, Spedegue won a famous Test match for England against Australia. One can only wonder with such imagination how good a captain he could have been had he pursued his cricketing career more seriously.
Sir Arthur also wrote about cricket in one of his Brigadier Gerard stories, revolving around a French officer's rather disastrous effort at the game as a prisoner of war.
However, Conan Doyle did have his problems with left-handers, contending that left-handed batsman should not be allowed to play since it held up the game. Quite surprising, coming from a man who was way ahead of his time.
The Wisden Obituary
Here is what the Wisden Almanack had to say about Sir Doyle.
Sir Arthur Conan Doyle, MD (Edin), the well-known author, born at Edinburgh on May 22, 1859, died at Crowborough, Sussex, on July 7, aged 71. Although never a famous cricketer, he could hit hard and bowl slows with a puzzling flight. For MCC v Cambridgeshire at Lord's, in 1899, he took seven wickets for 61 runs, and on the same ground two years later carried out his bat for 32 against Leicestershire, who had Woodcock, Geeson and King to bowl for them. In the Times of October 27, 1915, he was the author of an article on The Greatest of Cricketers - An Appreciation of Dr Grace. (It is said that Shacklock, the former Nottinghamshire player, inspired him with the Christian name of his famous character, Sherlock Holmes, and that of the latter's brother Mycroft was suggested by the Derbyshire cricketers.
Extras
Sir Arthur was so pleased to get the wicket of Sir W. G. Grace that he actually penned down a poem on the incident, titled A Reminiscence of Cricket. It goes about as follows:
Once in my heyday of cricket,
One day I shall ever recall!
I captured that glorious wicket,
The greatest, the grandest of all.
Before me he stands like a vision,
Bearded and burly and brown,
A smile of good humoured derision
As he waits for the first to come down.
A statue from Thebes or from Knossos,
A Hercules shrouded in white,
Assyrian bull-like colossus,
He stands in his might.
With the beard of a Goth or a Vandal,
His bat hanging ready and free,
His great hairy hands on the handle,
And his menacing eyes upon me.
And I - I had tricks for the rabbits,
The feeble of mind or eye,
I could see all the duffer's bad habits
And where his ruin might lie.
The capture of such might elate one,
But it seemed like one horrible jest
That I should serve tosh to the great one,
Who had broken the hearts of the best.
Well, here goes! Good Lord, what a rotter!
Such a sitter as never was dreamt;
It was clay in the hands of the potter,
But he tapped it with quiet contempt.
The second was better - a leetle;
It was low, but was nearly long-hop;
As the housemaid comes down on the beetle
So down came the bat with a chop.
He was sizing me up with some wonder,
My broken-kneed action and ways;
I could see the grim menace from under
The striped peak that shaded his gaze.
The third was a gift or it looked it-
A foot off the wicket or so;
His huge figure swooped as he hooked it,
His great body swung to the blow.
Still when my dreams are night-marish,
I picture that terrible smite,
It was meant for a neighboring parish,
Or any place out of sight.
But - yes, there's a but to the story -
The blade swished a trifle too low;
Oh wonder, and vision of glory!
It was up like a shaft from a bow.
Up, up like a towering game bird,
Up, up to a speck in the blue,
And then coming down like the same bird,
Dead straight on the line that it flew.
Good Lord, it was mine! Such a soarer
Would call for a safe pair of hands;
None safer than Derbyshire Storer,
And there, face uplifted, he stands
Wicket keep Storer, the knowing,
Wary and steady of nerve,
Watching it falling and growing
Marking the pace and curve.
I stood with my two eyes fixed on it,
Paralysed, helpless, inert;
There was 'plunk' as the gloves shut upon it,
And he cuddled it up to his shirt.
Out - beyond question or wrangle!
Homeward he lurched to his lunch!
His bat was tucked up at an angle,
His great shoulders curved to a hunch.
Walking he rumbled and grumbled,
Scolding himself and not me;
One glove was off, and he fumbled,
Twisting the other hand free
Did I give Storer the credit
The thanks he so splendidly earned?
It was mere empty talk if I said it,
For Grace had already returned.