Straight Drive - From the heart of a Sachin fan
Disclaimer – When Mr. Harsha Bhogle resorts to video blogs for Sachin's retirement, you know writing on it is not going to be an easy task. So I do not think my novice writing will be able to do any justice to the accomplishments of the great man. This is just a humble attempt to see what his retirement means for an average Sachin lover like me.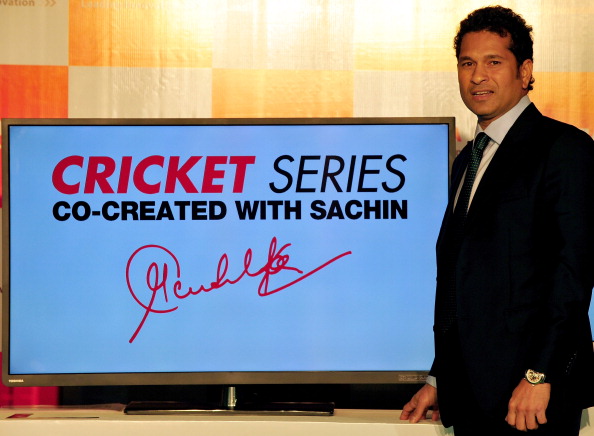 A day after the April Fool's Day in 2011 India won the cricket World Cup. While this was the second time that India had lifted the trophy, it was only the first in six attempts for an individual named Sachin Ramesh Tendulkar. Since then, his retirement has been a topic which has drawn opinions of people across the length and the breadth of the country.
More than two years after the World Cup victory, on 10th of October 2013, the master made the announcement that he would be hanging up his boots. Looking back in history, on the same day more than 100 years ago in 1892, the entire Honk Kong national cricket team had died in a ship wreck.
For many of Sachin's supporters, this retirement news was nothing short of a death of the game. It was difficult for them to understand how a man who with a broken nose had once said 'Main Khelega' (I will play) could say, 'Main nahin khelega' (I will not play).
While I am also an ardent Sachin fan, I don't think that this will be the death of cricket for me. It's a different story that I may not follow the game with the same enthusiasm till the time I find another hero. I am pretty sure that a similar outburst would have been witnessed when the great Sunil Gavaskar had retired. Many fans would have pledged not to follow the game. A few years after Gavaskar's retirement in came Tendulkar, and I am sure the same people would have had a tough time keeping their pledge. They might have argued that this chap was good but not as good as Gavaskar, and such an argument is pretty natural.
For the generation of the 70s and the 80s, Gavaskar was the first love, and everybody has a special place for their first love. Similarly for people like me and many others who grew up in the 90s, Sachin is our first love. Gavaskar was the reason for which people from the previous generation watched cricket, and Tendulkar is the reason that we, the people of the current generation, love this great game. This in no way implies that those people who were die-hard Gavaskar fans did not enjoy Sachin's batting. Similarly, we the millennial generation might enjoy a future star.
Yes, we definitely feel that an irreplaceable void has been created. That void might be filled in the Indian squad by another talented cricketer, but it will take some time to fill that void in our minds. By nature, human tendency is to resist change and when the change is as big as this, adaptation time is bound to be high.
Here is a cricketer who brought smiles on our faces for over two decades. We have spent nights arguing and giving out stats (at a time when stats was not as easily available as today) to prove that Sachin is the greatest batsman. And now when he is retiring, we are afraid about who will bring smiles on our faces, on whom will be base our arguments on. We just hope that we will get another great pretty soon. India has been a very lucky nation in this regard. We have produced two great batsmen in consecutive eras.
Now, as the nation prepares to watch the great man for the last time on the cricket field, everyone has different expectations. Many want him to sign off in style by scoring centuries. While I would be more than happy if he does so, I will not be disappointed if at all he fails this time. For, he has given me memories to last more than a lifetime. The Desert Storm, the assault on Pakistan in the 2003 World Cup, dancing down to McGrath in the ICC Knockout tournament of 1998 are still fresh in my mind as though they all happened yesterday. For close to twenty years, I have always prayed that he scores well. But this time, my only prayer would be to let him enjoy his last few matches.
And as Sachin always says, no individual is above the game. The game of cricket will live on in search of a new Tendulkar. Until then, we all can bask in the glory of living in an era when the master had played.