Supporters, cricket's biggest superstars
1.69K //
10 Nov 2012, 21:24 IST
A cricket fan cries, shouts, dances when his team wins, and gets overtly critical when his team loses. There are a few people who have dedicated their lives to rooting their country from the stands. They are ardent supporters of their cricket team- come what may.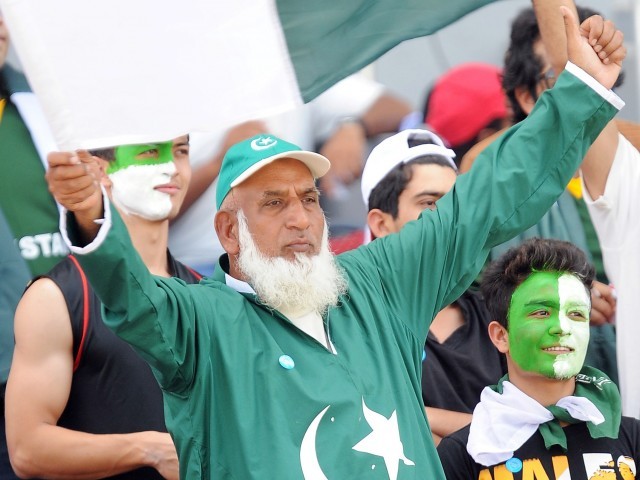 Meet Pakistan's Abdul Jalil, better known as "Chacha Cricket". He is Pakistan's most famous spectator, and is the face of their cricket team. It is his passion and commitment as a supporter, which saw Pakistan Cricket Board (PCB) label him as the official mascot of the Pakistan cricket team. He gets a fixed sum from the PCB for supporting the team. Chacha always seems to find a sponsor for his food and stay. In the recently concluded World Twenty20 championships, Chacha stayed in the same hotel as the team.
In 1969, Colin Cowdrey's MCC team had toured Pakistan. That was when Chacha started his journey as a cricket fan. Chacha worked at a forest department in Abu Dhabi. Sharjah hosted its first One Day International in the year 1984. Chacha used to travel from Abu Dhabi to Sharjah to view the matches which featured Pakistan. He was spotted by the television cameras and got noticed there. Chacha's most favourite moment came during the 1986 Austral-Asia Cup final. Four runs were needed by Pakistan off the final ball. Javed Miandad smashed Chetan Sharma over the deep-midwicket fence for a six. This remains a poignant chapter in the cricketing rivalry of India and Pakistan. Chacha is believed to have distributed sweets that day.
A 63-year-old Chacha is not very difficult to spot in the stands, when Pakistan is playing. Look out for the noisiest section of the ground. Go closer, and you will see a man wearing a green salwar-kameez, singing inspirational songs and rhythmically flying the Pakistan flag. Chacha is primarily an entertainer, who earns his bread and butter by entertaining people at wedding ceremonies or in some annual programme of the school.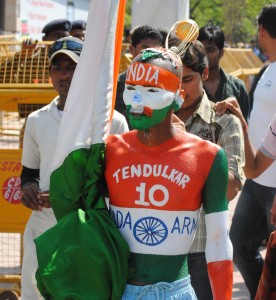 Have you seen this man? He is seen when the Indian team is in action. This man has "Tendulkar 10" painted on his chest, and an Indian tri-colour painted on his upper-body. He has an Indian flag in one hand and a conch in his other hand. This man is Sudhir Kumar Chaudhary.
Chaudhary's journey from being an ordinary citizen to an extra-ordinary cricket fan is interesting.  In the winter of 2002, West Indies had toured India. One of the One Day Internationals was scheduled to be played at Jamshedpur. Chaudhary wanted to meet his idol Sachin Tendulkar, and get an autograph from him. He set out for his mission on a bicycle from his home at Muzzafarpur, Bihar. He could not get an autograph, but Chaudhary did not lose hope.
Chaudhary realized his dream the next year. Chaudhary was dressed in the same manner as he dresses when he comes to support India. He went on a bicycle till Mumbai and waited outside Tendulkar's residence. The word had spread that there was an ardent Tendulkar fan waiting outside the batting maestro's house. The security guards did not let Choudhary enter Tendulkar's house. Soon however, there was a lot of hoopla outside Tendulkar's house. Eventually, Tendulkar agreed to meet Chaudhary. Tendulkar gifted Chaudhary a t-shirt, gave him an autograph and also asked him if he was ready to watch matches at stadiums. Tendulkar promised Chaudhary that he would get the tickets for every India match. That brought about an unexpected turn in Chaudhary's life. He is now the most revered cricket fan in India.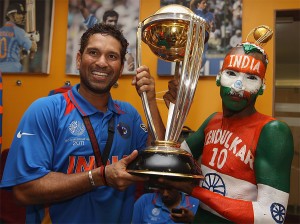 When India won the Cricket World Cup in 2011, Tendulkar called Chaudhary inside the dressing room and told him to lift the cup. That remains the most cherished memory for Choudhary. It is interesting to know that Chaudhary has married cricket. He has decided to remain single throughout his life. Whatever little he earns, he spends on travelling to the places where India plays.
Percy Abeysekara has been cheering for Sri Lankan team for more than three decades. He is seen cheering and singing his unique compositions. In 1977, MCC team had toured Sri Lanka under Tony Grieg's captaincy. Sri Lanka wanted their test match status, and were engaged in a battle for the same with ICC.  Ken Barrington was the manager of the English Cricket team at that time. Percy sang the following song to Barrington:
"There is long, long way for us to go,
Before this tug-a-war could ever end,
When the day will come, we don't know
ICC sir, when can we call you friend?"
Once again experts came and told us that our cricket
Standards will be just fine,
ICC sir, we have our dignity,
ICC sir, tell us no more lies."
In 1981, Sri Lanka got their test match status. Their first home test match was at the Paikiasothy Saravanamutthu Stadium, Colombo on the 17th February, 1982 against England. The main pavilion was filled with the dignitaries. Donald Carr, the English Cricket Board (ECB) secretary, was the chief guest on the occasion. Percy entered the main pavilion with a Sri Lankan flag and sang the following:
"There is a long, long way for us to go,
Before this tug-of-war could ever end,
Now that the day has come we all know,
Donald Carr, sir now we can call you friend."
Percy continues:
"Mr Donald Carr. I don't know in which car you came. Please get up because I'm with the National flag of my motherland."
Percy hugged Carr when he stood up. The Sri Lankan president, J. R. Jayewardene, who seldom laughs, burst into fits of laughter after seeing that.
My most favourite composition of Percy's came when Australia toured the island nation in 1992-93. David Boon came into bat minutes before the lunch interval. Percy started with his composition on Boon:
"Come on Boon,
You Tasmanian goon,
Come back soon, before noon."
He is known to give his honest opinion to the players. There has never been any tinge of diplomacy in whatever Percy has said. Russell Arnold, the Sri Lankan middle-order batsman, was once having a poor run during his tenure with the team. Percy met him during that time, in a practice session. Arnold said: "Uncle, you are now boring.". Percy replied: "Yes, I'm boring son, because you are not scoring".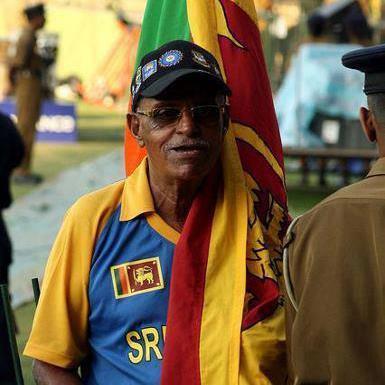 In 1972, the Australian Under-19 team toured Sri Lanka. The first of the two three-day games was drawn, and the Sri Lankan team was precariously placed in the second game. Sri Lanka was battling for a draw, and had lost nine wickets. Skipper Asitha Jayaweera and Flavin Aponso (who later played five ODIs for Netherlands!) were batting. Percy invaded the ground to congratulate Jayaweera for his half-century in his attempt to kill time. He was arrested by the police, but was released after four hours.  Percy was astonished to see people waiting outside the police station to greet him. Percy asked about what had happened to the match. He was satisfied to know that the match had been drawn. Percy got a lot of coverage in the newspapers the following day. From then onwards, Percy has been a known figure in Sri Lankan cricket.
These three cricketing doyens have set a solid benchmark for cricket fans. They have all made some sacrifices or the other. However, it does not bother them. They are always cheering their team, egging them on, and praying for their team's victory. These gentlemen are no ordinary men, they are SUPERSTARS!