Swann in reckoning for Ashes return
628 //
29 Mar 2013, 21:53 IST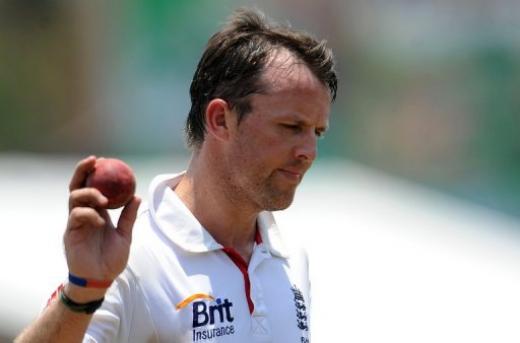 England's star spinner Swann is confident of returning to the Ashes series after a surgery on his right elbow. He's been the most reliable spinner for England and his come-back, indeed is a great boost for England as he shares the node with Panesar.
Though he's confident of a return for the Ashes Series, he may find it difficult to role his right arm as he underwent surgery in his right elbow. For that, he play's a four-day match against Durham which would mark his come-back.
Swann, who had played a key role in England's Test Series win over India, yet again will hold the key for England against Australia. Swann said that his hunger to play Test Cricket is still strong. "The hunger's still strong to play Test cricket, I love the game, so I think I'll play for as long as the body can stand it".
"I'd hope to be bowling competitively by the end of April. I don't know whether that's optimistic or not but that's how my mind works. I want to be back as soon as I can because I'm bored stupid already. It was okay while the Tests in New Zealand were on because I could watch that, but now it's finished it's very tedious.
"It's important though because the machine keeps the range of movement in your arm and it aids your rehabilitation and it's supposed to halve the time you get back bowling."
It's important that Swann gets a node in their home Series against New Zealand, which starts on May 16. That would enable him to test his fitness, and how far he's accurate in his bowling. He's also had a good record at home, and now returning to play after a surgery, will test his accuracy and his fitness.
Swann, in fact thought that injury would perhaps end his career. He said that, his surgeon assured full recovery. "The surgeon assured me it was a straightforward operation compared with my first one," he said. "That one was far more serious, yet it allowed me to go for three-and-a-half years bowling relatively pain free. It was a lot more straightforward this time, basically just correcting little things that have gone wrong since.
"Because of my elbow, different parts of my body start taking over and aching and that were one of the signs in New Zealand that something was wrong. All of a sudden I was getting a sore back and shoulder and all sorts of things, all down to the fact that the elbow wasn't working. Now it's cleared out, all the other things should be all right.
"I think I could bowl now but I'd probably put myself back to square one. So the next couple of weeks are solely about fitness and getting my base levels back up to where they should be, and then I'll start bowling again."
He, however, said that while bowling if he feels pain, he would play safely. "If I start back and there's any pain whatsoever I'm sure I'll want to play it fairly safe".