Tendulkar - An era of hope
918 //
26 Dec 2012, 07:50 IST
India in the 1990s was a country trying to make a mark on the world stage. 1991 was a crucial year in this regard, as India, under the leadership of the then Prime Minister P.V. Narasimha Rao, opened its market to the world and in economic terms we called this is 'the liberalization of the Indian economy'. This gave hope to an average Indian that problems like unemployment, poverty, etc. would be a thing of the past. Although many of these problems were not resolved and exist till date, there was a cloud of hope which was building up. During the same time, an Indian by the name of Sachin Ramesh Tendulkar was making a name for himself in international cricket. Still in his teens, he was one of the most talked about cricketer in the country.
In a sense, Sachin symbolized hope for the Indians in the decade of the 90s. Every outing of his in the middle had the hopes of an entire nation clung to it. From the crowded local trains of Bombay to the markets of Chandni Chowk in Delhi, to the hills of the north-east to the back waters of Kerala, there was one common question which people used to ask during cricket matches in the 1990s – "Is Sachin still there?" Let the match be in any situation, a reply in affirmative would reimpose the belief in fans that India could still win the match. The fact that he failed to win matches on quite a few such occasions never turned down this belief. His stint in the middle would bring the nation to a halt and his dismissal would result in television sets being shut down.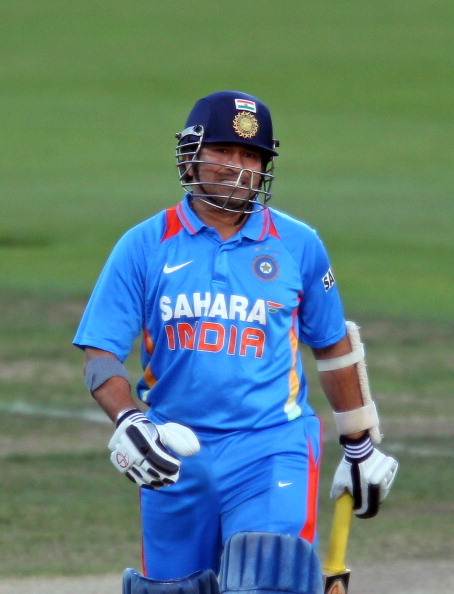 For his fans, he is not merely a cricketer. He was the reason many people started watching the game in the first place. In my living memory, I cannot recall any Indian sportsperson who has had such widespread fan following. Famous poet Haribansh Rai Bachhan in his poem Madhushala (the house of wines) had said that temples and mosques create divide among people and it is the house of wines which bridges these gaps. In my opinion, the same can be said about Tendulkar: he is one name which has beyond doubt united India for the past two decades. Even his biggest critics acknowledge his contribution to the game.
Today as I write this piece, it has been more than twenty-four hours since the genius has announced his retirement from One Day cricket. However, an average Sachin fan like yours truly is yet to come to terms with this fact. While the rational side of my mind always knew that this was inevitable and he will surely retire some day, the emotional side does not know how to react when it has actually happened. The rational and intellectual supporters like many of my friends will say that one should not be disheartened and should celebrate his glorious career than brood over his retirement. Well they may be right, but we are humans after all and have emotions. Hence, retirement from One Day cricket of a person who has been the reason for the smiles on our faces for over two decades is bound to bring emotions.
In his address to the nation on Mahatma Gandhi's death, India's first Prime Minister, Pandit Nehru had said, "Light has gone out of our lives and there is darkness everywhere". For a Sachin fan, the same seems to be the case today with One Day cricket; it looks like the light has gone out of it. It is said that all good things come to an end; it is no different with Sachin's one day innings. His detractors including few former cricketers would say that it was high time that he retired and they might be correct in their opinion; I am no cricket expert to question their wisdom over this. I am just a common Indian who has enjoyed Little Master's magic throughout my life; a person who as a school boy would get his poor report card signed by his father during Sachin's innings; and also a person who learnt about words like tennis elbow due to the great man. And yes, I consider it as a privilege to be born in an era when a five foot something guy from Bombay governed the mood of a nation.