That moment when Sachin Tendulkar walked in
1.20K //
27 Mar 2013, 18:38 IST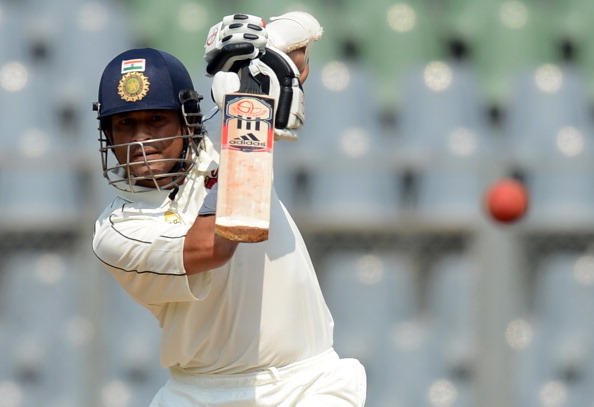 I know it has become a cliche, lugubriously longing for Tendulkar, and articles which lay heaps of prize on him have been pouring in from all quarters. This might be just another article to clog the cricket page, yet, to this writer this is the biggest form of respite. A respite from his emotional baggage. The emotional baggage has been weighing very pretty heavy on his mind, due to which he has been bogged down. From then on, he has been on youtube, reminiscing Tendulkar's knock and reliving the past. That has only added to the emotional turmoil and he is craving for the master.
The audacious cover drive, that scintillating straight drive, that erupting flick off his pads, all that made him spring out of his chair a week ago, now puts him back in his chair with a huge lump in his throat. Though the brilliance was pure and unadulterated, the joy it provided was diluted. Jettisoning the fact that this was going to end sometime soon was an uphill task for this mind etched with memories of him. Cricket to this author translated to Tendulkar. A 90s kid, he hasn't seen Bradman or Gavaskar or Richards or  Chappell or Maradona or Boris Becker, yet he has seen Tendulkar. He has seen Tiger Woods, Federer, Schumacher, Lara and even Ponting, but the obeisance was only to Tendulkar. To him, Tendulkar was his sporting hero, perhaps even a real life hero. Hence, the emotions that emanated were quite heavy, too heavy for this human mind of his.
It was the third day of the final Test between India and Australia at Kotla, with India leading the series 3-0 and the whitewash up for grabs and pretty much within reach. When the first wicket went down, I started praying for the second wicket to fall quickly, as I have been praying for the past 14 years. When it did happen and the scoreboard read something for two, everyone's sight was set at the pavilion, waiting with bated breath for someone to arrive. The silhouette did emerge. With rapturous applause, the crowd went berserk, everyone up clapping till their hands whined and roaring till their throats hurt. As he made his strides to the middle, a million thoughts loitered my mind. This could well be the last time he was making the strides in India – the strides were getting smaller and slower as days passed. He did take guard and a wave of joy swept over me and I fell into sheer euphoria. That euphoria is something that has never ceased to exist for the past 14 years, from when I started watching cricket. His form, age, opposition or country have never deterred the ebullience. It has been constant.
The joy proved to be ephemeral. He was gone, LBW to a bowler who claimed his wicket four times in that series, something alien to Tendulkar. I was devastated and totally hit. It silenced the entire stadium. Never has the Feroz Shah Kotla worn such a desolated look. As he made his walk back to the pavilion, one by one people in the gallery stood up in obeisance, to catch a glimpse of the genius for the last time, respecting his two and a half decade display of dominance and discipline. As he walked back, he would have been kicking himself for leaning forward on a pitch where every other batsmen stayed behind and played late. Everyone in the crowd knew well that it could be his last time in India, yet, they were so flippant that they didn't mention it to each other.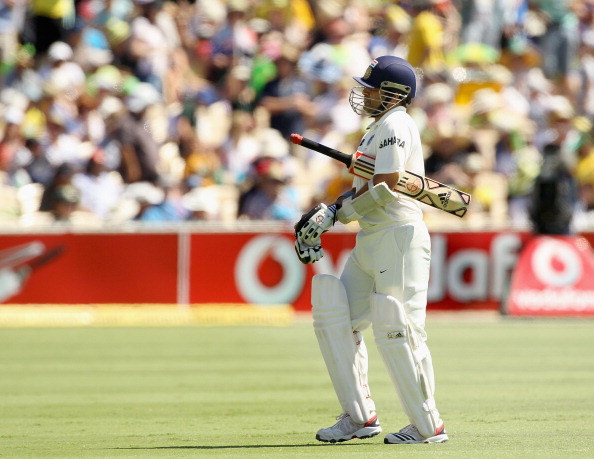 As he walked back, a wad of memories was doing its rounds inside my head. After the completion of his century he would look up, thank his father and acknowledge the crowd. His dance down the track, the straight drive that manifests the maker's name, the paddle sweep, and last but not least, the shy curly haired lad – all played inside my head. To me, he was everything. A friend, an enemy, a hero, a villain, a star, a brother and much more. I have flunked because of him. I have been chastened because of him. I have been proud of him, I have cried because of him, I have fought for him. When it came to him, the emotions were high. His love for the game is a working example for every budding sportsman. If you love what you do, you can only succeed. He is a testament to it. There might have been better batsmen, but his character is something that has kept me in awe. The very fact that there aren't any blemishes in his conduct on and off the field makes him the hero he is. In an era where Armstrong and Tiger Woods have been confronted with a record of untoward activities, he has stood tall, as the epitome of sports.  I don't have to justify my emotions for him, it is nugatory.
All this moved in slow motion in my mind. I stood up, in front of the television set, clapped as hard as I could, bowed and the drop of tear hit the ground. My mom told me I was going overboard. Probably I was, I was coming of age. The moment he walked back would forever be etched in my memory. I can hide it, but never forget it. Cricket wouldn't miss its greatest batsman, it would miss someone who loved it with all his heart.
As Harsha Bhogle put it, thank you Tendulkar, you were a good habit.