The Ashes 2013: Australia versus James Anderson
3.43K //
09 Jul 2013, 20:12 IST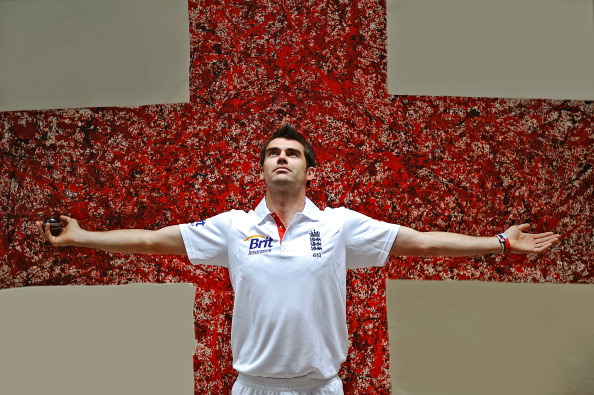 I remember watching James Anderson's minuscule face running in to bowl, about ten years ago, complete with his huffing and puffing and jarred action. Very few things angered me as much as watching this. I had no opinion about his bowling, nor really did anybody else.
He was another disappointment from England's point of view, a young prospect brought in to change the world, but only to end up destroying his own. Injury problems and just plain, ordinary bowling threatened to bring a premature end to a young career. But had I not known all of this, I still would've seethed in anger watching him bowl.
I think it was his watch. In all honesty though, I'm not completely sure if it even was a watch. It could have been one of those Livestrong bands which were all a rage back then. But whatever it was that dangled from his wrist, bobbing up and down with each step he took, it incensed me to no end. A rather irrationally thought-out behaviour, I agree, but when is hatred ever rational?
Today, I experience a different emotional wave while watching him bowl. His eyes, almost constantly focused at the batsman, are older and wiser. There's a large amount of experience in those eyes, experience which often finds itself landing in the right areas and going past bats.
His run-up is far more elegant. He walks up to his mark, turns around, and starts on his toes. What follows is liquid. He still huffs and he does still puff, but there's a music to his heavy duty respiration.
And that watch? I'm not sure I've had the time to notice it in the past few years.
Anderson's ascent to being arguably the best swing-bowler of recent times is nothing short of extraordinary, and integral to England's slow rise to the top. In an age where England's prospects looked as gloomy as its weather, a new generation of cricketers stood up to take over the world, albeit politely. James Anderson spearheaded that movement, and his potent ability to swing the ball late has been one of its highlights.
Australia have huge obstacles ahead of them if they are to overcome the English, but very few of those will be as large as James Anderson. In England, Anderson has made mincemeat of his opponents, often single-handedly guiding England to victories. In the past three years, Anderson has averaged 23 at home, picking 87 wickets in 19 test matches. In their most recent series against New Zealand, he picked nine wickets in the two test matches he played at an astounding average of 14.
No English fast bowler has got purists so excited since the days of Bob Willis and Ian Botham. Bowling was never a strong English suit, but Anderson's upsurge could change things for the future.
Anderson's prowess with the ball could tear up the Australian line-up to pieces, especially considering the vast amounts of inexperience and collective lack of form the team is carrying with them. Anderson will be the turning point of this Ashes. If he clicks, the Australians can well and truly bid farewell to any chance of glory this year. If they learn to manipulate through his deliveries, that's when we'll have a game on.