The man who introduced me to cricket: The hero, the genius and the performer!
764 //
24 Dec 2012, 09:22 IST
One of the most lasting cricket images in my mind is that of Sachin Tendulkar hitting Andrew Caddick majestically for a mammoth six over square leg in a World Cup match in 2003. The shot unravelled three marvellous insights to me about the man: the first of them was his acute ability to program bowlers and penetrate into their heads; he stood calmly knowing very well that the next delivery would be a short one. The second was the fact that he could – like a seasoned magician – bring shots out of blue and execute them to perfection; that pull was played with more of a roundish over-the-head arc than the usual way of playing the pull with cross-batted shots. Sachin is known to practice hard in the nets and simulate every match condition. But equally amazing is the fact that impromptu ventures were never far from his sight. And the third and the most endearing and appealing one – when he was on the field, cricket was the air he breathed .
The last trait got me hooked not only to watch Tendulkar, but also to cricket obsessively as a child . I didn't realize it then but I definitely do it now. Sachin Ramesh Tendulkar was the very reason I started watching cricket in the first place. Everything and everyone else came later on. I believe many from my generation share the same sentiment. They say that when a performer gives his 100% not only is it gratifying for him, but the ecstasy it brings to the audience is beyond this world. In Tendulkar's case, it was 200% ; every cell in his body was alive to even the slightest of ruffles on the field.
Stupid as it may sound today, as a kid all I wished was to see every other batsman stay at the non striker's end, to watch Sachin play his trademark shots – lots of sixes, a few fours and finally steer India to win. This was my idea of an ideal day of cricket. How I'd wish as a school-going kid – just to be able to watch Sachin play – that India batted second or the match be a day-night one.
The most cherished memories I have of Sachin is from One Day cricket. Test cricket was too much of a bore initially and I hardly had the curiosity or the patience to understand the intricacies that spice up the longer format. One Day cricket was my cricket and it was a delight to see him plunder the opposition.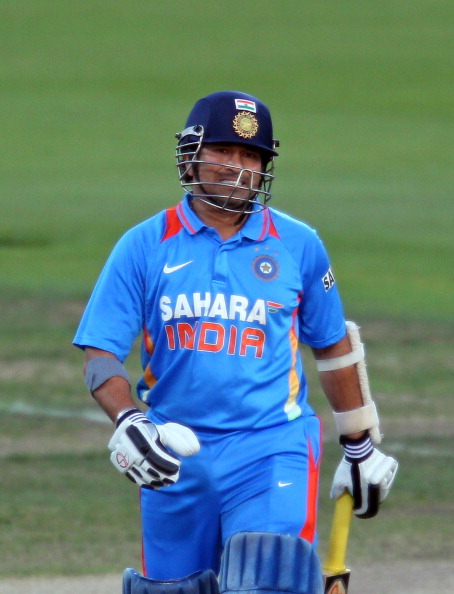 Even as a 39-year-old, Tendulkar had the same infectious enthusiasm that he possessed as a 16-year-old. That is probably what inspired him to play the way he did for 23 years.
One of Sachin's greatest ability was to identify any loopholes or challenges and readily take up the responsibility onto himself. One such moment changed his and India's future in the shorter format forever. On India's tour of New Zealand in 1994, when the regular opener Navjot Singh Sidhu woke up with a stiff neck, Sachin immediately volunteered to open. He saw that by not attacking in the initial overs, an opportunity was regularly being wasted as was the trend in those days, and by his own assessment he was good enough to do so. In his first match as opener, he ended up with 82 runs of just 49 balls. The rest is history. In the final of the Hero Cup in 1993 when South Africa needed 6 off the last over, in a team boasting of bowlers like Srinath and Kapil Dev, Sachin simply grabbed the ball and went to his mark to bowl. He didn't let the fact that he was a part-timer deter him from taking up the ball for yet again he saw a window where others saw none. India turned out the winner and Tendulkar was the saviour in the match. Often he is called a genius for batting talents; however, his genius extends much beyond that for he could see match situations like no one else could – sighting the smallest of chances and fructifying them.
Sachin had another fabulous quality that marked him separate – adaptability. I prefer to call it a quality rather than a gift, for the word gift would take away all the credit from the man giving an impression that it was divine. Quality often can be inculcated and I would like to believe that that was the case here. His adaptability was well visible during matches but what excites me more is that he played ODI cricket with three generations and not in one of them did he not deserve a place in the starting XI or seemed a burden at any point; that is some feat. Against Australia in the 2004 Test series, in the first three Tests, he got out playing cover drives. What he did in the final Test fascinates me even to this day: In an innings of 241 runs, he didn't play a single cover drive (I mean the word single). For a natural stroke player to cut down completely on a shot (that too a cover drive) speaks volumes of the lengths he was willing to go for his team. Even during the normal course of a match, Sachin would innately take decisions based on the situations and not solely on his own faculties adapting alertly to the needs of the team.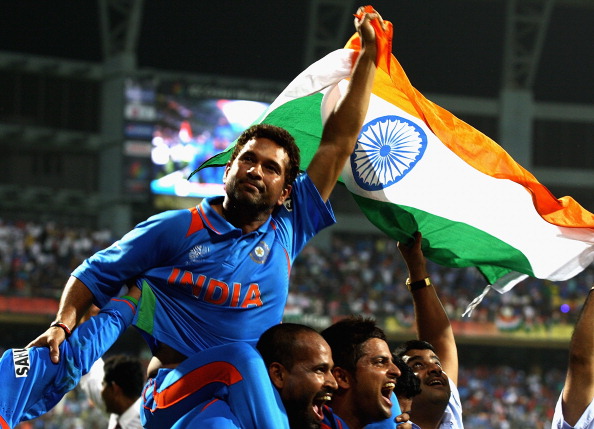 The tricolour was always close to his heart and he would always look to give something back to his nation.
It is quite unbelievable to know that his first century in ODI came after 78 matches and he finished off with 49. What he has left is a  Bradmansque record –  463 matches, 18,426 runs, a highest score of 200 and an average of 44.83 – that will take a herculean intent for anyone wanting to chase it. As an Indian, it is immensely gratifying that he scaled every peak in ODIs including the most delightful one – a  World Cup win.
For all his records, he was never the kind to play for them. He might have used some records to set himself stiff targets; however, if  records were his motivation at all,  he would have quit long back since its been long that he has been running a lone race with no one close to him in One Dayers. Sachin has always been a team man and he saw that his continuing defeated the very same purpose. I had written in an earlier article and I must reassert here that his play hadn't withered; he was knocking the ball as fluently as anyone in the team; that he was still good enough to merit a place in the ODI squad, but probably it dawned upon him that his presence served no purpose anymore as he wouldn't be around for the next World Cup and that the ODI team was decently balanced with the Kohlis and Rahanes ready to take up the baton.
It sure is a shattering  jolt for both the kid and the grown up in me to see my hero go, but in the larger scheme of things, probably the correct decision has been taken. I look forward to watching him weave your magic in Test matches. As I end this, I still do not think that I have completely come to grips with the announcement. Someday when watching a One Dayer again, I think I will truly realize that along with him, I have also lost a precious part of me; one that was accustomed to seeing a little giant with jersey No.10 come out open every time India batted; one that beamed with pride at every precisely carved movement of your bat and one that had forgotten that all good stories are supposed to end someday.