The man who was India
1.11K //
25 Dec 2012, 16:35 IST
Words will be hard to put, but stories will be told. We will be proud to narrate stories of a man who represented this country for more than half his life span (so far) to the coming generations. We will reminisce November 15, 1989 to December 23, 2012 as the period when God indeed walked among mortals, inspiring them across race, color and language barriers to stay true to their dreams, urging them on when the world thought chips were down, soaking in all the adulation that poured in for him yet staying astonishingly humble, accepting all the criticism and turning 'those stones into milestones', acknowledging that a billion people breathed in chorus for him, failing and rising when lesser ones would have shut shop and most importantly, making us believe that we were ready for the world.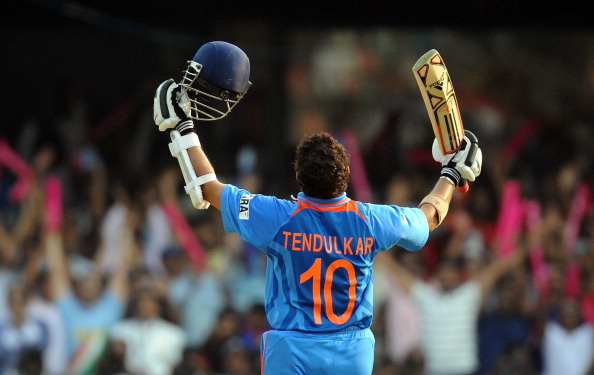 For a shy 16-year-old son of a novelist, debuting against Imran Khan, Wasim Akram, Waqar Younis, Imran Qadir in their own backyard in a rivalry widely acknowledged as one of the greatest in sport, getting a bloody nose was not a full stop. It was just the hyphen, for the most important part lay after it. Great men have talked of how he continued batting for his country when boys of his age were bruising their knees and limping back home thinking it was a bad day. He had risen through the ranks for that day not through petty and shady recommendations, but by sheer merit. English players in that Manchester Test still swore by the poise and calmness of his straight punches, marking him out as someone who was just too talented for records to stand in his way. And tumble they did, one by one. If records had voices, they would tumble not with a thud of agony but with a song of delight that they now belonged to God.
They say, while batting; the ball must be given respect. The greats argued, how can we play limited overs cricket hitting the orb with respect? He had the answer. And what an answer it was. Dismantling any and every attack thrown at him by clueless men with greyed hair, working out plans to stem his power; he brought belief into a nation that boasted of an otherwise ordinary team.
I am of the firm belief that great sportsmen should be judged not by the impact of their play, but by the effect it had on the country (or club, when relevant) as a whole. People talk of how the great West Indian helped transform the psyche of the average Caribbean. It is obvious that we use that same method to appreciate this man. The nation found a voice. India knew it had a very prized possession. Someone who people from abroad would identify us with. Someone who charts his path to immortality with passion and utter humility. He was India, he is India and he always will be. People will look at an atlas and relate countries to certain sports. But India was him. Him, mind you; not the sport. Him. With stories of his exploits, from the grass of Perth to the sands of Sharjah, the legend became stronger. The legend himself marked this, indicating to his wife about how similarly they played. And then the legend attained the status of God.
Cricket is my religion, Sachin is the God.
Indeed.
No Indian will forget the 1999 World Cup, when he rushed back home to attend his father's funeral and India lost the match played in his absence. To Zimbabwe. It was as if life had been sucked out of the nation, out of him, because someone he dearly loved was no more with him and because someone we dearly loved was not there fighting for us. He hid his eyes behind sunglasses to let the people know, he would be there henceforth, to which we were relieved. He made that century and looked up to the skies and every Indian had tears in their eyes. That World Cup and the next one, ended on sour notes, but the consolation of being the highest run getter was just that – a consolation. We were heart broken. He was heart broken. We felt for him at times. He always felt for us.
He did get injured, his form dipped as a consequence. He faced criticism, he was booed by his home crowd. He kept working hard. He kept assuring us that this is the comma. We did join the chorus against him at some point of time, but we all hope it was indeed a comma. We wanted more. He wanted more. And he gave us more, more, more and a little more. This time not with a flashing blade striking the leather at the rate of knots, but with a scalpel that dissected attacks with rare precision. He had evolved. He had adapted to stare time in its face and ask it to rethink its existence. Time indeed excused him. He kept playing. He kept winning hearts. He kept breaking records. It was the new India. Vintage, yet modern. He was us. We were him.
He was the average Indian mother's role model for kids, yet a distraction for them. Kids still remember slogging it off having signed a deal with their parents that they would call for him whenever he hit a four or a six. Not keeping to the word brought disappointment for not having allowed them a glimpse of their hero. Not having given them a chance to see a shot and itch to play it the next day. Not having allowed them to raise their bats just like he did. Those were the days when kids would plead with their parents to skip school, lest they miss his masterclass. Being at school in such a case was nothing less than what a river feels when it knows the sea is there, but cannot find it. Kids would go to all lengths to stick papers to their bats.
MRF.
The master's magic wand.
It appeared as though he kept getting better, like wine. But he never was bitter like it. He was a sweet concoction of the most gentlemanly qualities known. Humble. Calm. Determined. Caring. Family man. Soft spoken. Those qualities in a 5'5? package became our reason for joy. Not because of how he played, but how well he navigated through problems in life. He has given India its voice.
So it was natural that throats would choke with emotion a day or two after he announced his semi-retirement from the game. Because that is what it took the average Indian to figure out how much he/she will miss the man in blue. There is shock, disappointment, optimism somewhere, pessimism somewhere, that the game has lost the last gentleman to the force he tried so hard to keep out of his existence. Time. It did catch up with him. It did allow him a blink to be a centurion of centurions. It did allow him to be the champion of the world in official sense. It did allow him to invent shots that would be seen as ingenious in times to come. But it stood witness to perhaps the greatest show on Earth. To a show that brought a nation of billions to a standstill. To a show that generated awe aplenty. To a show that is as Martian in rarity as it is earthly at its heart. To a show that is as meaningful to the world of cricket as it is to those billions who stood still watching it, knowing it would end some day; hoping it won't.
He was the show. Of bravery. Of grit. Of poise. Of grace. Of brute. Of silk. Of pain. Of pleasure. But most importantly, of India.
The 49 hundreds, 18426 runs might just be Bradmanesque numbers for our generation. Not for being so agonizingly imperfect, but for being so maddeningly unattainable.
Some years down the line, I would be telling my kids those numbers are Tendulkaresque. Defining a new horizon of achievement. Defining 23 years worth of patience. Defining lots of sweat and sometimes blood. Defining gargantuanism. Defining his place in India. Defining the man. Defining the New India.
Salutes would not suffice to this great man, we as starstruck watchers of his show can only hope future generations call him out as
Sachin, the great.
Where he belongs: Hoisted on top. India's most valuable possession.