The Pressure of Bleeding Blue
1.40K //
27 Mar 2011, 16:23 IST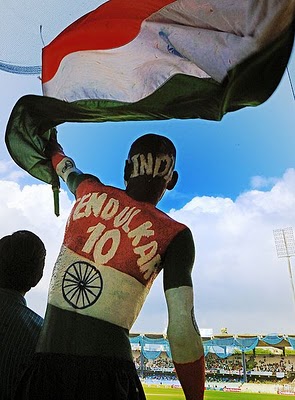 After most big sporting events, tucked away in nondescript corners of newspapers are those little bits on sports fans who could not handle the tension. A nameless Argentinian whose heart gave away after a German spot kick, and that hardworking doctor from Kochi who passed along even before the crowds settled in Sharjah. As a rational follower of sport, I would often feel a sense of amusement and loss at how seriously people took sports.
Did they not have better things to do? Could they not have switched off the television? Daughters had to be admitted to college, and sons warned about vice and virtue.
After all, sport is just another part of life. Like that first stolen kiss, that mean teacher in school, the primordial jealousy of a married man. Sport, cricket, television, the story in the morning paper. Little parts of a person's life.  Surely?
Not anymore. Motera changed everything. It is not that the intensity of our love for the game exploded, it is perhaps just the simple fact that we may not be champions yet but we are so close that it is scaring the daylights out of us. We were all close to being little newspaper stories every time that brave heart Lee charged into bowl.
Yesterday, I thought that my heart will quit when Dhoni got out. I called up my friends who too swore that they had never been as tense. Never, they repeated as if to preempt a question from my side about Centurion 2003.
I looked at the screen again. As he walked off, I could see the tenseness in MSD's body. It was a first. Even India's calmest cricketer in the last decade felt it. Sure, it was a World Cup quarterfinal and sure it was the biggest match in their lives but this man was supposed to be made of steel right? We had seen it again and again. Nothing could faze him, and here he was another mortal who has had a bad day in office. And you expect us to keep watching the match like nothing has happened?
So, what was it about yesterday's match? If you look back at the summary, India did win comfortably with lots of balls to spare. India were not even playing that nation. Yet there was this strange electricity in the air which powered millions glued to TV from despair to hope and back again. It was special all right.
For starters, it was Australia. A country we may not have gone to war with but well… that's about it. Any cricket fan, as a natural part of growing up hates the
Australian cricket
team while grudgingly admiring them. It is a team which may not necessarily produce the most talented sportsman, but it is one which has patented the invincible attitude. It is a team, which unless you send them off at the airport will keep coming back at you. Again and again. It does not matter if the names on the back of the jersey is not spelt McGrath or Warne. And that was our biggest fear.
Every
Indian cricket
fan, during the second innings felt that if he moved his bums, or if stopped chewing that éclair, or if he looked at the painting in the corner – the Australians will sneak back. If one closed his eyes, nauseating visuals of the men in yellow jumping up and down flooded the mind while two Indian tail enders squatted slumped in a pool of despair. It would happen. It had to happen. Ricky Pointing always had the last laugh. Harbhajan will knick one behind and Zaheer will be caught by Michael Clark.
And then, unlike a grenade that blows you away, a targeted sniper act followed. Yuvraj and Raina kept their heads, like they exactly knew what needed to be done. It was not calm heads prevailing, it was gradual training over the past few years. It was as if they were waiting for this moment. The IPL, the NCA, the sports physiologists, the words of a South African born Incredible India coach, the stubbornness of a captain willing to believe in his theories, the wisdom of Tendulkar, Laxman and Ganguly, and Kumble all came together to inspire one young man and one middle aged prisoner of history to finish the job. This match had to be won. Jo Berg had to be buried.
Watch out Pakistan, seriously watch out. We are coming for you.  But that did not help with the tension did it? We should have got a hint when 
Tendulkar
nicked one and calmly started to walk back. He was not dragging his bat back like he would in a big game. When at the back of his mind, he realized that any chances of victory were following him to the pavilion. Yesterday, he was almost nonchalantly walking back. Like he knew. Like he sensed that the little kids who have grown up idolizing him will make the biggest tournament of his life the most memorable as well.
Not that it helped with my heart beat. In the years gone by, one could so easily switch off the television after Tendulkar's dismissal and snuggle silently inside the worn out blanket. But now, we have other champions. The TV powered on. It is the duty of a cricket fan to keep believing. Could they not just throw a coin and decide the darn thing ?
The normally tough Gambhir saw his mind turn all noodles, and the dreamy eyed Kohli scripted a nightmare. When asked on when did he believe that they could win, Raina commented that when Tendulkar came and gave him a high five before he went into bat. If this man believed that he could do it, maybe he could. Talk about stress busters! I wish Tendulkar had walked into my drawing room and given me a high five. It is going to be all right son. This is our moment. Relax. Viru breathes deeply after every ball, maybe you should too.
Did Sachin start planning the Pakistan affair as soon as he was back in the dressing room? We will never know.
During the post-match conference Yuvi confessed that the pressure was something else. Dhoni, a man who can see beyond the present, almost pleaded with the nation to be realistic. He spelt out the two scenarios. Now, people will say we don't care if you win the world cup or not – you can't lose against Pakistan. The second scenario, more scary, is we lose and then all the good memories are thrown to the dustbin. If we win against Pakistan, then we will all drink beer and demand a victory in
Mumbai
against New Zealand (My bet is on the kiwis). We are not only tense, we are demanding. The 800 just won't do anymore. We need the fully loaded Benz.
Did the Indian players sign up for this? With all the millions, with all the adulation, with all the opportunities that come with an Indian Jersey – these men – made of flesh and bones are now dealing with pressures unimaginable to the rest of us. The advertising build up, the call of history, the responsibility of doing it not only for a resurgent country but also for yourself must make a dangerous Molotov cocktail when your mind, body and fingers freeze. But they still stumble along. Them beauties.
Each man his own. Sehwag says he took to Yoga to deal with all of this craziness, while Dhoni looks like someone who knows his place in the universe. A man who could easily walk away from sport like Bjorn Borg if the game overshadowed the larger scheme of things. Whatever they do, could they drop is a suggestion or two? My email address is gauravparab@yahoo.com Thanks.
And Tendulkar, well he feels no pressure any more. With every passing day this wholetamasha is making him look more like Destiny's favorite child. He has often funneled this pressure, using it to cut pull and drive men free of any expectation to the boundary. He is living a fate scripted by himself. The beautiful journey that started as a ball boy at the Wankhede will come full circle on a glorious Mumbai night. Everything fits in perfectly.  Yet, we feel tense. Some of us lesser men freeze in front of television sets. Some scream at mothers and fathers who scream back. Some call up their girlfriends, warning them to not call their number again. Good bye. Tell them I was devoted till the last ball.
A study says that the US President's job is the most stressful in the world, guess what? Come Wednesday, an Indian fan would take it any day. And so I end this one with an awkward appeal. Let the chaps play on Wednesday and let us applaud them not only for the great moments, but for the fact that they are out there! Playing for a country and soaking the stress that we cannot handle. Over the years, we have become a matured country and lets not go to those fanatic times when player's houses were stoned and families threatened. Let us leave that to the Pakistani's. It suits their style.
As a true Indian sports fan we should know that If Pakistan wins, it does not mean we have lost. It is just a game. We still have Katrina Kaif and the Delhi Metro. If we win, let all hell break lose. WE have beaten Pakistan! Of course we need to juice it for all it is worth. The karma of a sporting fan will expect nothing less.
And if anyone knows good stress busters, drop me a line I can so use them. I don't want to be the newspapers statistic from Pune whose heart stopped ticking when a Sehwag top
edge
sailed up into the sky.