The Tug of war between performance and discipline
1.06K //
12 Mar 2013, 23:47 IST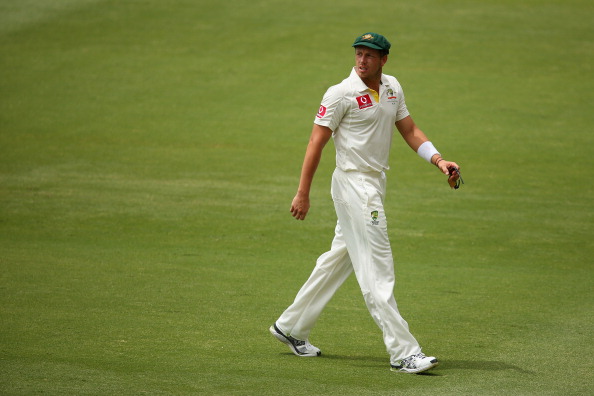 Shane Watson should have been axed from the team for the third Test. It should be for the cross-batted, slog pull he played off Bhuvneshwar Kumar in the first innings of the second Test, especially after getting a start on a slow, low surface. Instead, he was axed because he failed to make a presentation on how he could improve his contribution to the team and help it overcome the stiff Indian challenge. We have seen this debate rage for centuries now, not decades. Whether sportsmen are bigger than their national team or the coach or the rules is anyone's guess. Clarke is right in believing that some actions that reek of disrespect need to get their due. However, when doling out punishments, authorities generally look at the consequences of the action first, the intentions behind the action second and lastly, the causes.
That Khawaja and Johnson were being punished for not turning up with the presentation isn't a mere question of indiscipline. It was a question of the coach's impudence and of erratic methods. Exactly what the coach was looking from Khawaja in terms of inputs is still a grand puzzle. After all, the poor bloke is yet to play an international match on Indian soil. In such a scenario, is he being punished for showing disrespect towards his coach? Logically, if the players have to adhere to the coach's methods so unflinchingly, shouldn't Arthur already be punished for glaring selection and batting order errors in the first two matches?
As a cricket lover, I don't have an issue with enforcing discipline; but sometimes it is overdone. A good example is that of Mahendra Singh Dhoni who was unwittingly banned from playing India's 4th Test match, down under in their last tour. He was responsible, as per the ICC rules, for his team's slow over rate. The actions during a Test match had repercussions after the Test match and that doesn't change anything; docking runs or adding extra runs to the Aussie total would have made far more sense. The tug of war between actual performance and discipline is something that is rarely addressed in the right spirit. Clarke and Arthur were trying to prove a point to the players. Was this the time for it, when they are facing the possibility of a whitewash, an occasion rarer than the sighting of a comet or of the blue moon as far as Australian cricket is concerned? Mickey Arthur and the team management should have understood that not punishing the breach wouldn't cause Cricket Australia as much reputational damage as getting whitewashed in a Test series would.
Khawaja, on the verge of getting a game, is foolish to get involved in this. Yet, I can't help but pity him. If Clarke, Watson, Siddle and Arthur couldn't find the answers, isn't it sheer double standards to even try to implement such a fruitless exercise? Didn't it make more sense to actually get into the nets and try facing throw-downs on a pitch sprinkled with loose soil to make it uneven? Most importantly, isn't that what Mickey Arthur is being paid for – to offer strategic inputs to the team rather than expecting the same from those who have to deal with all the physical exertion of waging the battle? This and a million other questions invade my cricketing sense as a bizarre incident has taken the cricketing world by storm. The ire of many former cricketers and the overwhelming number of jokes circulating across social media networks are a testimony to the eeriness of this event. But on a very serious note, I wonder what a team standing at crossroads, like Australia is, should focus on.
Let's go back in time and inspect the point when the captain and coach were faced with a breach of protocol by four players. Almost all four were certainties to play the next match. As a result, they would be expected to have a few inputs to offer. But is it really necessary that they make a power-point presentation out of it? Could it not have been asked for in verbatim, in a team meeting? Surely, they wouldn't keep mum when faced with questions; they are professionals too. Surely the answers they offer are guaranteed to be just as reliable as the presentations; after all, we have all written assignments for colleges and we are aware how seriously we took those assignments (sarcasm totally intended).
In a way I see it more as escapism than an act of discipline enforcement. Pattinson is by head and shoulders ahead of other Australian bowlers. He is their most likely wicket-taker, nay, only consistent wicket-taker. He has openly apologised, which shows he is a fine young cricketer in the making. Yet, did he have to prove his respect for the team's cause through a power-point presentation? Haven't we already seen his lone-warrior, lion-hearted efforts in the first two Tests? I believe Clarke and Arthur, along with the CA administration, are over-blowing the incident to veil other serious issues that are plaguing the team. Any distraction away from quality cricket isn't good. The team that has been handed two back to back melt-downs has now lost two match winners, making the third Test, their best chance of getting some pride back, a lost cause already. If lack of discipline is punishable in such a manner, in the middle of a series, Arthur's lack of man-management skills is equally punishable in the middle of this dire situation. Most importantly, thanks to the drama, Cricket Australia now needs good PR as much as they need a good showing in the next Test. At the end of the day, internal discipline, in my humble opinion, is never bigger than a nation's pride. Cricket Australia has lost a lot of it in the last couple of days.