The worst Indian side in 15 years?
1.71K //
28 Nov 2012, 16:51 IST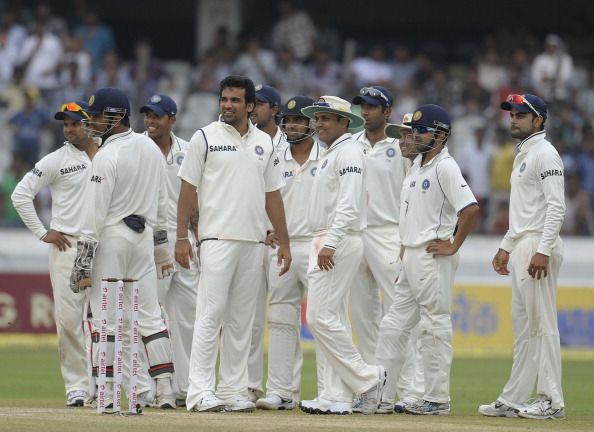 This is not an article written as a knee-jerk reaction to India's shameful battering at home, although it might seem or/and sound like one. Wankhede has shown Indians the mirror. And the image reflected is an ugly one. Did we just field the best 11 men in the country and noticed that they're not good enough? At least I think so.
Tests are won and lost. It's not the first time that a home team has lost a test, and we're not even talking about a whole series, just a lone, rather easily forgettable test. But we're dealing with a much bigger, more heinous problem Indian cricket has had in a freakishly long time.
We might just fight back in the next test, the English are nowhere near to being a formidable side. Fair enough. But one has to get into grips with the fact that a team needs to be the superlative degree of ordinary (if such a thing does exist..) to lose a match the way we did. One can't help but be harsh because of the reference points we set for ourselves, at home. Sea changes are call of the hour.
It's not that the reasons for such dismal levels of cricketing play simply don't exist. They sure do, and they now are yelling at our faces. They've been ignored for long and now they're desperate to cause fatal injuries to the National team. Such low levels of performances don't just happen out of the blue. You consistently need to play poorly, out of your socks. Or, you simply need to be a filth of a side. Or be Bangladesh.
We absolutely love Sachin. I mean since the first time I figured out that One-tip-one-hand wasn't really a legitimate mode of dismissal, I've been an ardent fan of Sachin. All of us have had heated arguments with our friends, defending his performances. Honestly, players like Sachin, are way above the concept of "form". And who knows, he might just bounce back and hit a double in the next game. But this, now, is becoming a classic case of a place in the team being hogged up by a depleted veteran. Time for the little master to think hard, really hard, maybe.
M.S. Dhoni might possibly be the best captain India has ever seen. His calmness and poise cannot be questioned by any random defeat anywhere. This might not be starkly visible but he has the toughest job in the team, captaining from behind the stumps, batting at a position where, historically, there exists a basic uncertainty in approach. But with the passage of time, it is quite evident that there are better players for each of his job, though 3 different people. His batting in tests has gone from bad to worse with his average being a less-than-impressive 37. His presence in the side has an uncanny resemblance with that of Darren Sammy in WI team. "Non-performing Captains", they call them.
Our top 7 have failed woefully. Class players such as Virat Kohli haven't started valuing their wicket in test cricket as yet. The way he was dismissed in 3 out of 4 innings in this series was plain irritating. Sehwag has already proven that he cannot be trusted, being as inconsistent as a cheap diwali cracker. "Gambhir clearly wanted to carry his bat in the 2nd innings", tweeted Shane Warne on Monday. If you think rational pie is going to award you for guessing why, then you need help. Pujara is the only good news India has at the moment. At least at home conditions, he's looking resolute. Albeit, no promises there.
But the fun part hasn't even arrived. Ok, it does now. Amongst all these dismal failures, we do have the King of failures, touching scathingly high levels of mediocrity, in Harbhajan Singh. With his recent performances both in international and domestic circuits, it is safe to say that he too, is at the twilight of his career.
This Indian side is a very, very ordinary side. When you play like the way they did, questions are raised on not only your temperament, but also on the pool of talent you possess. To be honest, I'd be the happiest man if India, as downtrodden as they are, comes back and I'm proven wrong on every account. Still, time has bent India's knees, with the outflux of few of our fine men. Situation needs us to crawl back and play out of our skins, for we're Indians, we live, worship and celebrate the game of cricket.