There is no team in international cricket which truly dominates
751 //
10 Mar 2013, 21:20 IST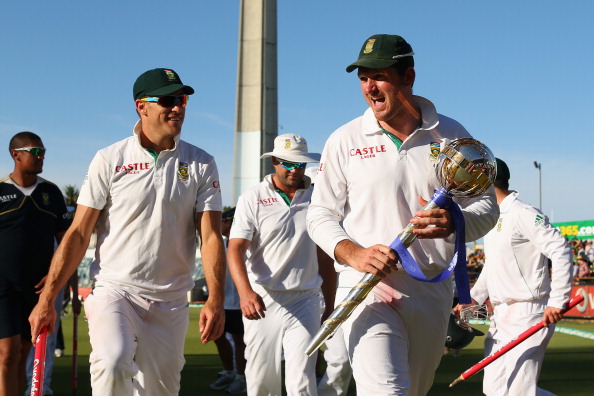 The title prompts you to answer 'South Africa', but that's not the case and the reason will be explained in the latter part of the article. In the recent past, i.e. 3-4 months, there has been a winning pattern noticed in cricket matches. However, there is no way to say that this is going to continue in the future also, but the results in international matches have gone against the expectations of cricket fans.
In order to initiate the debate, let's start with our very own country. From the time I have been following Indian cricket, there hasn't been a team which was able to defeat India on their home ground in Tests until the English recently. Yes, Australia did overcome us in 2004 by a 2-1 margin, but I would still say that series was a draw because those who watched that Chennai match would agree our team looked favourites to win the match which could not be completed due to rain on Day 5. We were so strong on home soil that in spite of being thrashed by Australia in 1997 and the same team winning the World Cup two years later, we still crushed the same team by an innings defeat in 1998. Thus, before this England tour, the only time India was actually defeated on home soil was by Hansie Cronje's team in 2000 but we still managed to win the ODI series.
This was a rare case i.e. losing the Test series and winning ODIs. Even in the memorable 2001 Australia tour of India, we won the Test series but we lost 3-2 in ODIs. Similar results were seen in the previous Australia Tour of India i.e. losing the ODIs series by 4-2 but not the Test series. We lost 4-2 to Pakistan in 2005 in ODIs however there was no Test series scheduled on that tour. There have been cases of Test series being drawn, like the one with South Africa in 2010, but there have been very rare losses in Test series.
However the recent England tour produced contradictory results. An easy loss in the Test series but a comfortable win in ODIs. To be very frank this result was not to my liking because I believe Test cricket is the purest form of cricket and a win in a Test series is more important. This also means that our team has not been able to excel at all levels concurrently.
Recently, this has not been peculiar only to India but to teams around the world. South Africa demolished New Zealand in the Test series but was almost white washed at the hands of Kiwis in ODIs. Australia surmounted Sri Lanka in Tests but somehow avoided defeat in ODIs. After losing to West Indies in the Test series, Bangladesh registered their first ODI series win against a Test playing nation. Add to this the very recent massive defeat of South Africa at the hands of Pakistan in a T-20 international. Remember how Pakistan was badly demolished in all the three Tests.
So what does this imply for the future of cricket? Is the skill set required to win in a particular format not applicable in the other? We know this has been true for individual cricketers like Michael Bevan, who excelled in ODIs but could not quite make a mark in Tests, but we labelled Mike Hussey as Mr. Cricket because he achieved high degrees of success in all forms of cricket.
The same goes for nations as well. The era of West Indies in the 1970's and Australia in the early 2000's is memorable because during their times they were difficult to overcome, irrespective of the format they played.
If the countries focus on a particular format and achieve excellence in that particular area, they would not become a legendary team in the history of cricket. With the introduction of T-20 in the international arena, there are three formats in all and all three have their respective proficiencies. Players need to hone their skills accordingly. Thus teams needs to be more flexible in their strategy and more adaptive to the format. Team needs to accommodate the changing environment and conform to the needs of the game.