Time for Tendulkar - from a die hard!
1.08K //
25 Nov 2012, 21:42 IST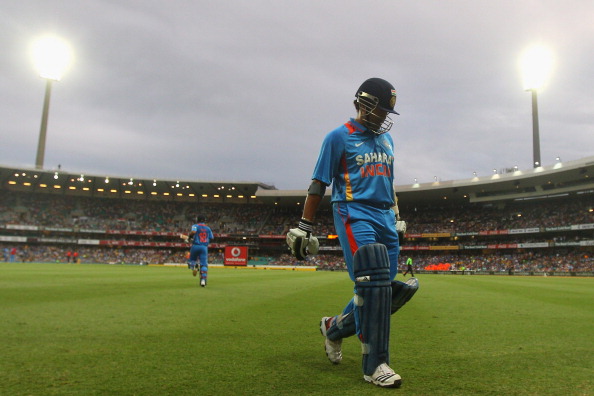 Yes! You read that right. I'm a die hard fan of the master and yet I want him to bow out. He has done a lot for Cricket over the years and his achievements are a huge mountain for anyone to climb. They cannot be reached, nor broken by any cricketer in the future. Even dreaming about it would be a mere waste of time. He has been the pillar of Indian Cricket, instilling faith in every fan and instilling fear in the opponents whenever has walked out to bat. If anyone has  the right to decide his fate, it's this diminutive man from Mumbai. But still, I feel it is time for him to go, holding his head high with pride while he's got the chance to do so.
Sachin has been a mere shadow of his own self since the World Cup in 2011. He's been woefully out of form, his footwork has not been up to the standards he has set for himself over the years. The magic touch, the deft movement and the organized flow has not quite been there for him. He's ageing and it shows from the way he's batting of late.
His numbers are pretty poor in the last 16 months. Apart from the lone century he made against Bangladesh in the Asia Cup and the gritty 91 he made against England in the final test, he has been quite mediocre. It is evident that he's been battling for form for quite a while now.
Sachin is a phenomenon in World Cricket. He has been an enigma, a quandary for bowlers all over the world. He has conquered the best of bowling attacks from all over the world and has been successful everywhere. The main attribute about Sachin is that he has always been grounded and level headed and that has made him a star among fans and fellow players.
"All good things come to an end" and Sachin cannot be an exclusion either. He has to go someday. It's hurting to see him play and fail, time and again. Those anxious eyes which have seen the ball to perfection all these years, have been full of disappointment every time he gets out. Sachin has never betrayed emotions even after getting out, but nowadays the frustration shows on his face. He has to realize that it has to end someday, and it's better sooner than later.
In the year 2005, when he was struggling for runs and was not able to play his natural brand of aggressive cricket, people counted him out and called for his head. They wanted him to retire and go away from the game. But he fought back against all odds and came back with some sparkling performances. Sachin has always been the favorite topic for critics, whenever he fails, they want him to improve; whenever he performs, they still want him to improve. Maybe I'm wrong in saying this. Maybe the master is going to surprise us all and come back like he did earlier, only time can tell. But either way, he's nearing 40 everyday and he needs to look at the future of Indian cricket. He has achieved all there's to achieve in Cricket and it is time for him to move on.
Many youngsters are itching for a chance, and Sachin should not delay their entry in to the team by refusing to go. He should think about the future of Indian Cricket and decide a course of action soon. Though we would all miss him and the secure feeling and the magic that he brings to our eyes, it is the best course of action considering his age and form.
Sachin, it's enough sir, you have proved yourself to your detractors, not once, not twice but over a hundred times.
IT IS TIME FOR YOU TO GO! We will miss you for sure!