Tributes to the selfless servant of Indian cricket
1.79K //
12 Mar 2012, 20:06 IST
Having been witness to the lamenting indulgence of cricket fans across nations for the better part of 3 days, I wonder what makes every cricket fan mourn the parting of this one player. Is it his humility that makes him so likable, or is it his tranquil demeanour? Is it his perseverance to carry on with his job irrespective of the circumstances, or is it his quest for perfection? To answer that most appropriately, I'd say it's not just one of those qualities, but all of them, that makes him so irresistibly admirable.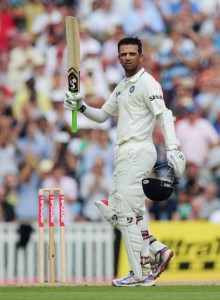 I still remember those times when I'd watch Test cricket and wonder when I'd see something that was beyond his reach. But nothing is ever as it seems, is it? Dravid through the years has been a manifestation of determination, focus and application. He is one of those servants of the game with impeccable tranquillity that would've disturbed many extolled greats. His sheer drive of wanting to be the go-to-man for India has been underlined throughout this career: he has played almost every role cricket probably had had to offer during his time – batsman, wicket-keeper, captain – as a man who was ever-willing to step forward and offer his services to the team. He has also been the one who always soaked in all kinds of criticism with a pinch of salt. He bore the brunt of critics without compliant, regardless of his accomplishments.
'The Wall' – an apt name given to a man who has supported the weight of a nation's expectations with unswerving grit for 16 years with display of sheer class – has drawn the curtains on his career following India's mediocre tour Down Under. Dravid had been a stand-out performer all of last year for India, but as something that he and his fans have become accustomed to over the span of his career, his feats were not quite recognized to the magnitude that they should have been. Often we fail to remember that cricket is a team game; but when credit ought be given to individual contributions, Dravid unfairly never really got his deserved share of appreciation and always was overshadowed by the alluring careers of his teammates; yet he never carped.
Dravid's retirement won't really affect the day-to-day lives of too many. But his departure will leave a void in our hearts, that's for sure. Cricketers come and they go but what matters are the impressions that they made, their approach that inspired millions of others and the memories they left behind during their time. And Dravid will be fondly remembered for all of these things.
Here are some of the well-known figures from within and out of the sport paying tribute to the great man.
Former England cricketer David Llyod –
"Rahul Dravid to retire …A real jewel for the game of cricket and one of its greatest Ambassadors" (this was before the actual announcement).
After the official announcement, he said, "As expected, Rahul Dravid has retired . A man of great stature, dignity and sportsmanship."
Tom Moody, former Australian all-rounder -
"Rahul Dravid one of the game's treasures, a man that stood tall as a player & character. Many congratulations on a stellar career."
Bollywood film-maker and actor, Farhan Akhtar –  
"To Rahul Dravid. Thank you for not just being a great cricketer but also by far, the most admirable ambassador of the game. All the best."
England's Kevin Pietersen who played alongside Dravid in the IPL for the Royal Challengers Bangalore –
"Rahul Dravid-LEGEND!! Plain & simple.. congrats on an incredible career!! India WILL miss the wall."
Australian spin wizard Shane Warne, who Dravid will be replacing as the Captain of the Rajasthan Royals –
"I wish my friend Rahul Dravid and his family all the best in his retirement! I have total respect for him."
R.P Singh, former team mate of Dravid –
"Rahul Dravid 'The Wall' will be missed. It was an honour having played in the team with him. Thank you sir."
Bollywood super star Shah Rukh Khan
"They say sports serve society by providing vivid examples of excellence. To me the most vivid & dependable has to be Rahul Dravid."
South African Captain AB DeVillers –
"Congrats to Rahul Dravid on an amazing career! You will be missed. Fantastic person and Cricketer! India's wall."
Explosive West Indian opener Chris Gayle –
"Congrats on a Fantastic, Superb International Career! The Great Legend Rahul Dravid!!The wall will be missed!!"
Former England Captain Michael Vaughan –
"Rahul Dravid retires.. The world's most respected cricketer over the last 20 yrs.. LEGEND.."
Greatest or not, Rahul Dravid is one of the most respected cricketers in the world and that has been acknowledged by his contemporaries and rightly so. He is a legend whose memories will live on in the minds of every cricket fan. He is simplicity, he is nobility - he is Rahul Dravid,  the selfless servant of Indian cricket.