Turning both ways: how a severe road accident birthed the world's first ambidextrous spinner
531 //
29 Sep 2017, 23:55 IST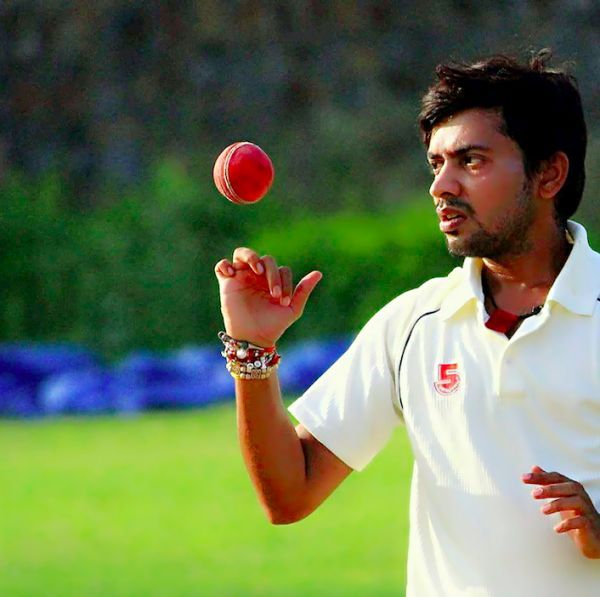 To Utkarsh, cricket is much more than just a game; it's a passion, a lifestyle, and a religion. From a young age, the game acted as the one constant in his life: his father abandoned his family when he was just 2, leaving his mother struggling to care for Utkarsh and his siblings on her own.
Cricket was an escape from the pressures life presented at home; something that made him truly happy. From dawn till dusk, he and other neighbourhood youths would hone their skills on the streets of Kanpur, playing with little more than an old bat and a ragged tennis ball. When it got dark, they'd finally retreat home, eager to do it all again the following day.
The endless periods of practice paid off, with Utkarsh developing into a crafty right arm leg spin bowler and being touted for higher honours. He starred for Kamla Club Academy, taking clumps of wickets and bamboozling opposition batsmen with ease. Chatter about his ability amongst local cricketing circles grew louder and a state squad birth seemed all but assured; a major step in the path of realising his dream of playing on the international stage.
One fateful day in January 2014, however, it seemed that life would cruelly snatch that dream from his grasp.
Then 17, Utkarsh was blindsided by a severe road accident. While he was extremely lucky to escape without any life-threatening damage, his right shoulder was horribly injured in the incident and would need a lengthy recovery period.
Doctors confirmed that it would be at least eight months before he'd be able to perform basic movements in his shoulder, let alone endure the rigours of spin bowling.
The timing couldn't have been worse. Utkarsh couldn't afford to miss any matches whatsoever: his family were constantly hounding him to find a secure career option, and if he didn't move to the next cricketing ranks soon, he'd be forced into giving up the game. Understandably, Utkarsh was devastated.
"It was crushing; absolutely the most awful news I could've received at that point," he reflected.
"At that age, selectors for representative and state teams were starting to consider me and I felt like I was going to breakthrough and achieve my dreams. Without cricket, I knew I'd lose my purpose; it's my whole life. There was no way I wasn't going to be playing. I just wouldn't allow that to be an option."
Refusing to accept the early prognosis, he concocted a plan to avoid a long stint on the sidelines.
"I decided to teach myself how to bowl wrist spin with my other hand. I knew it wouldn't be easy, but with practice and luck, I knew I could do it. Despite it never being done before, I knew I had what it took to become the world's very first ambidextrous wrist spinner."
While a handful of professional cricketers over the years have successfully bowled with both hands in the same match, including promising Indian youngster Ashkay Karnewar in a warm-up match recently against Australia, Utkarsh was correct; no one had ever done so bowling wrist spin.
The art of wrist spin is revered as one of the hardest to master in the game; it requires many subtleties in wrist and finger position, and is terribly difficult to remain consistent with – and that's with the preferred hand. Acquiring the ability to do it with a foreign hand over a short period of time seemed an impossible task.
But true to his word, Utkarsh achieved it. The painstaking hours he spent relearning how to bowl were a resounding success, as he quickly proved to be just as potent bowling left handed as he was pre-injury with his natural right.
When his hampered shoulder recovered eight months down the line, all of a sudden Utkarsh was the rarest of cricketing weapons: a strike bowler able to switch his bowling arm at will.
"As an ambidextrous bowler, I have a huge advantage. The captain is basically able to pick an extra player by selecting me in his side. It's rare to have one good wrist spinner in a side, so the fact I can bowl it well with both hands and change my angle constantly makes me a huge threat," the 19-year-old explained.
"Whenever I bowl now, most batsmen are perplexed and unable to get settled. I change my hands often and I have too many variations for them to ever know what's coming."
His ambidextrous bowling performances were eye-catching straight away. So much so, that in 2015 Utkarsh was called up as a reserve to the Mumbai Indians IPL team in a squad that featured superstars Aaron Finch, Josh Hazlewood, Alex Hales, Harbhajan Singh, Rohit Sharma and was coached by Ricky Ponting.
It was scarcely believable for Utkarsh, and while he didn't manage to take the field during the season, the chance to rub shoulders with some of his idols lit a burning desire inside of him to crack the international scene – no matter what country he plays for.
"My future goal is to play for my nation of India, but if they don't recognise my ability then I'll play for any nation that gives me a chance," he said, in reference to the fact cricketers can play internationally for countries outside of their birthplace provided they have lived there as a resident for at least four years.
"I believe in myself, I practise harder and I think differently than others. I just want to show the youth of the world that anything is possible if you chase your dreams.
"I was born to do this."