What Sachin Tendulkar did not do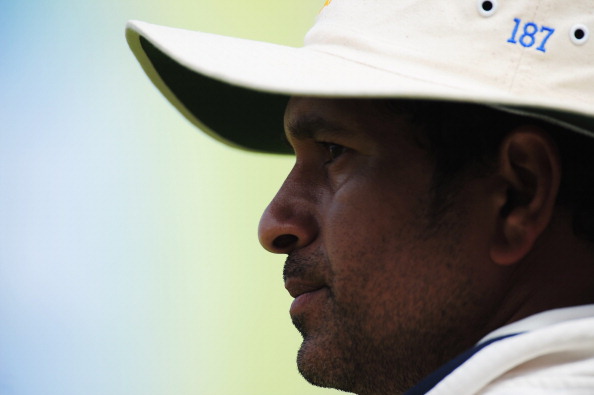 There are good cricketers. There are great cricketers. And then there are the ones who leave a legacy behind them.
Sachin's Tendulkar's retirement has left an entire nation in bereavement not unlike the death of a national leader. First world nations might sneer in contempt at our deification of individuals but for us Sachin was much more than a cricketer – he was what we wanted to be. We lived our dreams through his successes.
On a personal front, I cannot accept that I am Tendulkar's biggest fan – for no fault of his. Throughout the 1990s which is when I grew up, Sachin Tendulkar was often the only Indian player who could take us close to winning a match.  We ended up losing more often than not simply because most of his other teammates did not share his thoughts.
My memories of Tendulkar's best innings are tainted by the bitterness of loss – that 136 in Chepauk and the 65 in the World Cup semi-final against Sri Lanka amongst others. My anguish stemmed from the fact that, if he knew that his other teammates were worthless and if he was as superhuman as he was made out to be, he should have finished the match himself. For a ten-year old still not acquainted with the hardships of the world, defeat is a very difficult thing to accept.
By the time I had actually started to appreciate the fact that cricket is a team game, the likes of Laxman, Dravid and Sehwag had arrived. India was no longer a one-man army and Sachin suddenly became one amongst many very good cricketers. There was the odd blast from the past – the 175 against Australia in Hyderabad – but it was not as frequent as it used to be. We were winning matches now and others were contributing.
I know that his retirement is an orchestrated one – a match against the 8th best Test side in the world at home in front of his home crowd in place of a match against the best side in the world on a seaming pitch in their own backyard. His one day retirement too was a knee jerk reaction to a possibility of him being dropped for the first time in his career. If we blamed Kapil Dev for stretching it too far to break Sir Richard Hadlee's record, Sachin seems to have gone one step further in preserving his own.
Still I feel a lump in my throat. Possibly because of the fact that, ever since I have been watching cricket, there has been a Sachin Tendulkar on an India score sheet more often than not. For the times it was not there, there was at least a hope that it would be back sometime soon. For all his failings, there was always that one knock around the corner that would set everything right.
To be brutally honest, his Test match retirement does not bother me as much as his ODI retirement did. Much as they say Twenty20 is a young man's game, it is hard for a 40-year-old to maintain the same levels of intensity on a cricket field in sweltering conditions and in front of teeming crowds for five days at a stretch. Besides, he has already achieved everything he can in Test matches unless we are looking at the extremely trivial (for him) figure of 16000 Test runs.
What I hate him is for giving up on 50 ODI centuries. Though I mocked his achievement of scoring his 100th century against Bangladesh, there was a relief that it had happened – I had been waiting for it ever since his charmed 85 against Pakistan in the World Cup semi-final.
But then the number of unfulfilled blanks he left behind in his ODI record still taunts me like a jeering spirit. 37 matches to reach 500 ODIs, 1574 runs to 20,000 runs, the 50th century and 4 half centuries to make a ton of fifties as well.  Instead of playing 91 meaningless Twenty20 matches for Mumbai Indians, surely he could have managed his schedule and body to do this for Team India and for me.
Worse still for somebody who is so statistically inclined like me, it is highly improbable that anyone, let alone an Indian, would ever tick all these boxes. Perhaps this enigma, like Bradman's 99.94, is a part of a great legacy. In India, we put a black dot on a new-born's forehead to prove that he/she is imperfect and to ward off evil spirits.
These unachieved milestones are perhaps like those black dots – they prove that "God" is still human and maybe also ensure that his competitors will never even get close. We shall never know. But while one part of me looks forward to the prospect of a new number 4 in the Indian Test line-up, the other would still wake up on  match days hoping to see a diminutive 40 year old in a blue jersey and trousers walking out to open for India.