Activision officially launched COD Mobile Season 5: In Deep Water today with a trailer for the new season. Players can update their games through the Google Play Store or App Store to enjoy new items, including a Battle Pass, new Credit Store additions, skins, Epic weapons, Operators, and more.
Apart from the item additions, COD Mobile has also introduced various features from a gameplay perspective with new maps, game modes, and in-game events. Season 5 is expected to bring more events in the upcoming weeks..
Everything new in COD Mobile Season 5
---
New maps
Suldal Harbor
Suldal Harbor is the first addition as an MP map to COD Mobile Season 5 and is available in the following game modes:
1) Core MP mode
Hardpoint
Search & Destroy
Domination
Team Deathmatch
2) Featured MP mode
Suldal Harbor 10v10
Suldal Harbor 24/7
Suldal Harbor is a large MP map with a decent amount of cover from shipment docks and closely packed buildings that make the map appropriate for 5v5 and 10v10 fights.
Also read: COD Mobile officially announces new weapon, stats and first look for CR 56 AMAX
---
Upcoming maps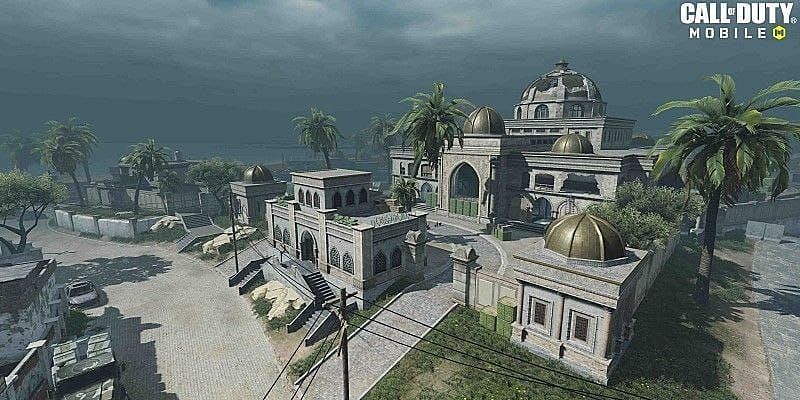 The developers will add two new maps, Aniyah Incursion and Docks, in COD Mobile during the upcoming weeks.
The latter will be a 2v2 map with a small area, while Aniyah Incursion is expected to be a highly spacious map with many chambers.
Also read: COD Mobile Season 5: Tier 50 BP rewards, Epic weapons, new Operators, and more
---
New game modes
Featured modes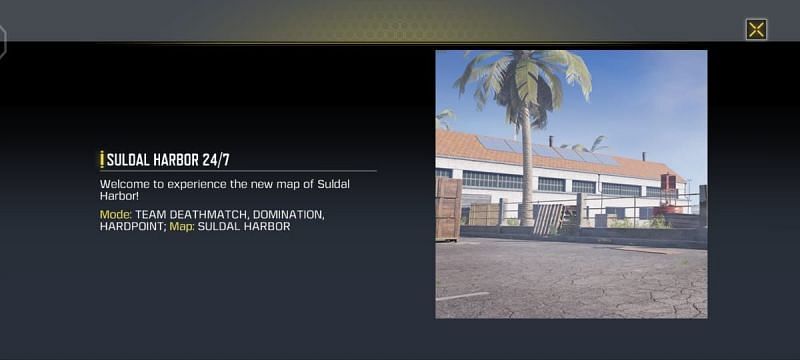 Suldal Harbor 24/7: The new temporary game mode will feature modes like TDM, Domination, and Hardpoint for the new map.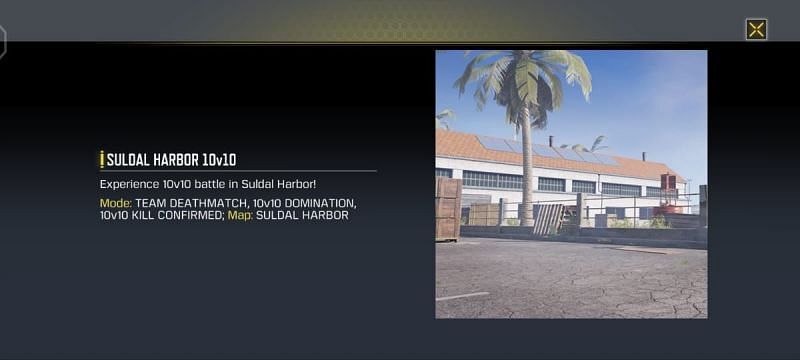 Suldal Harbor 10v10: Another featured mode for Suldal Harbor featuring TDM, 10v10 Domination, and 10v10 Kill Confirmed.
Upcoming game modes
Core:
Ground Mission - A 10v10 mode with five capture points and two rounds.
Cranked: Confirmed - A mixture of Cranked and Kill Confirmed where players will have to eliminate enemies or collect dog tags to escape the death timer.
Featured:
Activision is expected to introduce new featured modes for upcoming MP maps, Aniyah Incursion, and Docks.
Also read: COD Mobile Season 5 leaks: Upcoming Legendary lucky draws
---
New COD Mobile Season 5 events
Featured
Seaside Shambles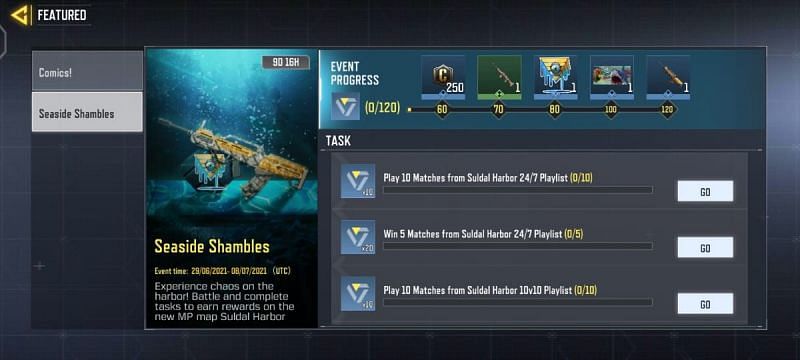 1) Missions
Play 10 matches from Suldal Harbor 24/7 Playlist
Win five matches from Suldal Harbor 24/7 Playlist
Play 10 matches from Suldal Harbor 10v10 Playlist
Win five matches from Suldal Harbor 10v10 Playlist
Kill 20 enemies from Suldal Harbor 24/7 Playlist
Kill 45 enemies from Suldal Harbor 24/7 Playlist
Kill 35 enemies from Suldal Harbor 10v10 Playlist
Kill 50 enemies from Suldal Harbor 10v10 Playlist
Kill 15 enemies with Scorestreaks in Suldal Harbor 24/7 Playlist
Kill 20 enemies with Operator Skills in Suldal Harbor 10v10 Playlist
2) Rewards
250 Credits
RPD - Navigator
"Illuminated" Sticker
Mutant Shark Calling Card
Type 25 - Doubloons
Seasonal
Gung Ho: Missions and rewards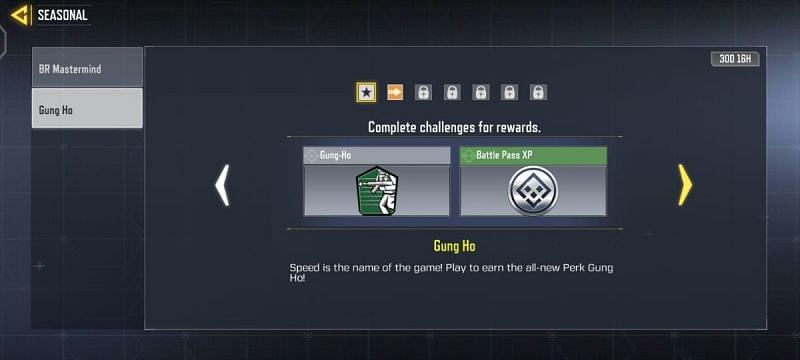 Kill 15 enemies in any game mode: 200 Credits
Throw 10 Flashbang Grenades in any mode: Pirahna Crunch
Fire 1500 bullets in MP matches: 15 Weapon XP Cards
Kill 15 enemies with Headshots in MP matches: FR .556 -Helm
Kill 25 enemies with the Lightweight and Alert Perk equipped: Gung-Ho
Win three MP matches with Lightweight and Gung-Ho Perk equipped: Cordite - Cut Wave
Total BP XP: 16000
BR Mastermind: Missions and rewards
Enter the top 20 in BR matches five times: 200 Credits
Enter the top 18 in BR matches five times: Mechanic - Helm
Enter the top 15 in BR matches four times: Clown - Helm
Enter the top 10 in BR matches three times: 30 Weapon XP cards
Enter the top three in BR matches once: Outlaw - Helm
Win two BR matches: M4 - Cut Wave
Also read: COD Mobile Season 5: K9 gameplay and other details revealed