Genshin Impact 3.6 leaks reveal a ton of information about the upcoming update, including Baizhu and Kaveh gameplay details. Everything from their materials to their animations has been unveiled. Although everything is subject to change, some players might still wish to see the leaked videos.
HoYoverse has a habit of taking down these videos, so watch them while they're still up. If the posts are taken down from here, there is probably a backup on YouTube. With that out of the way, let's start with Baizhu and Kaveh's idle animations.
---
Genshin Impact 3.6 leaks: Baizhu and Kaveh gameplay and idle animations
The YelanLover website has 3D models of the new characters in Genshin Impact 3.6, along with their idle animations. This Reddit post contains a video that starts with Baizhu's idle animations before moving on to Kaveh's.
Some people love to see this type of content since it shows a good amount of personality from the characters. The most amusing idle animation is arguably Kaveh being unable to find the keys that Alhaitham currently has.
Next will be gameplay videos showing off the characters' abilities.
---
Gameplay videos
The above Reddit post shows a brief gameplay montage of Baizhu. It starts with some idle animations before exploring his Constellations. The clip then shows off his abilities more than halfway through it. His Normal Attacks occur, then his Charged Attack, Elemental Skill, and finally his Elemental Burst.
Kaveh's gameplay leak follows a similar format to the previous video. The main difference here is that his abilities are completely different by comparison. Some players may want to know more about the specific details of these Talents. In that case, the following section will reveal more about these Genshin Impact 3.6 leaks.
---
Abilities and materials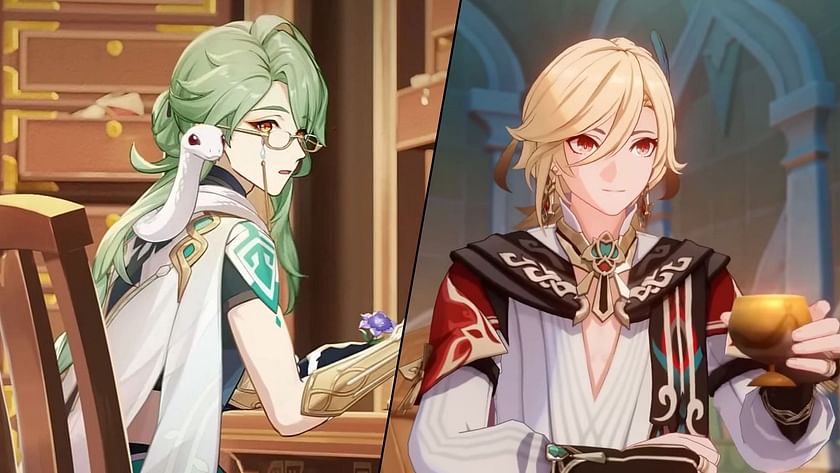 Here is a summary of Kaveh's abilities via the Genshin Impact 3.6 leaks:
Elemental Skill: Does AOE Dendro DMG and detonates any nearby Dendro Cores. It has a six-second cooldown.
Elemental Burst: Deals AOE Dendro DMG and converts the user's Normal Attacks to deal Dendro DMG. All Dendro Cores created by Bloom will deal additional damage. Kaveh gets increased Resistance to Interruption. These effects vanish if he leaves the field. This ability has a 20-second cooldown.
Similarly, here is what players should know about Baizhu's main abilities:
Elemental Skill: His Gossamer Sprite attacks nearby foes to deal Dendro DMG. After three attacks or if no enemies exist, the Gossamer Sprite leaves to heal all allies based on the user's Max HP. This ability has a ten-second cooldown.
Elemental Burst: Creates a Seamless Shield every two seconds, which heals the active character based on the user's Max HP. It can also attack foes to deal Dendro DMG. This ability has a 14-second cooldown.
Their materials have also been leaked. Travelers know for certain that these two characters will be released in Genshin Impact 3.6. However, there currently isn't any credible information on their specific banners or who else will have a rerun in this update.
Travelers will learn more about these two Dendro units in the upcoming weeks. Theorycrafters are already hard at work determining the best team comps and builds for these characters.
Poll : Which character do you feel is stronger?
248 votes
Edited by Sijo Samuel Paul