Honkai: Star Rail has steadily become one of the most popular gacha games and for good reason. HoYoverse's sci-fi adaptation of a traditional RPG with gacha goodness has captivated its audience with well-developed characters and world-building. Reinforcing that, the game recently released its 1.2 update and distributed some redeem codes for in-game rewards.
Getting their hands on Stellar Jade is something every Honkai: Star Rail player wants, as these in-game currencies can be used to get rare characters that strengthen the team. Traditional methods of farming Stellar Jade are an option, but they might be considered cumbersome by many. Thankfully, there is one easy way to obtain them quickly, and that is by redeeming the codes mentioned below.
---
Honkai: Star Rail 1.2 active codes
These one-time codes can be redeemed to obtain special rewards, including some Stellar Jade. HoYoverse gives out these codes for promotional purposes and they are often featured as rewards during their new update livestreams.
When you are trying to scrap every Stellar Jade you can find from other in-game means, these codes come in handy. More so when a much-hyped character like Blade is the featured 5-star unit.
These are the active codes for version 1.2 that can be redeemed for free Stellar Jade and some other rewards:
2SP2XE4YBJBB - 50 Stellar Jade, 10,000 Credits
BSN2EWMHA4RP - 50 Stellar Jade, 10,000 Credits
STARRAILGIFT - 50 Stellar Jade, 2 Traveler's Guide, 5 Bottled Soda, 10,000 Credits
BTN5EL69P6K3 - 50 Stellar Jade, 10,000 Credits
You should note that three new codes will become available during the 1.3 update livestream and are expected to provide an additional 300 Stellar Jades.
---
How to use Honkai: Star Rail redeem codes
You can redeem the codes by following the steps below:
Log into your game.
Select the '...' button displayed next to your Character profile and Equilibrium level.
Click on the Redemption code option.
Paste the active code.
Click on Confirm.
Repeat this process for other codes.
The rewards will be sent to your account via in-game mail within a few minutes.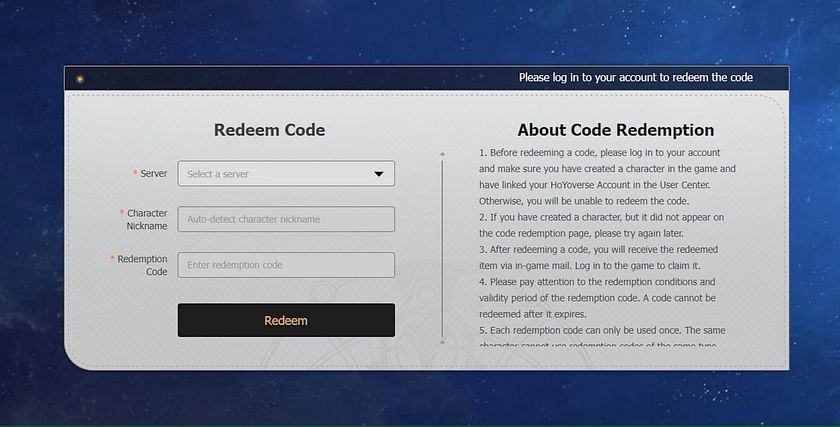 Alternatively, you can also redeem these codes without logging into your game via Honkai: Star Rail's official website:
Head over to their official page.
Log in using your in-game account.
Select your server.
Paste the active code.
Click on redeem.
Repeat the process for other codes.
---
While the amount of Stellar Jade obtained through Redeem codes might not be considerable, it can surely help out players in a pinch, especially since it is quick and doesn't require any toiling.