On March 18, 2023, controversial YouTube streamer Steven "Destiny" revealed that he had signed a streaming deal with the Trainwreckstv-backed platform, Kick. Additionally, he had also signed a contract with Rumble.
While providing details on the matter, Destiny announced that he was on a three-month probationary period on Kick, during which he would be required to host eight exclusive broadcasts per month on the platform. Whereas for Rumble, he signed a two-year contract.
---
Destiny talks about signing new contracts with Kick and Rumble, will do cut-off streams
Steven made the announcement at the 20-minute mark of his broadcast on March 18, when he burst out laughing, saying that the next three months will be a "wild ride." The content creator revealed signing a streaming deal with Kick and elaborated:
"All right, listen up! These next three months are going to be a wild ride. Okay? I hope I'm allowed to do this, but... I have... I've signed a three-month probationary thing with Kick. All right? We're going to do... some number of... I think it was eight."
He further talked about how he would cut off certain streams and move on to Kick to continue:
"It was eight Kick-exclusive streams a month. Meaning, that like, I'll probably cut my stream at the end of the day and move to Kick. Eight times a month, for eight months. We'll see how it goes."
In addition to Kick, Destiny mentioned that he had signed a two-year contract with the Ontario-based platform, Rumble:
"However, I also signed a two-year Rumble thing. Mainly for dual streaming. But they also want a few cut-off streams per month. Where I just cut-off and do, like, the last couple of hours on Rumble."
Timestamp: 00:20:30
Destiny outlined his plans for the coming months:
"So, I think for the most part, I think what we're going to do is, we're going to be dual streaming and then, I'll pick out days, either tonight or tomorrow, I'll pick out some days, when we'll be doing Kick. And some days we'll be doing Rumble."
The Nebraska native continued further and added:
"I'll probably use my Rumble and my Kick streams, to either do, like, watch s**t that we couldn't. Maybe, like, vaccine-related stuff."
---
Fans react to the streamer's announcement
Destiny's announcement of him signing a non-exclusive deal with Kick and Rumble went viral on the r/LivestreamFail subreddit. Here's what the online community had to say about the content creator's revelation: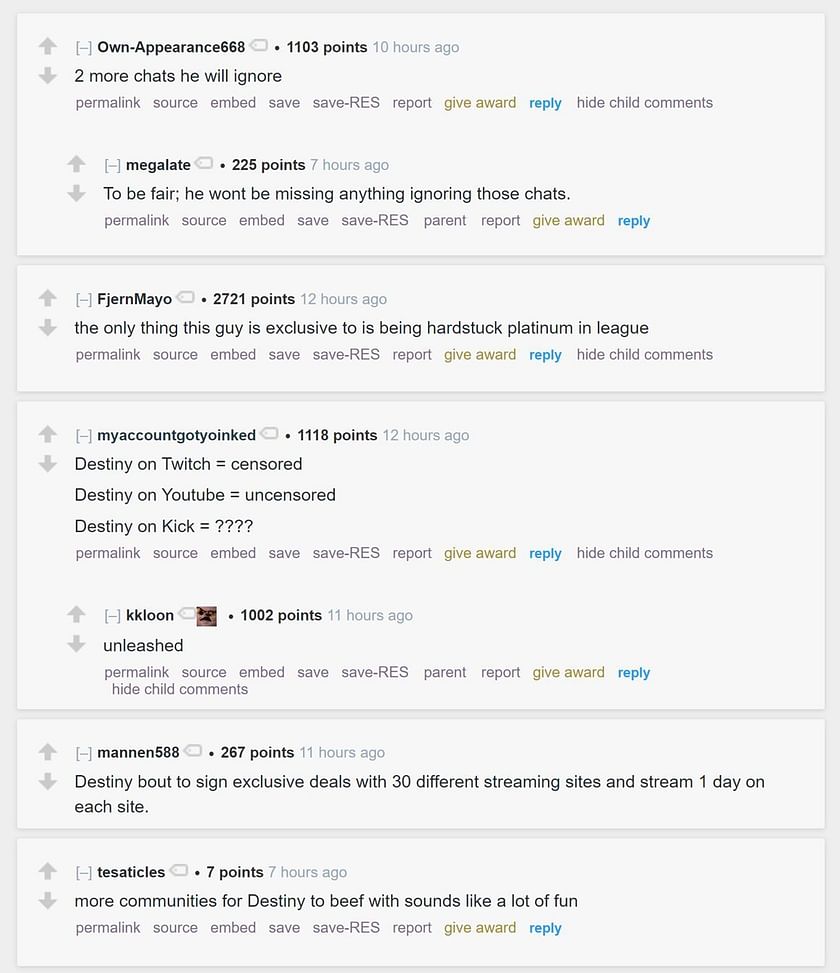 ---
Destiny is a well-known Just Chatting streamer and political commentator who has been broadcasting on YouTube ever since he was indefinitely banned from Twitch. He has built a sizable fanbase on the Google-owned platform, with over 638k subscribers on his channel.